We hear from a carer who kept her mother active and involved following a dementia diagnosis.

It has been a bittersweet 18 months for Sarah Rose, a carer whose mother, Vera, has Alzheimer's.
Sarah spent a year encouraging friends and family to organise a series of trips, events and experiences for Vera, culminating in a fantastic 80th birthday celebration.
However Vera will probably move into a care home soon, and Sarah is preparing for a new stage in her relationship with the woman she calls her best friend.
Devastating diagnosis
Sarah's mother Veronica, known as Vera or Wee V, was born in Glasgow as one of 16 siblings. She worked for a time making presentation boxes and as a waitress, but dedicated much of her life to raising her three children as a single parent. She also cared for her own mother for 10 years.
'Her passion has always been her family,' says Sarah.
Vera visited her doctor in Worksop, Nottinghamshire around Christmas nine years ago. Her family had noticed her becoming uncharacteristically dependant, asking for help with shopping and bills.
'Nobody in the family had ever had dementia – it was such a shock when Alzheimer's was mentioned. We had to look into what it meant,' says Sarah.
'It was unbelievable, it was devastating.'
Sarah says her mother was in denial for some time after her diagnosis in 2009.
'She just didn't see it, because she could still remember things from years ago,' she says.
'It took her three or four years to know it was there. She began to say, "My mind is a sieve," and, "I just can't remember."
'It did frustrate her and make her unhappy for a bit.'
Role reversal
Sarah has cared for Vera since her diagnosis, trying to help her to remain active over the years.
'I was determined not to just be sat in a bungalow,' she says. 'Mum is quite well known out in town. We even visited Scotland a few times.'
She has also involved her mother in everyday tasks as much as possible.
'I didn't want to let her lose her independence,' she says.
'If she wanted a drink, I'll let her make it, but I'll stand by and encourage her. If she's cold I talk her through finding her cardigan, but I don't do it for her.'
'Really I lost my mum four years ago – the one who was my best friend, who I could talk to about my problems,' says Sarah.
'If you have a broken leg, you exercise it, so I made it like that with the mind.'
Sarah says being a carer has been even more emotionally draining than she expected.
'Really I lost my mum four years ago – the one who was my best friend, who I could talk to about my problems,' she says.
'The roles have reversed. I've become the parent.'
Sarah cared for Vera for up to 12 hours a day before they began living together in March of this year.
It now looks likely that Vera will move into a care home.
'Mum needs 24-hour care and it's heart-breaking that I'm not able to give it,' says Sarah.
'We've got a big decision to make as a family about full-time care, but I feel guilty.'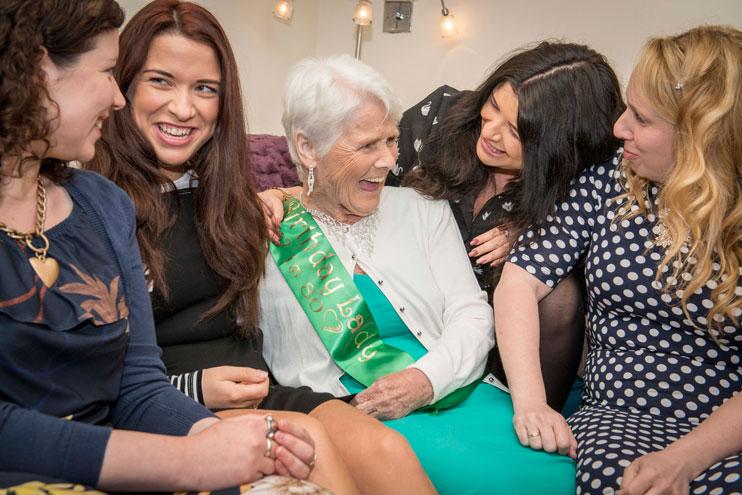 Memorable moments
After watching television coverage of the run-up to the Queen's 90th birthday, Sarah decided to make the most of the 12 months before Vera's 80th.
Sarah was already active on social media, using Facebook to document her outings and activities with her mum.
Building on this, she created a Facebook group called 'Making Memories with Wee V'. She asked friends and family to take photos and videos while doing any interesting activities with Vera, such as going on trips, and then to share them online through the group.
'The idea was, "If you've got something you want to do with Mum, let's do it,"' says Sarah.
Some of the memories harked back to years past. Sarah recorded her mum singing the same songs she would sing to her as a child, while others took Vera to Cleethorpes, which they used to visit together.
Another of the memories was Vera being told, on Christmas Day, that she was to become a great-grandmother.
Sarah says one of Vera's most enjoyable experiences was getting to dress up as a fairy godmother.
'Mum loves children and would light up when she was with my goddaughter. It was like medicine to her,' says Sarah.
'My goddaughter Beau started calling her the fairy godmother, so we dressed Mum up as one. Everyone was clapping – it was one of the best moments for Mum.'
Amazing occasion
The Making Memories adventure concluded with a big 80th birthday party for Vera, with dozens of friends and family attending from across the UK.
'The party was the highlight, she looked like royalty,' says Sarah.
'The birthday brought things I didn't expect and things we'll treasure for years to come,' says Sarah.
'Mum's brother came from Scotland – that was amazing. To see them together was very special.
'She was getting cards from people we've never even met, and gift experiences as presents so we could make more memories.
'The birthday brought things I didn't expect and things we'll treasure for years to come.
'Mum was so happy that day, she beamed. It was magical.'
Sarah created a slideshow, beginning with black and white photos of Vera's parents and continuing through to the Making Memories events and birthday party.
'It's like she's reliving it every day we watch it,' says Sarah.
The experience has also helped her as a carer and daughter.
'I don't think I'd have got through without this,' she says. 'I needed something to get to this birthday and make it amazing.'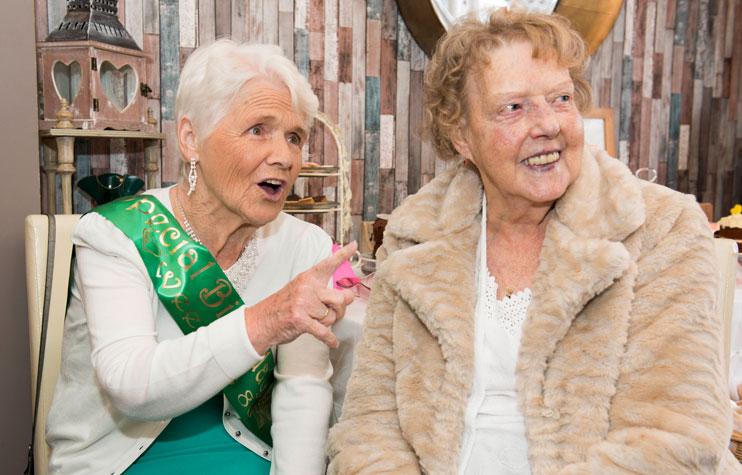 For everyone
As she approaches the next chapter in her relationship with her mother, Sarah has been getting welcome support from Alzheimer's Society.
'I always thought they were only for people who didn't have anyone, not for someone like me who has had incredible support from my family,' she says.
'I'd hit an emotional block recently and was a bit burned out. But since I've opened up to the Society I can look forward to being a daughter again, not a carer.'
Sarah is certain that, whatever happens next, more memorable moments are still to come.
'Alzheimer's is good at stealing memories, but it won't stop us making them,' she says.
Next steps
Dementia together magazine: Oct/Nov 17
Dementia together magazine is for everyone in the dementia movement and anyone affected by the condition.
Subscribe now
More from Dementia together magazine: Oct/Nov 17:
Dementia together magazine is for everyone in the dementia movement and anyone affected by the condition.
Subscribe now