Holidays can be challenging when you have a family member living with dementia. Read Katherine's story of travelling to India with her father, who has Alzheimer's disease.
Exploring tourist sites, enjoying warmer weather or relaxing somewhere new is often something to look forward to.
But for many, the prospect of going on holiday with a loved one who is living with dementia can be very daunting. Here, Katherine shares her own experience of travelling abroad with her family, and provides insight into the challenges they faced.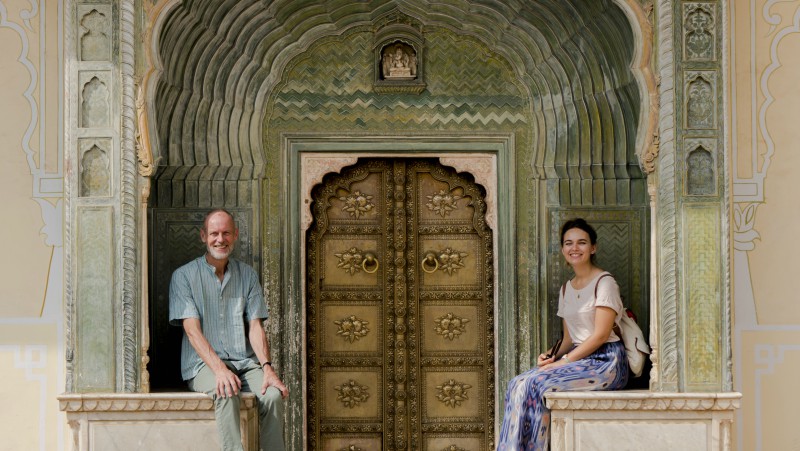 ​
Katherine and her father in Jaipur, India
I recently went on a family holiday to India, which sounds simple enough. But there were a few reasons I was a little bit apprehensive when packing my bags.
For starters, I haven't been on a 'family' holiday since I was in my teens. I was also bringing along my recently-acquired husband. He's been around for ages but the title is new.
However, the main reason for the flicker of anxiety was that we were going with my dad.
Dad was diagnosed with early-onset Alzheimer's disease almost two years ago and his dementia has progressed significantly in this short time.
My parents have always been adventurous travellers. They usually set off with a cheery wave and a reminder about where their wills were stored.
This has changed since the diagnosis. After a couple of frightening disappearing acts that involved police searches in Mexico and then Sri Lanka, my mum decided that they couldn't travel alone together anymore.
This was another heart-breaking milestone along this new path of ours, but my brother and I didn't want them to stop doing what they loved. Over the years, my parents had talked about how they'd love to take us to India. My brother and I thought - it's now or never.
Planning ahead
We decided between the four of us we'd be able to keep Dad safe, but it was still a bit of a gamble. To help manage the risks as much as possible, we adapted the trip.
We stayed in one place for the first week so Dad could get his bearings. By getting in touch with people who had stayed at the hotel previously, we were able to ascertain that it did have a walled garden and a lockable front door!
We had a wonderful trip and we returned with Dad safely in tow. There were definitely times when we questioned why we had decided to come to one of the most bustling and chaotic parts of the world with someone who now struggles with spatial awareness.
I can't even begin to count the number of close-calls we had crossing roads (motorways), falling out of tuk tuks, being chased by dogs and cows and just walking down the street. Some of these close-calls were extremely stressful to witness. Other times you had to laugh and remember we had really good travel insurance.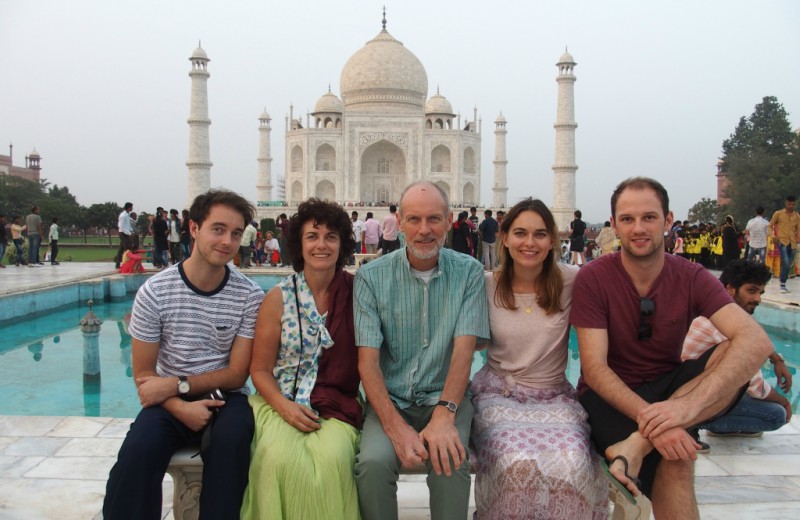 ​
Katherine with her brother, mum, dad, and husband at the Taj Mahal
Making memories
It was a jam-packed and exhausting trip for all of us. There was so much to see and do and we were greedy to do as much as we could.
We experienced countless forts and temples, walking tours, bus trips, tuk tuk rides, flowers, wonderful food, shopping trips, museums, train journeys, campfire dancing, and even a leopard safari. The only thing my dad didn't do with us was the sunset camel ride. All five of us agreed that was a no-brainer!
I think my dad enjoyed himself. He comes and goes in this world and can often drift somewhere else for a while. The odd remark did make us question his understanding of where he was, but Dad seemed content and happy to have us all around him. This was when we weren't constantly yanking him out of the road or steering him to safety.
There is an innate generosity and empathy in the human spirit that crosses borders.
We also learnt that despite language barriers and a lack of understanding about dementia, there is an innate generosity and empathy in the human spirit that crosses borders.
There were guides that instinctively knew to take my dad by the hand when crossing the road. There was the lovely man in a jewellery shop who shed a tear with my mum about how my dad's eyes looked just like his father's. With so few words, there was a deep, shared understanding of what we were going through as a family.
I don't think my dad was able to make many new memories on that trip. But in those moments when he was truly with us, he knew he was loved and doing what he loved. The memories were for us to keep. The memories of him being there with us.
Discover more
Read our comprehensive guide to holidays and travelling. It covers tips for travel, knowing your rights and lists useful organisations offering supported holidays for people with dementia.
For further help and advice, our Dementia Connect support line advisers are available on 0300 222 11 22.
Speak with other people affected by dementia through our online community, Talking Point.