See the winners of our 2017 poetry competition.

We received 101 entries to our poetry competition this year after introducing three categories – Change, Share and Celebrate – and we're proud to publish the winners in our print magazine and online. Each poem that we read was a powerful insight into what dementia can mean, often based on personal experience, and we thank everyone who took part.
Our shortlisting panel members selected their favourites before meeting in August to agree a shortlist in each category. The members of the panel (pictured above, left to right) were:
Manjinder Virk, one of our celebrity supporters, who stars in ITV's Midsomer Murders and whose late father was a poet and writer.
Shelagh Robinson, who is a founder member of the Three Nations Dementia Working Group and was diagnosed with Alzheimer's disease in 2009.
Tracey Shorthouse, who published her collection of poetry, called I am still me, over a year after her diagnosis with Alzheimer's and posterior cortical atrophy.
Helen Helmer, who heads our Publishing team and has been involved in our poetry competitions since the first in 2009.
Peter Wallis, who won our 2013 competition and is Submissions Editor for Poems in the Waiting Room, an Arts in Health charity.
Robert Breckman, who is a long-time Society supporter who cared for his late wife, Julie, who had Alzheimer's.
We gave the shortlisted poems to our guest judge Winston Plowes (pictured below), a West Yorkshire poet who has worked on many projects with his local Alzheimer's Society.
'The poems are at once inspiring and sombre, joyous and melancholic,' said Winston. 'I found threads that relate to my own life and those of others, stories that transport me back in time and keep me rooted firmly in the current moment.'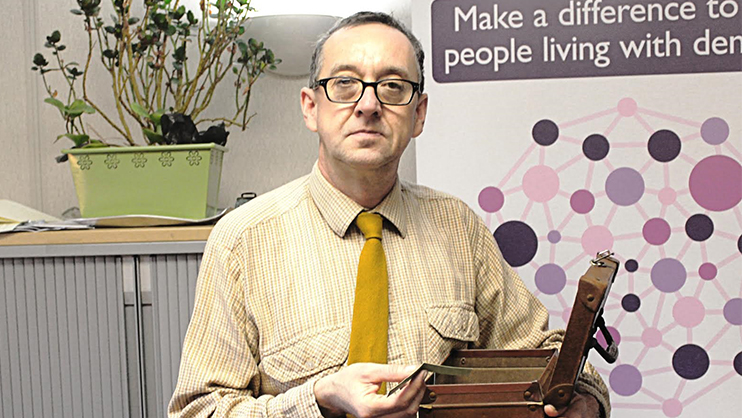 Change: Dementia didn't steal my dad
The winner in the Change category was Dementia didn't steal my dad, by Karen Riddick in Dumfries and Galloway.
Winston said, 'Dementia can be a desperate thing to deal with and, in this empathic piece, we are reminded that things can sometimes work out unexpectedly.
'In long poems of rhyming couplets, the quality of the work can tail off or the reader can become weary. I chose this great entry because it accomplishes the very opposite and gives us all hope.'
Karen said, 'My view of this cruel condition has changed since my dad was diagnosed. We have found plenty to laugh about and our relationship has never been closer. Every family has different challenges to deal with, but I hope that my poem reflects the unexpected gifts that may emerge from caring for a loved one with dementia.'
Winston highlighted a second entry in this category for special commendation, a poem by Fiona Ritchie Walker in County Durham called 2pm, sing-along with Kirsten – community lounge.
He said, 'The title nicely sets the scene for this pantoum; a form that uses repeated lines in different combinations within each of its stanzas. This has the effect of giving the poem a familiar yet disoriented feel, a clever choice for this subject.'
Fiona said, 'I wrote my poem after spending time with my sister, Kirsten, who sings in care homes in north-east Scotland and seeing the positive change it brings to people as they listen to or join in with familiar songs. It's a lovely surprise to have it specially commended.'
Share: The unravelling
The unravelling, by Vivienne Anne Mackenzie Ward in Dorset, won in the Share category.
Winston said, 'The metaphor is the poet's best friend and in my own work as a poet for Alzheimer's Society I have explored many. Here this writer has made the extended metaphor of a favourite old jumper work especially hard for them, rounding things off with a skilfully sparse final line. No form is required when the words are as relevant and poignant as these.'
Vivienne wrote this for her father's funeral last year and only entered it into the competition on her mother's insistence.
'My dad was my beloved jumper – always there, always loving, caring, strong and protective. Until he couldn't be those things anymore,' she said. 'The unravelling was an attempt to describe that loss, to try and get some perspective. It was written in the very early hours of the morning I finished the eulogy for his remembrance service.
'All of us have our stories to tell, our grief to express. We are stumbling around in the dark, trying to make sense of such a wasteful disease. No one is a winner here.'
Winston also gave a special commendation in this category for Tulips, by Sue Hansard in Staffordshire.
He said, 'Focusing on an instant in time, Tulips uses simple words and imagery to get to the heart of things. Beautiful.'
Sue said, 'Writing poetry is therapeutic for me, but since Mum's dementia I have struggled to write my feelings about it. Then after a particular visit to Mum in her care home, I finally found the words.
'The connection lasted only moments, but it was worth the 200-mile round trip that I make to visit her every few weeks.'
Celebrate: Parachute nylon wedding dress
Winston chose Parachute nylon wedding dress, by Susan Benton in West Yorkshire, to win in the Celebrate category.
He said, 'Reminiscence and memories, with pinpoint accuracy in this piece, centre upon the striking image of a thrifty wedding dress made from parachute nylon. We are taken back to the fine detail of another time with clarity and uncluttered simplicity.'
Susan said, 'It brings to mind a much-loved elderly lady, confused in some respects, but face and eyes lighting up with delight as she recalled times of austerity – her wedding dress made from parachute nylon. She recounted details of the Friday night dance hall, getting spruced up to attract the lads, snipping a bit off the fur coat lining and attaching as false eyebrows!
'Although Alzheimer's brings with it sadness, forgetfulness and change, especially affecting family and carers, there is often a great deal of dignity, happy reflection and earlier experience to be shared.'
The other shortlisted entries were:
Change – No fear and loving Las Vegas by Kevin Lunn in West Yorkshire, and The caged bird sings by Sarah Veness in Northamptonshire.
Share – Why am I here? by Charlotte Bourne in Shropshire, and What do you see? by Christine Luddington in Hertfordshire.
Celebrate – My father's hands by Kirsten Ritchie Walker in Angus, and Polyglot cosmopolité by Alun Robert in Kent.
Dementia together magazine: Oct/Nov 17
Dementia together magazine is for everyone in the dementia movement and anyone affected by the condition.
Subscribe now
More from Dementia together magazine: Oct/Nov 17:
Dementia together magazine is for everyone in the dementia movement and anyone affected by the condition.
Subscribe now