Helen Seager's husband, Peter, has lived with early onset dementia since 2017. Despite this, the couple continue to stay active and involved. In this story, Helen explains why the family took on Trek26 London in support of Alzheimer's Society.
My husband Peter and I have been married for 35 years and have four adult children. In 2017, Peter was diagnosed with early onset Alzheimer's disease. Peter, whose job involved responding to emergencies, started experiencing forgetfulness at work in 2016.
I thought it was due to his night shifts and asked his job to move him only to day shifts.
When I explained the reason for the request to Peter's superiors, his forgetfulness came to light and Peter was signed off so he did not risk his own life or that of the vulnerable people he worked with. The process to get diagnosed was smooth yet very lengthy due to his age. He got signed off at work in June 2016 and only got his diagnosis in July 2017.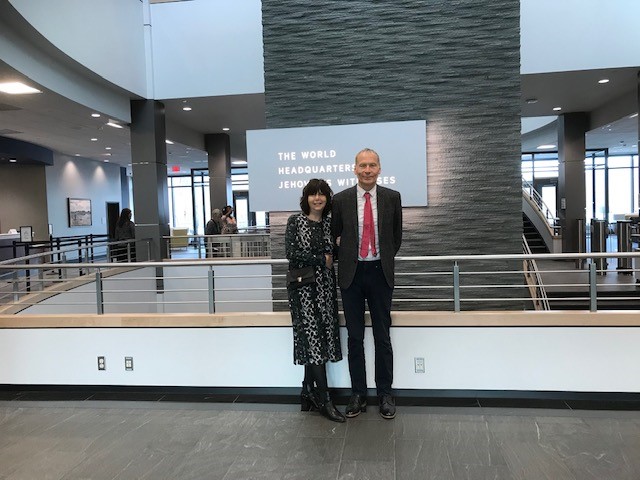 ​
Image above: Peter and Helen Seager
Staying active and involved after diagnosis
Despite the struggles with every day activities, Peter remains positive and we are very lucky to be supported by our children and lovely friends who help us enjoy our early retirement together.
We strive to have a dynamic social life and to have a plan that will get us out of the house every day.
We go to a choir for dementia on a monthly basis where we have the opportunity to sing Pop songs together. Every Thursday, we also attend a local dementia swimming session when we are able to be very active or to relax by simply floating in the pool.
If we have no plans, we always like to go for a drive somewhere or to a pub with friends to make the most of the day.
Our two dogs also help keep us active and provide Peter with wonderful company. Walking them for an hour daily is another great way to keep us healthy and with a positive mindset. Luckily, just before lockdown in 2020, we got a puppy who was a true lifesaver during such distressing times.
I believe in the importance of services that are specialised for people affected by dementia in order to help family and friends gain a sense of being understood even without having to explain our whole story.
We are aware that there will be a point in Peter's life when we will need more services to support him and the family so where else would we go to but Alzheimer's Society?
Taking on Trek26 for Alzheimer's Society
We decided to take on Trek26 London as whenever we plan day trips, Peter always wants to go to London and the city still holds a lot of memories for him. So, as a family, we took on the challenge of trekking the 13 mile route in 2021 as it seemed like the perfect way to celebrate him and to raise awareness for this cause that is so close to our hearts.
Throughout the trek we passed by some of the city's most famous landmarks- from the London Eye to Buckingham Palace- creating new memories along the way.
We also managed to raise over £2,640 together to fund the important work of Alzheimer's Society, which we could not be happier about.
If you would like to join us at the Trek26 London on the 28th of May, you can still sign up.
Be like Helen and Peter and take on one of our epic 13 or 26 mile treks in one of many breath-taking locations across the UK.
Find a trek