A hospice partnership offering advice and support to people with dementia and their carers
People with dementia need support to maintain their comfort and wellbeing as the condition becomes more advanced. Read about a project to improve available care.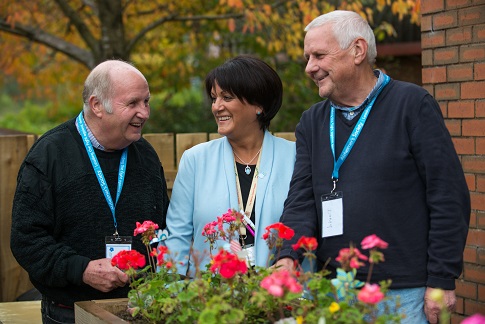 ​
In 2014, the Hospice of the Valleys launched the Challenge Project in partnership with Alzheimer's Society to improve support for people affected by dementia in Blaenau Gwent, south Wales.
Hospices have traditionally specialised in supporting people with cancer. If people with dementia are referred to them it tends to be at the very end of life rather than helping them to remain as comfortable as possible before that.
The project began as a two-year pilot. Its success has depended on the joint work of Alison Jones, community palliative care nurse specialist at the hospice, and Michelle Morgan, a Society Dementia Support Worker.
They provide education and support to people with all types and stages of dementia, their families, professionals, volunteers and the public.
Point of contact
Alison says,
'Families feel they have a single point of contact. They can ring us for information or to discuss health issues. That makes a big difference.'
Kim Williams, whose 83-year old mother Iris was diagnosed with vascular dementia in 2015, says,
'If we ever want to ask anything, we get the answer.
'I asked Alison about my mother's medication and Michelle helps us with anything we want.'
This direct contact means that people can bypass the need to wait for appointments to be referred by specific professionals.
The project has also seen Alzheimer's Society and the hospice exchange training, and the hospice staff and volunteers have all become Dementia Friends.
Alison says,
'We now have a better understanding of dementia and have adapted our approach, including making our building more dementia friendly.'
Michelle says she has improved her understanding of advanced care planning, and how the hospice team work together to make the best use of their time with a person.
Close at hand
At a weekly group in the hospice's day centre, people with dementia and their carers enjoy games, gardening, conversation and other activities, with specialist support close at hand.
Alan Fletcher, an 86-year old former college lecturer who has Alzheimer's, attends with his wife Anne.
He says,
'It's good coming here, the group is first rate. We owe them a lot.'
Anne says that Alan has become more withdrawn because of his dementia, but during the group will happily sit and talk for an hour or two.
She explains,
'Dementia was all new to me, it was quite a shock. But everyone has been so kind, it's lovely to come here. I don't know how we'd cope without the group.'
David Williams, a 67-year old former engineering lecturer, was diagnosed with mixed dementia – vascular dementia and Alzheimer's – in 2015.
David is accompanied to the group by David Birch, his best friend of over 50 years, and between them they look after the centre's garden.
David Williams says,
'I do a bit of everything. It's been good.'
Asked whether he has made friends at the group, he replies, 'Most definitely!'
His brother, John, says the benefit of attending every week has been clear.
'David is very introverted and isn't a person who joins groups eagerly, but he has got to know people here. Any interaction is incredibly important for him.'
For David Birch, the group has provided a support network for carers.
'Because everybody is in the same boat, you pick up tips from others. The staff also give you advice on things like finances and what help you can get.'
Through a befriending service, volunteers like Alvina Forsey also visit people with dementia in their homes. Alvina has been visiting one woman on a weekly basis for nearly 18 months.
She says,
'It means her family don't have to worry for that couple of hours.'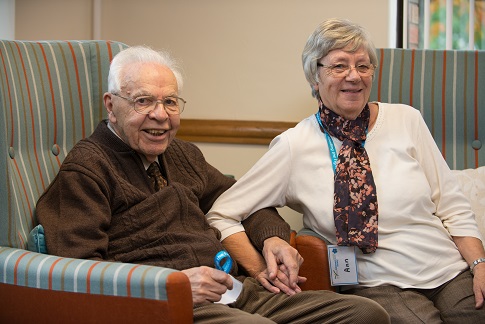 ​
Positive effect
Marie Curie, which supports people with terminal illnesses, evaluated the impact of the Challenge Project's first two years. It praised improved access to services, end-of-life care and carers' knowledge, as well as its influence on how health and social care professionals referred people.
Michelle says that better palliative care – helping people with advanced dementia have the best possible quality of life – and care at the end of life need to be available across the country.
'As a project, we've had huge success in having a clear line of support from diagnosis to end-of-life care.
'Sometimes care can drop off when people need it most. Sometimes the advanced care planning conversations are missed. Some people don't even realise that dementia is life-limiting.
'We help and give them information to manage it in the right way.'
Dementia together magazine: Dec 16/Jan 17
Dementia together magazine is for everyone in the dementia movement and anyone affected by the condition.
Subscribe now
More from Dementia together magazine: Dec 16/Jan 17:
Dementia together magazine is for everyone in the dementia movement and anyone affected by the condition.
Subscribe now