Being a carer for someone with dementia can be hard. Sarah describes how her emotions often fluctuate when caring for her mum, who has Alzheimer's disease.
Being a carer for someone with dementia can take its toll. Sarah, in the second part of her blog series, describes how her emotions can often fluctuate when caring for her mum, who has Alzheimer's disease.
Read part one of Sarah's story for more on the initial diagnosis and the decision to move in with her mum.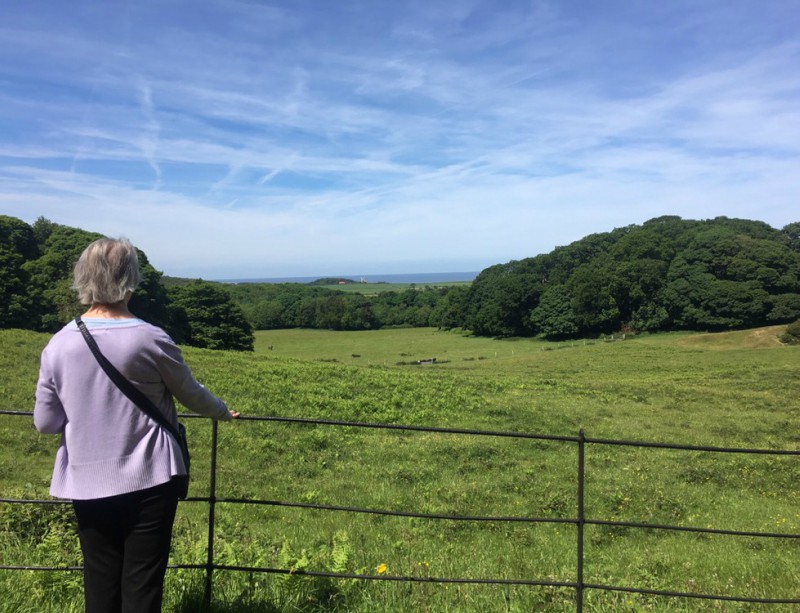 Sarah's mum enjoying the view
Sarah's story
I knew nothing about dementia care when my mum was diagnosed. I undertook some training and learning about the condition and, with some great support from the Alzheimer's Society, began the journey.
I can now only work part-time and noticing much more upsetting changes in her capabilities now. But by knowing my mum inside out, and being with her 24/7, I can care for her in a way that gives her independence and confidence that she isn't a burden and helps her live her own life, doing things with her to give her the best experiences I can.
Mum couldn't be any more grateful and sincerely thanks me daily for doing this - and that's what keeps me going.
Being a carer takes its toll
The level of care and loss of independence (which will only continue to increase) really takes its toll, especially if I don't get regular respite. I
I've found my moods and stress levels fluctuating from pride and happiness to utter despair - within minutes. I have been known to go and sit in my car and scream at the top of my lungs just to give me a release so that my mum never sees/feels it.
My closest friends have to put up with me canceling things short notice, reluctance to commit to plans and not being relaxed or myself when they do see me. I don't know how mum will be on the day I have plans or what I will return home to.
Sometimes it's hard asking for help
This isn't a job or something I can clock off from - it's my mum, so it's hard for me to detach and not worry when I am away. I know I have to look after myself and focus on the positive but after a period of time without break - that can be hard. Sometimes respite is simply being able to have a glass of wine whilst doing the housework with my music on full blast - without having to explain or announce or have someone watching.
Sometimes it's hard asking for help as ultimately it has a direct impact on someone else and I feel like it's a favour to me, when it's not really, which is only my fault and no-one elses. I always get help when I ask for it and am never made to feel guilty for it.
Trying to explain a difficult day
That said, I find it really hard to talk about what we go through because I feel guilty. She's my mum and she cannot help this horrible disease and how she is. I never want it to come across like I am speaking badly of her or humiliating her.
I also don't want it to appear like I am seeking attention or sympathy as this couldn't be further from the truth.
But trying to explain a difficult day, with all the facets and tribulations this may bring is actually very difficult to do in a way that really portrays how difficult it can be. It's my life at the end of the day!
I often feel like I am moaning or not explaining it clearly enough to get my point across and I don't actually strive to achieve anything from it other than my own personal release!
To be continued...
Read the third and final part of Sarah's story. Here she looks to the future and where that may take her and her mum. If you need support and advice after receiving a dementia diagnosis, you can call our National Dementia Helpline on 0300 22 11 22.