More women are affected by dementia than men. Worldwide, women with dementia outnumber men 2 to 1. Here we discuss the biology behind dementia risk.
Dementia risk is a complex puzzle. Understanding the differences of the sexes is one way that could help dementia researchers understand its causes and develop new treatments.
Dr Aoife Kiely, Research Communications Officer at Alzheimer's Society, explores why being male or female could affect dementia risk and diagnosis.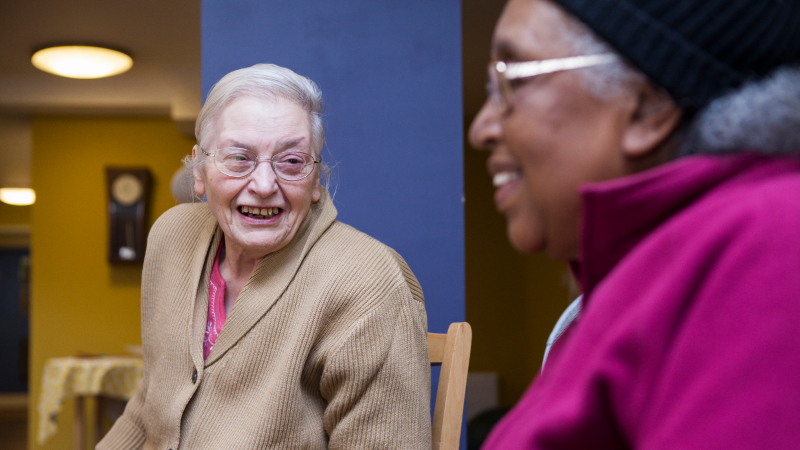 ​
Facts about women and dementia
More women are affected by dementia than men. Worldwide, women with dementia outnumber men 2 to 1.
Brain scans tell us that the rate at which brain cells are dying in the brain is faster in women than in men.
Women are more likely to live longer than men. However, although risk increases with age, dementia is caused by diseases of the brain not age alone.
The importance of female data in research
Animals are sometimes used in dementia research to understand the condition and develop new effective treatments.
We know data from female animals has generally been ignored in brain research. In the past, researchers have dismissed data from female animals or results from drugs trials that involved them.
The data was seen as too odd or inconvenient. Today, the use of female data has sparked debate among dementia researchers.
Jacqueline Mitchell, an Alzheimer's Society funded researcher at King's College London, says:
'We are very aware of sex-based differences – we always make sure to use a balance of male and female so that we can statistically compare any differences that arise in response to drug treatments.'
It might be a surprise that we haven't learned more in the lab about how males and females respond differently to drug treatments.
However, women were only included in clinical trials from 1993.
Understanding the effect of oestrogen
Women have a lifelong relationship with the female hormone called oestrogen. Oestrogen affects the brain, mental health, the cardiovascular system, the liver and more. There have been some studies that show oestrogen might protect brain cells.
Some researchers have suggested that if a woman has more oestrogen throughout her life, she might be less likely to develop dementia.
For example, if she starts her periods at a younger age, has at least one child or goes through menopause later.
Yet, before we can think of oestrogen as a wonder drug, it has some hurdles to overcome.
Hormone replacement therapy and dementia
Oestrogen and progesterone are commonly used in hormone replacement therapy (HRT). Some women going through menopause choose this to help relieve some of the symptoms, such as hot flushes and anxiety.
HRT fell out of favour after a Women's Health Initiative study in 2002 found that it increased the level of risk of heart disease, and breast cancers. However, since then different types of HRT have been developed that are much safer. Now that HRT carries less risk, there are less concerns about its safety when considering its potential benefits for dementia risk.
Previous research into the link between HRT and dementia risk is conflicting with studies producing mixed results. However, in 2021 a large study of nearly 400,000 women, found both new and old HRT drugs reduced the risk of diseases that cause dementia. The study found that the effects differed based on many things: dose, type of medication, length of treatment, age and time from menopause. Now, researchers are currently working to understand the link better, to clarify whether HRT really does reduce dementia risk.

How sex impacts dementia diagnosis
Oestrogen affects how a woman's brain grows and functions. Researchers think this might be why women have a better memory for words and verbal items than men. To assess this part of our memory we measures memory of a list of words or a short story.
Women keep these skills even if they have mild memory and thinking problems. The first step in dementia diagnosis is a verbal memory test. This poses a problem for men and women. As women have a strong verbal memory, they tend do well on memory tests, even if they have cognitive problems. This means they are under diagnosed with dementia.
Men are more likely to be incorrectly diagnosed with dementia because their verbal memory skills might not be as strong. At Alzheimer's Society, we champion person-centred care. This must begin with a method of diagnosis that takes into account certain factors. These could include things such as cultural background, education, on and off days and sex
Does heart health play a role in dementia risk?
We know that what is good for the heart is good for the head. Improving heart health seems to be a good way to lower dementia risk. The health of a heart affecting dementia risk might also be linked to sex. For example, high blood pressure in midlife is believed to increase risk in women but not men, even though it is more common in men.
Professor Patrick Kehoe is an Alzheimer's Society funded researcher based at University of Bristol. He says:
'It is possible that the complex relationship of oestrogen to the renin angiotensin system, which regulates blood pressure and has roles in cognitive function, influences a woman's risk of developing Alzheimer's. Following menopause with the influence of oestrogen on this system a woman is at greater risk of high blood pressure and so perhaps also dementia, but we need to test this in more detail.'
Looking to the future
The G8 and the Prime Minister's Challenge have committed to finding a disease modifying therapy for dementia by 2025.
With women being 65 per cent of the people affected by dementia, we must make sure that any new therapy works for them as well as men.
From lab to the pharmacy, it's important dementia research, care and treatment can improve the lives of both men and women.
How to reduce your risk of dementia
Although getting older is the biggest risk factor for dementia, evidence shows there are things you can do to help reduce your own risk.
Find out more