You can now apply online for a blue badge. This article explains the criteria for people with dementia and how to fill out an application for yourself or a loved one.
Are people with dementia eligible for a blue badge?
Blue badges are for people with severe mobility problems who need to park close to where they are going. This can apply to many people living with dementia, which can affect balance, co-ordination and spatial awareness.
However the focus on mobility and walking means that many people with dementia who apply for a blue badge are turned down.
In 2018 the government announced that the scheme would be extended to people with hidden disabilities including people with dementia. In August 2019 local authorities will implement new guidance issued by government on how to apply the new guidelines.
Local authorities will continue to administer the Blue Badge Scheme and make the decision on whether a person meets the eligibility criteria for a Blue Badge.
How can I apply for a Blue Badge?
In January 2019 the government introduced a way to apply online  for a Blue Badge, whether it's for yourself or for somebody else.  Your local council will be responsible for making the decision about whether you get a badge or not.
Some councils use a different online or paper form. The online gov.uk form will direct you to the right place if this is the case.
Who can automatically get a Blue Badge?
There are some criteria that mean you are definitely entitled to a blue badge. Blue badges are automatically given to people who:
Are registered as blind
Get the higher rate of the mobility component of Disability Living Allowance (DLA)
Get Personal Independence Payment (PIP) and scored 8 points or more in the 'moving around' area of the assessment.
Get War Pensioners' Mobility Supplement
Received a lump sum payment as part of the Armed Forces Compensation scheme (tariffs 1 to 8), and have been certified as having a permanent and substantial disability
If you meet one or more of these criteria, you must still fill out the form to receive the badge.
If you or your loved one don't meet any of these criteria, you can still apply for an assessment, to see if you are eligible for a badge.
Tips for applying for your blue badge online:
Get your documentation together
You will need photos or scans of:
Proof of identity (passport, birth certificate, driving licence)
Proof of address (dated within the last 12 months – for example an electricity bill)
Any documents related to the person with dementia's condition (for example diagnosis letters or any correspondence with medical professionals)
The person's National Insurance number (if they have one)
Up to date contact details (phone number and email address)
A recent digital photo of the person
If the person is receiving PIP (Personal Independence Payment) you need to send the full award letter including the points awarded for moving around.
The decision letter from the Department for Work and Pensions confirming eligibility for a blue badge (if you have one).
The photo of the person with dementia doesn't need to be an official passport photo. You can take a photo with a smartphone as long as the lighting is good. You need to be able to see the face and shoulders of the person, against a plain light background. 
Gather information about the person and their diagnosis
The online form asks you for details of any medical appointments or treatments that the person with dementia has. You should include anything related to their dementia diagnosis, including surgeries, clinics or treatments, GP appointments, and other conditions they may have. 
You should also gather together information about medication and mobility aids. 
There's a chance to add supporting documents as well. If you have a letter from a GP or other medical professional supporting the blue badge application, you should take a photo of this and upload it when asked.
Areas to look out for in the online form:
Choosing a reason for needing a badge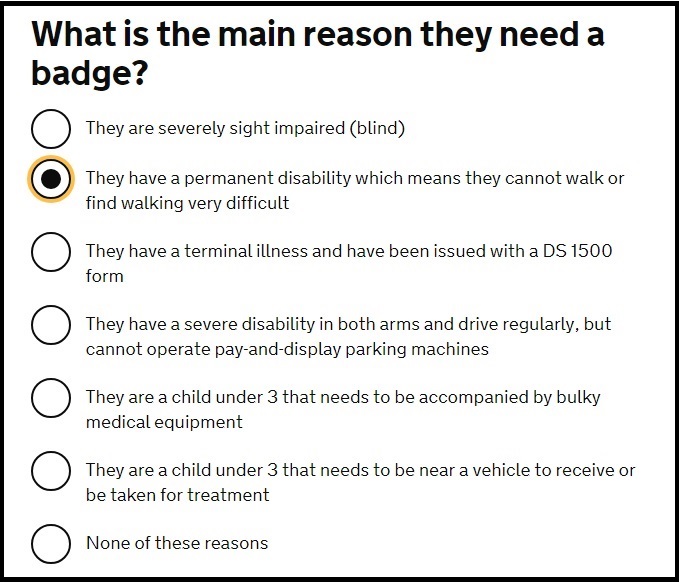 You should select the option that best fits your situation. For example, if the person who needs the badge finds walking difficult, then you should tick the option 'I have a permanent disability that means I can't walk or I find walking very difficult.' 
Describe your walking difficulties

​
The form will ask you to tick different statements about your walking difficulties. You should select the most appropriate one for your situation.
Explaining the impact on your daily life
​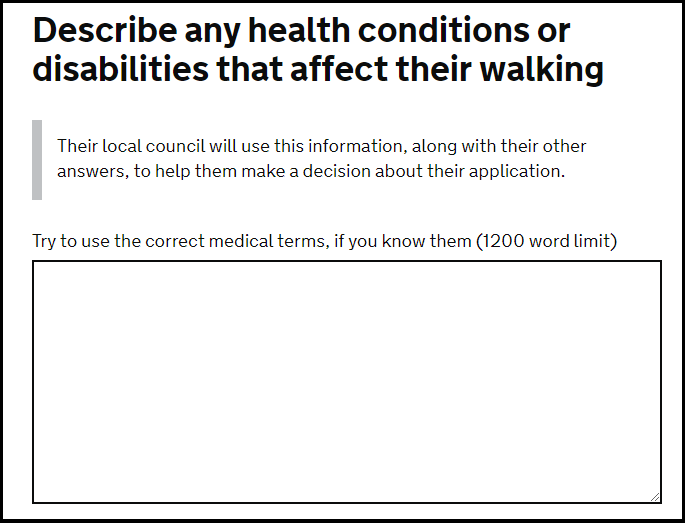 This is an important section where you can talk about how dementia affects the mobility of the person who needs the badge.  
Think about yourself or the person you are applying for on the worst day. Describe in detail how far you or they could walk and the difficulties they have. It can help to think about whether the person with dementia experiences any of the following:  
Challenges with depth perception and visuo-perceptual difficulties due to patterns, depths or uneven surfaces, which can lead to falls or trips. 

The person might not recognise road or safety signage. 

Walking slowly due to a lack of spatial awareness or being disorientated.  
The applicant might always need to be guided to go the right way so can never walk unaided. 

Getting in and out of the car can take time and be difficult, especially in narrow spaces. 

Slow processing skills and a lack of quick reaction to speed can be dangerous near roads. 

People with advanced dementia often have muscle weakness and mobility problems. 
 We recommend writing this section before you start the online form, and then copying and pasting it in when you get to the relevant section.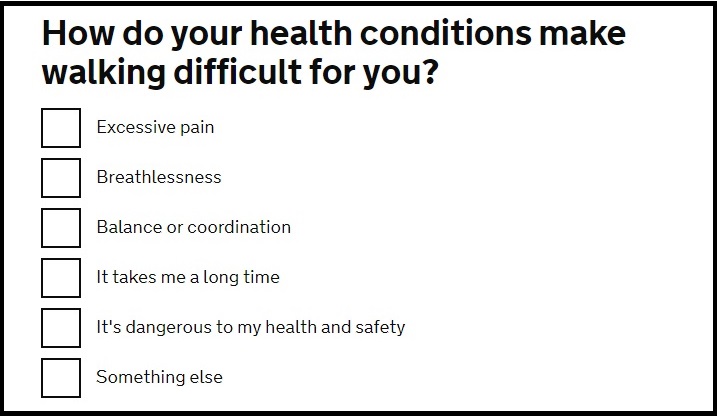 ​
You may then be asked to tick some of the difficulties that you, or the person with dementia, have when walking. You can select more than one option. If you select 'Something else' you can describe the particular issues that are related to the dementia diagnosis.
Finally the form will ask about distances that you or the person you are applying for can walk for. The form asks you to think of somewhere nearby that you or the person regularly walk to, and estimate how long this takes.
What happens after you've applied for a blue badge?
It can take a while for your council to process your application. You should get in touch with them if you haven't heard back within 8 weeks.
They might ask the person with dementia to attend a mobility assessment
If they deny you a blue badge, you can write to the council to protest against the decision and ask them to reconsider.
What do I do if I receive a blue badge?
The badge belongs to the person with dementia. They can use it in any vehicle that they travel in, including taxis. It can't be lent out to other people or used when the person isn't in the vehicle.
You can find out more about where you can park with a blue badge on the gov.uk website.
We'd love to know about your experiences applying for a Blue Badge using this online form. Let us know in the comments below or email us at [email protected]. We can pass on your feedback to the Department of Transport.
Image at top of article is licensed under © Kolforn/ Wikimedia Commons / (CC BY-SA 4.0)
Apply online for a blue badge
Visit the gov.uk site and start applying for your blue badge.
Apply online