Create accessible website, applications, and software for people affected by dementia with our dementia digital design guidelines.
Rik Williams, UX Architect, talks about the guidelines we use to create accessible digital services for people affected by dementia.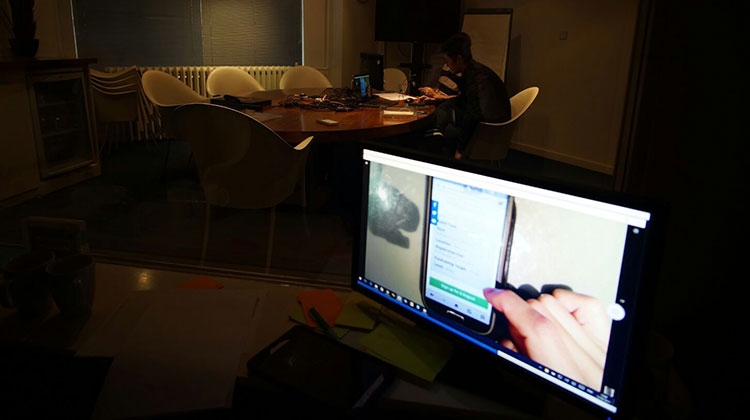 Testing our website with people affected by dementia in an interaction lab. Many people affected by a diagnosis will turn to online services if they are worried about their memory, or are coping with a diagnosis. It's therefore vital that these sources of help and support are easy to find, use and comprehend.
At Alzheimer's Society, we use the following guidelines to design our online services and ensure they're accessible for all.
Learn how to make your website dementia-friendly
Dementia, digital and design - things to consider
There are nearly 1 million people living with dementia in the UK and this will grow to over 2 million by 2050. Dementia is non-discriminatory; it affects people from all backgrounds and across generations.
This means that people affected by dementia are very diverse. They'll have very different levels of digital literacy, in addition to symptoms of dementia. These issues can include:
confusion,
perception and vision,
problem solving and thinking speed,
judgment,
processing and sequencing information,
language and words,
and other physical health conditions too.
Dementia digital design guidelines
Include people affected by dementia
People affected by a diagnosis should be included in all stages of design. Not only will this help you understand, validate and meet real needs, but it'll also help improve your empathy for those for whom you are designing.
However, it can be hard to find and to recruit people affected by dementia. We recommend:
visiting people affected by dementia, rather than bringing them to you. You will learn more about their context of use, and reduce the burden on them,
using dementia forums, like Talking Point and Reddit to reach representative people,
approaching local services in your area, like Dementia Cafes,
using social media, like Twitter and Facebook,
consider using specialist research participant recruiters.
Writing, words and terms
People with dementia may struggle with language, like remembering a word or terminology. Therefore use very clear, specific and explicit language. This means:
using simple, clear, direct and precise prose, headings and labels,
using explicit and arresting content,
using dementia positive language, like 'living with', rather than 'suffering from', dementia,
avoiding generic calls to action, complex wordplay, jargon,
avoiding using abbreviations and acronyms.
Layout, navigation and interface design
People with dementia can struggle to remember things and become disorientated. Try to make navigation explicit and signpost a route back to the homepage, or the start. This can be achieved by:
providing a clear link to 'Home', or the start,
using clear section breaks to make splits and stages obvious,
making hyperlink styles, and states, like 'visited link', clear,
avoiding splitting tasks across multiple screens,
avoiding hiding navigation off-screen.
Colours and contrast
Each type of dementia can damage the visual system in a number of different ways. Dementia also tends to affect older people, although it can affect people from their 30s. This can mean that age related visual decline may affect the person living with a diagnosis, or their carers, too.
When designing digital user interfaces consider:
using high contrast colour schemes to improve readability,
using plain backgrounds, rather than patterns or images, for textual content,
avoiding the use of blue, especially for important interface components.
Text and fonts
Making letter shapes and words simple and easy to perceive improves readability and comprehension for all people on all devices.
Our tips to make words more readable include:
using sans-serif fonts because the letter shapes are generally more readable on digital screens,
using larger text sizes (and higher contrasts) to provide more information to the eye. This is especially important for older people whose visual system declines with age,
avoid using multiple fonts, unnecessarily. This may make the interface and content confusing.
Summary
Most of these guidelines are inclusive in nature. This means that they can improve the ease of use of a service for many people, even if they don't live with dementia.
This is an important part of accessible and inclusive design practice to consider. Accessibility is not just the law; it's a fantastic idea! That said, these guidelines are particularly important for people affected by a diagnosis.
Since you are here...
… we've got a small favour to ask. We are always looking to improve our services in partnership with people affected by dementia. Would you like to take part in future design and research activities? If yes, then complete this three question form so that we can contact you.