Read our blog series Life with ma, taken from Living with dementia magazine, where Dilly writes about her mother in law who has dementia.
Ma is the mother of Dilly's husband (Mr B), she was diagnosed with dementia in 2012. Ma agreed to let Dilly write about the family's new life and experiences in the Life with Ma series.
Dilly's story continues…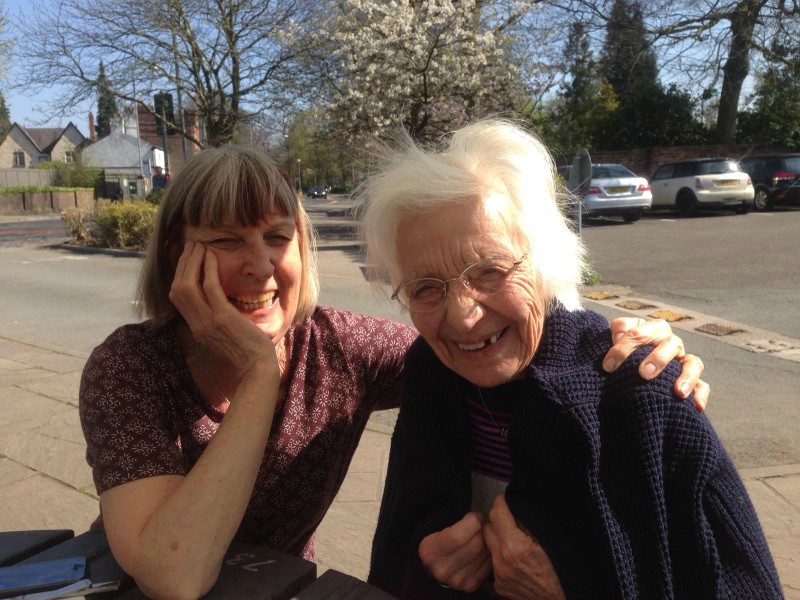 My daughter and son-in-law – Ma's favourite man – have been to visit her. As she was on her own when they arrived, the advice was not to alarm her by knocking on the door, but to go in around the back of the house.
Unfortunately, this had the reverse effect. Hearing a sound, she rushed to the front door to find no one there, but was then confused by hearing my daughter's cheery greeting from the kitchen. This resulted in Ma's familiar 'we are not amused' face.
Ma loves a walk around the local park, often observing that it's 'so green!' Despite her frailty, she can walk miles without seeming tired. Her only concession is to wisely cling to her companion for fear of tripping and falling. This time she became dog obsessed, fawning over all the dogs she came across and getting quite giddy and girlie – a sharp contrast to the gran of old who hated pets. But in her past she had a dog.
Something also reminded her of her first boyfriend and her own grandmother's disapproval, which was going back at least 75 years!
Then on to the shops. Clothes shopping remains one of Ma's pleasures, despite the fact she has wardrobes full of clothes and recent purchases never worn. In her mind, she is still a size 14 and always able to spot a perfect jacket or skirt, but is very put out when offered the size 8 she is now.
Apart from her classic 'living in the past', she remains on great form.
-
Dilly, a daughter-in-law (continued soon)
Life with Ma also features in Living with dementia magazine, which you can subscribe to here.