Many people feel a dementia diagnosis means their life is over, and Peter Lyttle was no exception. After being diagnosed with vascular dementia at 58, Peter felt very low. Thankfully, things changed for the better after he attended a local support group.
It all started after a catalogue of incidents made Peter suspect he had a problem.
He ordered some clothes online in completely the wrong size. He made arrangements to meet friends only to show up a week early. Then one day standing at the cashpoint, he found himself with his bank card in his hand but with no idea what the machine he was looking at actually was.
'I found myself standing in front of the strange-looking instrument built into a wall and in my hand I was holding a piece of plastic. I felt scared, really scared. There were people queuing up behind me and they were making not very nice remarks.'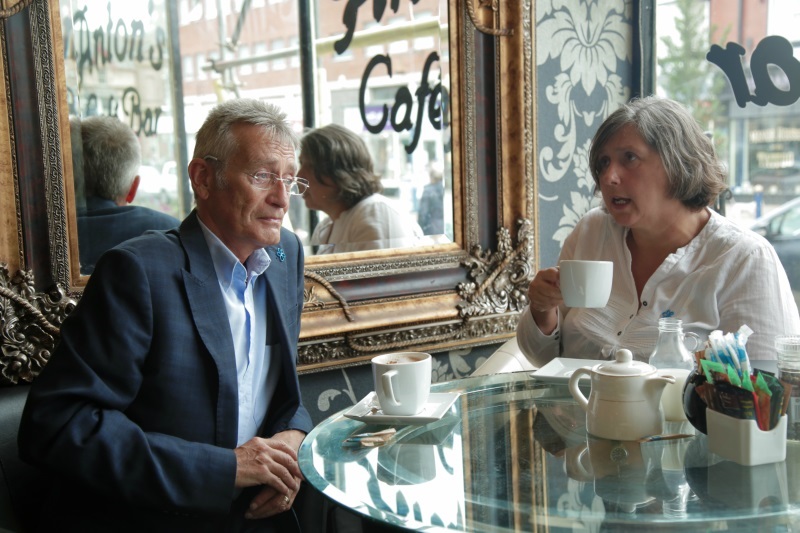 Seeking a memory test
Peter went for a routine blood test and asked the nurse if he could have a memory check too. He was told not to worry – he was too young for anything to be wrong.
They eventually let him take the test, which he failed. The next morning he repeated the memory test with his GP and got the same result.
Peter assumed his memory loss might be a side effect of the medicine he was taking for arthritis, though he was told that was unlikely. After being referred to a memory clinic, they found his recall to be well below average and so was finally ordered a brain scan.
Over six months had passed, but Peter didn't breathe a word of his ordeal to either his friends or family.
I didn't want to worry anyone unnecessarily,' explains Peter.
Peter visited his family for Christmas but still didn't tell them anything. He kept his fears about what the New Year might hold to himself.
Waiting months for a diagnosis
A couple of months later and Peter was at the hospital for the results of the brain scan.
'I can tell you word for word how it went,' Peter recalls.
'The doctor said, unfortunately, we found a growth on the back of your neck and it's attached to your spinal cord.'
Peter was trying to process that bombshell when the doctor added:
'There's no damage to the back of your brain, or to the middle of your brain, but there's a lot of damage to your frontal lobes and you have vascular dementia.'
The damage to the brain was similar to that seen in patients who have been through chemotherapy, which Peter had not. The doctor said he was sorry but that there was nothing they could do. The appointment was over and the doctor got up and ushered Peter to the door. Outside the office, Peter demanded a prognosis.
'You've seen my results, so where do you see me in five years' time?' he asked.
The doctor replied that Peter wouldn't be alive in five years, and advised him to pick up some leaflets about his condition.
'I just stood there on my own and felt there was nobody there to help me. I'd stopped smoking for six months then – it was a big thing for me – and the first thing I did was I went and bought 20 cigarettes.'
'I was scared, confused. I felt so bad and so down.'
Peter felt like there was nobody to help him and was struggling to deal with his diagnosis alone.
'I started spiraling out of control so I decided, and I'm so ashamed now, that I was going to end it all. I was feeling very low and suicidal.'
But that same week a letter landed on the doormat from Alzheimer's Society. It invited Peter to a coffee morning for people with dementia.

Search for local support near you
The meeting that changed everything
At first, Peter felt embarrassed and slightly put out by Alzheimer's Society's invitation to a Dementia Café.  Everyone would be much older than him. But after promising his brother he'd try it, he went along anyway.

'I went along and spoke to a Dementia Adviser called Elaine, who was running the event, and said thanks for inviting me, but I'm not staying because everyone here's older than I am and I don't think I fit in. She said: "That's fine." But as I turned to walk away she said: "Don't think you're going to get away so easily!"'
After only meeting briefly at the Café, Elaine decided to visit Peter the following morning for a chat. It was this chat that had a profound effect on him. They talked about Alzheimer's Society and how people with dementia can still lead active and meaningful lives.
'Within half an hour it was like someone had turned a light switch back on and I went back to being me. She just talked to me and explained various things.
'She made me realise that there is life after your diagnosis. That lady saved my life, she really saved my life. I can never thank her enough for what she did.'
Meeting Elaine transformed Peter's outlook, helping him regain his self-esteem and get his old confidence back.
'If I have a problem I just pick up the phone – there's always someone there,' he says.
Living well with dementia
Having had that light switch turned back on; Peter is proof that people can live well with dementia. He is now dedicated to helping others get over the shock of their diagnosis and get on with their lives in the best way they can.
'I met Elaine on the Thursday and the following morning I was on the local radio telling my story. I haven't stopped since.'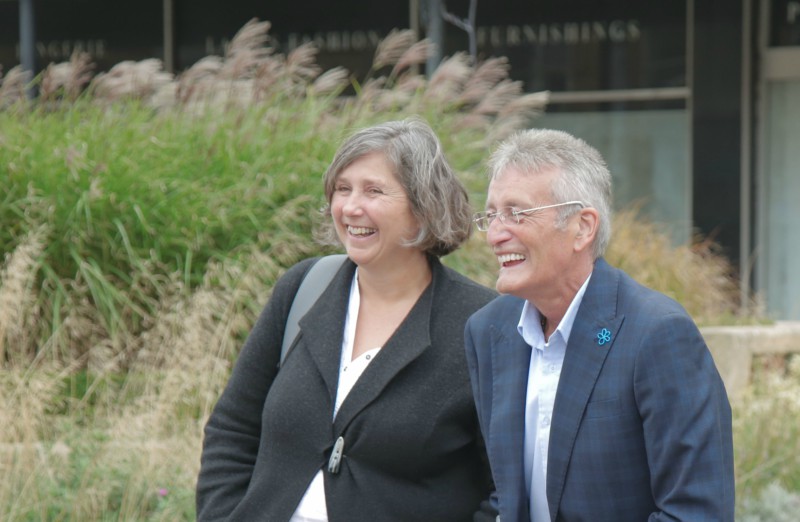 Since then Peter has been spreading the word that there is support out there.
He volunteers with Alzheimer's Society to ensure no-one else feels as isolated after their diagnosis as he did. He gives talks to medical students at colleges in Preston and Blackpool, and has started his own dementia café's for people of his own age and their family and friends.
As a member of a Service User Review Panel, he also uses his experiences to influence the national work of Alzheimer's Society and help make his local area more dementia friendly.
Peter's attitude towards his dementia is nothing if not positive.
'It's not about me, it's never been about me,' he insists. 'I just don't want other people to go through what I went through. If you can help somebody, even if it's just one person, then I think that's brilliant.'
'You're only here once so you've got to make the most of it,' he says.
Three years after his dementia diagnosis, Peter is as active as ever. Passionate about supporting Alzheimer's Society, he is helping out in almost any way he can, from speaking at special events to training up staff.
And if that wasn't enough, Peter has also set up his own cafes for people living with dementia, Fresher's Young Dementia Café.
Identifying the large number of young people with Alzheimer's or dementia, this activity and social group is aimed at people of 40 plus and their partners. And Peter is continuing to expand, with more groups in Lancashire, his home county.
Volunteering with Alzheimer's Society
Living with dementia, Peter takes each day as it comes. But says it's his volunteering that's helping him thrive:
'Volunteering has given me a whole new lease of life, which is ironic.'
'It gives me a focus and I do it because I don't want anyone to go through what I did and not have anyone to turn to or to support them.'
'When someone comes to a group and feels safe and relaxed enough to speak for the first time in a long time, that's just wonderful.'
'Seeing their partner's face light up when all a sudden the person they love starts to come to life again – that's worth a million pounds to me.'
Peter admits he's never been busier and is showing no signs of slowing down. Perhaps what's most inspiring is that Peter's motivation is other people – he says his work has never been about him. It's simply that he doesn't want anyone else to go through what he went through.
'I think I'm a lucky man to be in the situation I'm in, because I know I can help people. I'm trying to help as many people as I can. And I think in this life if you can do something like that, it's brilliant.'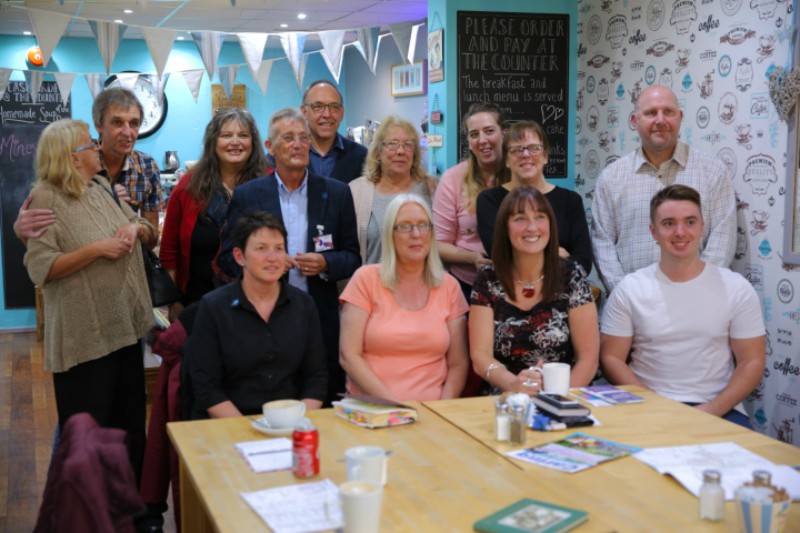 Peter at one of his dementia cafés
Unite against dementia
Globally, dementia is one of the biggest challenges we face. There are nearly 50 million people living with dementia worldwide, and an estimated 850,000 people living with dementia in the UK.
Sadly Peter's diagnosis journey is not uncommon. People often have to wait years before receiving a final diagnosis, often leaving them feeling desperate and alone. Help us reach everyone affected by dementia.
Your kind donations ensure that Alzheimer's Society can be there for every person affected by dementia. Your gift helps us to challenge perceptions, fund research and improve care and support. Together, we are united against dementia.
Make a monthly donation
Make a single donation
This blog post was originally published in 2017 in three parts. In 2021, it was combined into one post.