Dementia can focus families' memories, as well taking away from those living with the condition. For Cate Brown, an old coat will always bring up the past.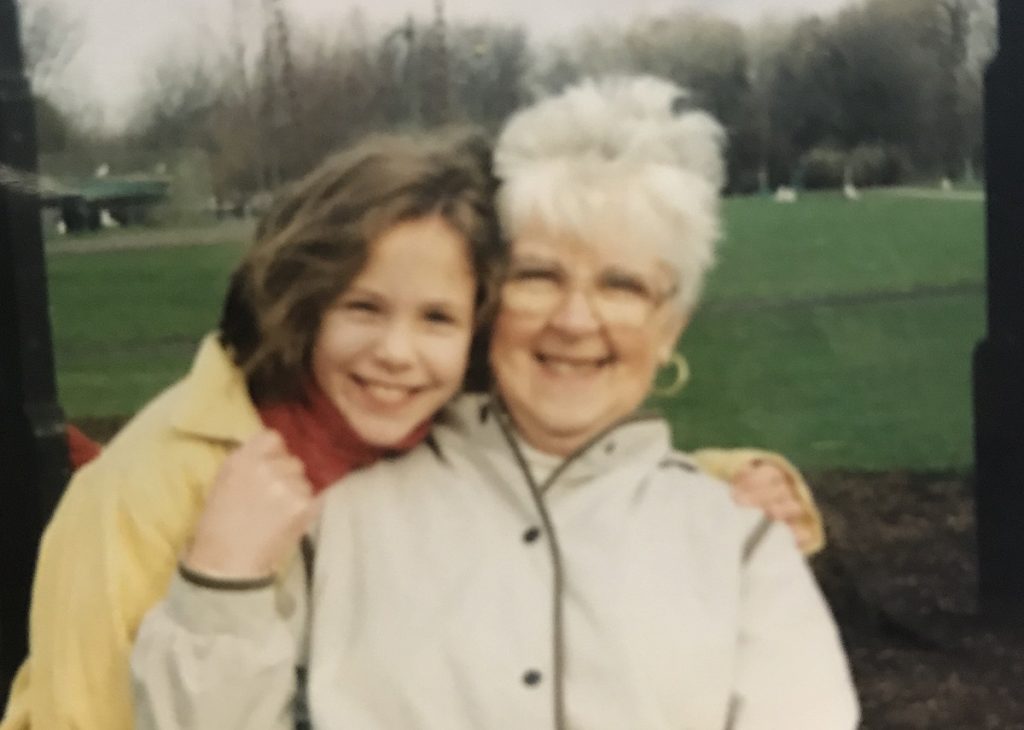 Corduroy: it's a tricky textile to master. Get it right and you're seriously cool for reinventing a drab seventies staple. Get it wrong and you're a fuddy-duddy, a cross between a socially awkward Woody Allen and your old history teacher.
Luckily, at age seven, I couldn't distinguish between the two looks. All I knew was that Dad had returned home with a beautiful, sunshine-yellow cord coat.
A partner in crime
That coat came with me everywhere, including to my beloved grandparents' house: a nondescript bungalow in a now-weathered West Yorkshire town.
It perched on the Victorian coat stand, watching as I followed Grandma's lead in the kitchen, my mini rolling pin striving to work in harmony with hers, which expanded the biscuit dough effortlessly.
From there it went to the town's only cinema to watch the latest Disney film, pick 'n mix buried in one pocket and Ribena stashed in the other. It went to the local tearoom, where my grandma's girlfriends treated me to a toasted teacake, and to Shipley Glen, a countryside fairground with a charmingly laid-back approach to health and safety (the site has since closed).
As if enduring the helter skelter wasn't brave enough, it even survived a premature dip in a local outdoor swimming pool. My grandmother's staged exasperation - 'When will you learn to wait, Madam?' - didn't fool me. In her eyes, I could do no wrong.
Shared memories
Winifred Mary (or Win as she has always been known), is now eighty nine years old, which means she has outlived my cherished cord coat by some years.
Unlike other wardrobe staples - the likes of my denim peddle pushers and popper joggers - I was devastated to see my coat go. With no regard for our shared existence, my dad ditched it one day. Just like that. Yes, its colour had become cigarette-stained, its fragrance wet-dog, but I loved it and I took its ruthless chucking to heart.
Over time, my sense of loss mellowed. With maturity came the realisation that it was the shared memories - of baking, the cinema, toasted teacakes, helter skelters and swimming pools - I cherished, and these would always be there. A sort of common chord between Grandma and me.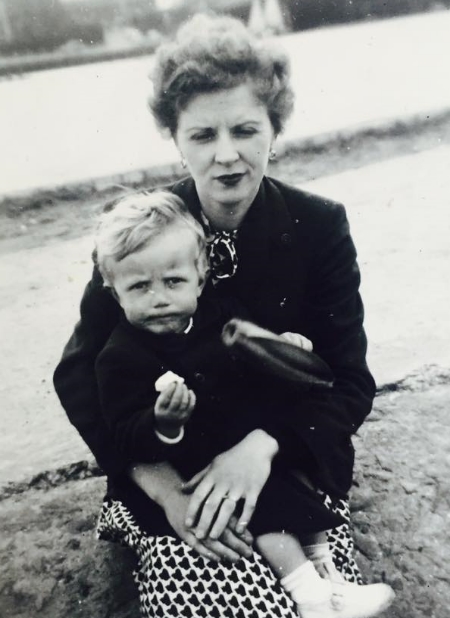 Cate's Grandma, Win, as a young mother
Unravelling threads
At first it was harmless and, well, rather sweet. 'Now where did I put that bracelet?' was followed by an ironic 'I'm losing it - did I see you last Tuesday or Wednesday?' But this was a lady who was an executor of a friend's will and, heartbreakingly, a carer to her elderly son, my Uncle, who suffers the cruelty of multiple sclerosis. To do all that, Grandma was surely fine.
Except she wasn't. Soon she would serve a glass of olive oil instead of orange juice, try to fry bacon in a pressure cooker and even comment on the 'current' Prime Minister, Harold Wilson (who also lived with dementia, incidentally).
For my dad, the penny finally dropped when Grandma complimented him on growing a moustache - the same moustache he has sported since he was fifteen years old and which, despite my nagging, he has refused to shave off since.
Almost a year later, and following a particularly unpleasant bladder infection, pivotal pieces of the jigsaw have been lost. For her own sake, Grandma now lives in a local nursing home. There are good days, when she is giggly and talks lucidly, and there are - as Terry Pratchett called them - 'Clapham Junction days', when she is confused, absent or, even worse, distressed by the many distractions of everyday life.
Lost love
For all my life, Grandma and Grandpa have been interdependent terms. Their separation, after 67 years of marriage, is as heartbreaking to them as it is disorientating. Win's conviction that her husband is busy in their new garden - 'it's a lot bigger than our other one!' - easily wobbles, as his absence begins to register. For Grandpa, their separation is always felt. 'I look at your chair and you're not there' he often tells her, all the while stroking and kissing her cheek.
As my family strives to come to terms with this, and indeed with Grandma's inevitable decline, the beautiful, sunshine-yellow cord coat is at the forefront of my mind. In the same way that my father fears the novelty of his moustache, I fear it is an outfit I will never wear again.