We speak to a Belfast man with dementia who has gained a new lease of life through our volunteering service. 
Please note, this article mentions Side by Side, a service that is no longer operated by Alzheimer's Society. Dementia Connect is our personalised service that can put you in touch with the right support, from local help to phone and online advice. If you are interested in volunteering for us, please take a look at our volunteering opportunities.
- Noted in March 2022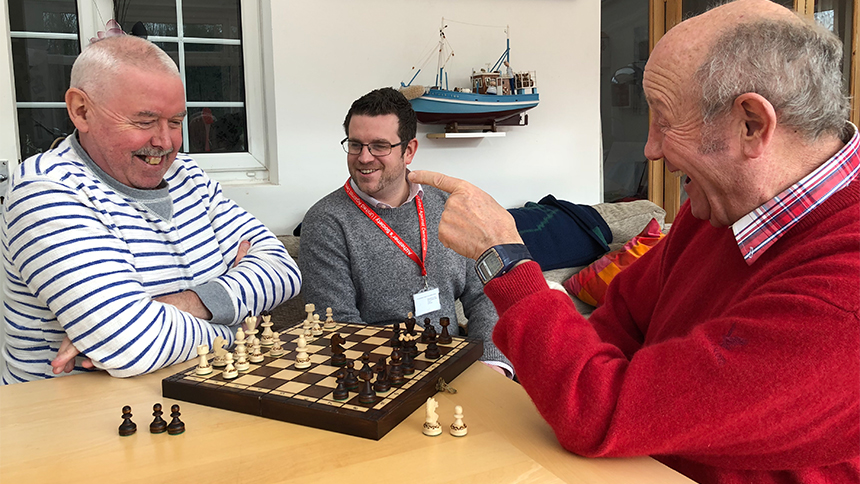 Ian and Raymond get on like old friends
Our Side by Side service brings people with dementia together with like-minded volunteers so they can continue to enjoy their interests and passions.
Ian McKee in Belfast volunteered after reading about Side by Side in a local newspaper article.
'I'm one of these guys who have to give something back, you can't just take,' says Ian, who retired 12 years ago.
Raymond Scott, who has Alzheimer's, loves games and was connected to Ian through Side by Side. In their regular visits, Raymond has shown Ian how to play chess and dominoes.
'Having someone to play chess with is really important for me,' says Raymond.
'With playing chess, you're concentrating. I'm thinking, "What's his next move? What is he doing? What's his strategy?"'
There is one drawback, however.
'I've taught him too well,' jokes Raymond. 'I showed him all the sneaky moves I have and now he beats me!'
Improvement
Raymond's wife Maree recalls a time when he would arrive home in a panic after getting lost, or struggle to communicate. While he still has bad days as well as good, she says that Ian's company has made a major difference.
Maree contacted the Society when Raymond was diagnosed.
'At that time he couldn't have held a conversation with you – he wasn't good,' she says.
'I'm not into games, and he just needed more company and mental stimulation.
'There's been a big change, a marked improvement. It has made a world of difference.

'I couldn't have coped on my own the way he was before. Now we go places and do things.'
Peas in a pod
Teaming up with Raymond has also had a positive impact on Ian.
'I have a very good relationship with him, and vice versa – we bounce off each other,' he says.
'I get a lot out of it, you've contributed something,' says Ian.
'I'm not a Monday person, I hate Mondays, but we have a cup of coffee and put the world to rights.
'By the time I leave Raymond at a quarter to one, I feel really brilliant. I get a lot out of it, you've contributed something.'
David Moore, the Side by Side co-ordinator who brought Ian and Raymond together, says the men are like old friends.
'They banter with each other and I think it's that Belfast sense of humour that they both share,' he says.
'They are not afraid to take the mick out of each other, which shows how relaxed they are together – like two peas in a pod.'
Companionship
Although he had no personal connection to dementia before meeting Raymond, Ian has received ongoing training and support.
David says that as well as being reliable, volunteers need to have an open mind and a can-do attitude.
'Too many people are facing dementia alone,' he says, 'and something as simple as a few hours doing something you love can make an enormous difference in providing companionship, stimulation and enjoyment.'
Ian urges anyone who is considering becoming a volunteer to go for it.
'I get a lot out of it,' he says. 'Raymond has added to my life.'
The feeling is certainly mutual.
'Ian is full of banter which is great fun – we keep each other going,' says Raymond. 'I love to see him every week.'
Next steps
See if Side by Side is available near you.
Listen to some stories from Dementia together magazine as a podcast.
Dementia together magazine: June/July 18
Dementia together magazine is for everyone in the dementia movement and anyone affected by the condition.
Subscribe now
More from Dementia together magazine: June/July 18:
Dementia together magazine is for everyone in the dementia movement and anyone affected by the condition.
Subscribe now