Peter's dementia journey was turned around when he met Dementia Advisor Elaine. Read his full story this World Alzheimer's Day.
This World Alzheimer's Day (21 September) we're sharing the story of Peter Lyttle, who was diagnosed with vascular dementia at the age of 58.
After a difficult diagnosis journey, Peter felt very alone and at times suicidal. You can read more about his experiences in part one of our blog series.
Peter's journey turned around when he received an invitation from Alzheimer's Society to attend a coffee morning. It was here that he met Dementia Adviser Elaine and started feeling like himself again. Continue following his story below.
Peter's dementia story - part two

The meeting that changed everything
At first, Peter felt embarrassed and slightly put out by Alzheimer's Society's invitation to a Dementia Café. Everyone would be much older than him. But after promising his brother he'd try it, he went along anyway.
'I went along and spoke to a Dementia Adviser called Elaine, who was running the event, and said thanks for inviting me, but I'm not staying because everyone here's older than I am and I don't think I fit in. She said: "That's fine." But as I turned to walk away she said: "Don't think you're going to get away so easily!"'
After only meeting briefly at the Café, Elaine decided to visit Peter the following morning for a chat. It was this chat which had a profound effect on him. They talked about Alzheimer's Society and how people with dementia can still lead active and meaningful lives.
'Within half an hour it was like someone had turned a light switch back on and I went back to being me. She just talked to me and explained various things.
'She made me realise that there is life after your diagnosis. That lady saved my life, she really saved my life. I can never thank her enough for what she did.'
Meeting Elaine transformed Peter's outlook, helping him regain his self-esteem and get his old confidence back.
'If I have a problem I just pick up the phone – there's always someone there,' he says.
Living well with dementia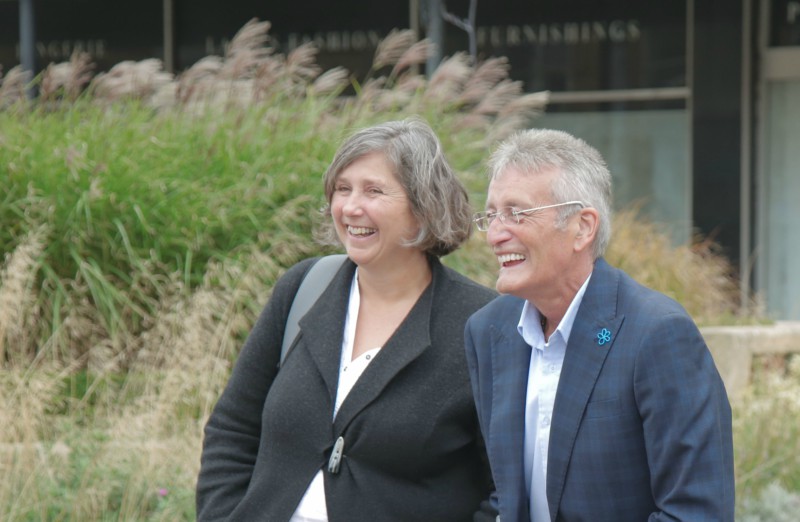 Having had that light switch turned back on; Peter is proof that people can live well with dementia. He is now dedicated to helping others get over the shock of their diagnosis and get on with their lives in the best way they can.
'I met Elaine on the Thursday and the following morning I was on the local radio telling my story. I haven't stopped since.'
Since then Peter has been spreading the word that there is support out there. He volunteers with the Alzheimer's Society to ensure no-one else feels as isolated after their diagnosis as he did. He gives talks to medical students at colleges in Preston and Blackpool, and has started his own dementia café's for people of his own age and their family and friends.
As a member of a Service User Review Panel, he also uses his experiences to influence the national work of Alzheimer's Society and help make his local area more dementia friendly.
Peter's attitude towards his dementia is nothing if not positive.
'It's not about me, it's never been about me,' he insists. 'I just don't want other people to go through what I went through. If you can help somebody, even if it's just one person, then I think that's brilliant.'
'You're only here once so you've got to make the most of it,' he says.
To be continued…
Read the last part of Peter's journey, where we'll hear more about how he's playing his part in the dementia movement. To receive an alert, please subscribe to our blog on the right-hand side of this page.
Unite against dementia
This World Alzheimer's Day we want everyone to know Alzheimer's Society is here for anyone affected by dementia, so they can live their life as fully as possible. Just like Peter is.
Help us reach everyone affected by dementia. Unite against dementia today and donate.