Chris Evans and team of 50 runners complete TCS Amsterdam Marathon for Alzheimer's Society and Alzheimer's Research UK's Dementia Revolution and Dame Barbara Windsor
Virgin Radio DJ Chris Evans ran the TCS Amsterdam Marathon on Sunday 20 October for Alzheimer's Society and Alzheimer's Research UK's Dementia Revolution campaign.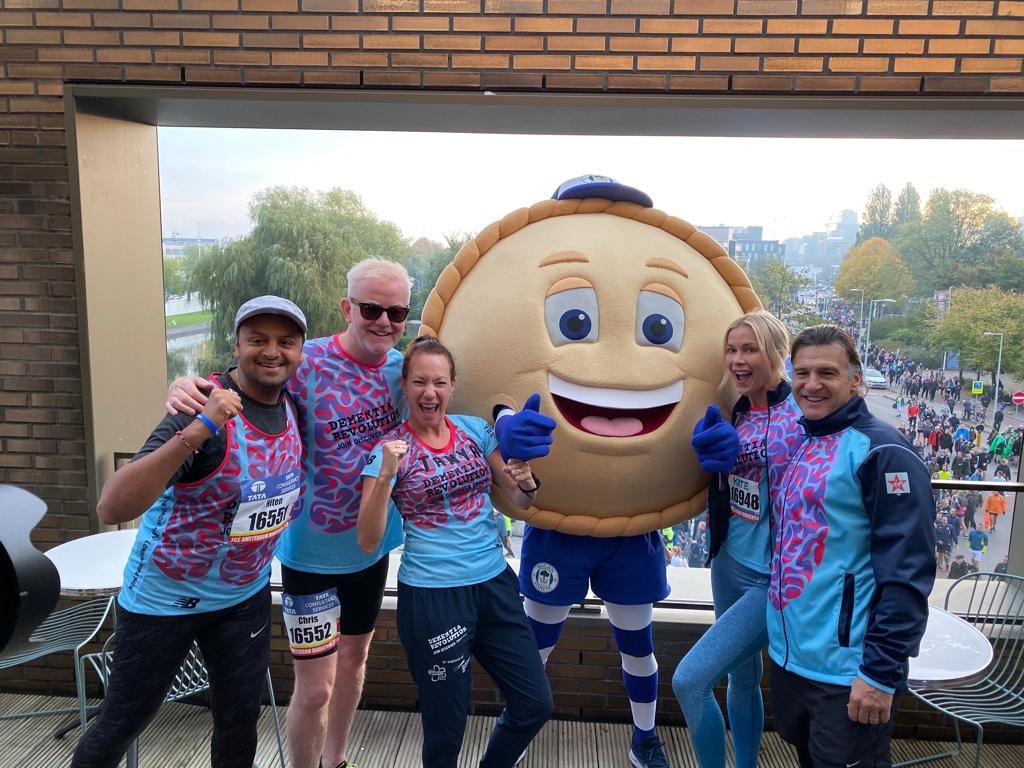 ​
Chris was joined by Vassos Alexander, Tequila Tash, The Frothy Coffee Man, and various members of The Virgin Radio Breakfast Show Team, plus Alzheimer's Society Ambassador Scott Mitchell and EastEnders actress Tanya Franks, who ran the Mizuno Half Marathon. The team of runners were also joined by 50 generous Virgin Radio listeners, who donated to Dementia Revolution, the most successful Virgin Money London Marathon Charity of the Year ever raising £4 million this year.
Ahead of the Amsterdam Marathon, the team of Dementia Revolution runners were sent a special video message from Alzheimer's Society Ambassador Dame Barbara Windsor, Scott Mitchell's wife, who is currently living with dementia. Barbara sent her thanks to all the runners and reminded them that dementia is the biggest health threat facing society. Barbara said: "There are nearly one million people living with the condition in the UK and another person is diagnosed every three minutes. As you run through the streets of Amsterdam remember, you're leading the charge towards finding the cure for dementia. I may not be with you in person, but I will be with you in spirit every step of the way."
Scott and Tanya achieved a personal best for their half marathon time, finishing together in 2 hours 24 minutes. They ran their first ever marathon as part of 'Barbara's Revolutionaries' team for Dementia Revolution at the Virgin Money London Marathon, dedicating their run to Barbara, who was diagnosed with Alzheimer's disease in 2014.
Chris Evans, who also ran the Virgin Money London Marathon for Dementia Revolution in April, held a live auction on his Virgin Radio breakfast show, auctioning off 50 VIP race packages to the TCS Amsterdam Marathon races, raising over £400,000 for Dementia Revolution. Virgin Radio presenter and Big Brother winner Kate Lawler was persuaded the day before the Amsterdam Marathon by one of the Virgin Radio listeners to change from an 8k to run the full marathon. Kate, who said she has only run 5k once so far this year, stormed the marathon to complete the run in under 5 hours.
Joining the Dementia Revolution team at Amsterdam Marathon was viral sensation 'Crusty the Pie'. Crusty the Pie is Wigan Athletic Football Club's recently revealed new mascot and last major signing from transfer deadline day. Over 90 local primary schools were asked to submit their ideas for the new mascot, and more than half of the entries featured a pie. Crusty the Pie took on the 8k race as a rare fancy-dress costume runner. The pie weighed in at 15 kilos and with no sight holes, Crusty the Pie was joined by a guide runner on the day who he followed behind for the race.
Dementia Revolution was the official Charity of the Year for the 2019 Virgin Money London Marathon as Alzheimer's Society and Alzheimer's Research UK joined forces to make a stand against dementia and lead the charge towards a dementia cure. With still no effective treatments to stop, slow down or prevent the diseases that cause dementia, Dementia Revolution has raised vital funds at a crucial time to support much-needed research into the condition.
Income from the campaign is helping to fund ground-breaking research at the UK Dementia Research Institute – the most ambitious dementia research endeavour to date, uniquely bringing together the brains of 700 scientists in seven cutting-edge research centres across the UK, to power world-leading research into dementia. These centres include the new Care Research & Technology Centre which opened at Imperial College London earlier this year and will use artificial intelligence and robotics to help people with dementia live longer in their own homes.
Scott Mitchell, who ran the Virgin Money London Marathon on his 56th birthday, said:
'This has been an incredible weekend. It's been amazing to be part of a team with so much spirit and passion for such a worthwhile cause. Huge thanks to Chris Evans and the Virgin Radio team for organising such a special event and to everyone who ran yesterday for Dementia Revolution.
The money raised will power ground-breaking research into dementia, which is so badly needed, having been desperately underfunded for years.
'That's what kept me going and I know drove us all forward. I thank each and every runner from the bottom of my and Barbara's hearts.'
Chris Evans added:
'Amsterdam-busting with our lovely bidders - doing the marathon for Dementia Revolution - was brilliant. We had the best team with Scott Mitchell, Tanya Franks, The Frothy Coffee Man, Aussie Nick who ran a spontaneous half and the amazing Kate Lawler who we emotionally blackmailed into upgrading from a 5 -miler to a half, then the day before she decided to give the marathon a go and came in under 5 hours!
Each of our listeners who donated has helped make a difference, was a joy to spend time with and each of them now has 49 new friends.
'The pie costume was massive, but Crusty still did the 8k in just over an hour. We were so hungry all the time just looking at him.
'Amsterdam is a city full of bikes, so fresh from the marathon, in spite of our achy-breaky legs, one of our runners Tall Tim and I saw some bikes for sale, so we bought them and cycled back!'
Jeremy Hughes, CEO of Alzheimer's Society, said:
'We can't thank Chris Evans and his team enough. The generosity of the Virgin Radio listeners is greatly appreciated by us all, and we're really grateful to everyone who has supported Dementia Revolution. Dementia is the UK's biggest killer, but with vital funding, research will beat dementia. Every penny raised will be invested in groundbreaking research that will make a difference to the 850,000 people living with the condition in the UK.'
Hilary Evans, Chief Executive of Alzheimer's Research UK, commented:
'We want to say a huge well done and thank you to everyone who took on the challenge of the Amsterdam Marathon for Dementia Revolution, and all the friends, family and Virgin Radio listeners who supported them. The Dementia Revolution has taken a huge step towards bringing dementia out of the shadows and the funds raised for groundbreaking research will make a huge difference in the search for a cure.'
Anyone who would like to help support the Amsterdam marathon effort should visit this link to donate: justgiving.com/amsterdamweekender