Founding member of Alzheimer's Society's Research Network awarded MBE
Alzheimer's Society volunteer, Barbara Woodward-Carlton, has been awarded an MBE in the New Year's Honours.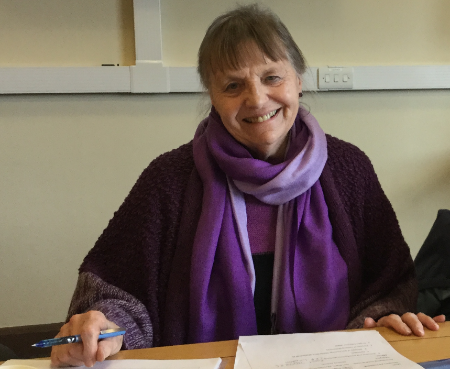 The award was given in recognition of Barbara's services to patient and public involvement in furthering dementia research.
Jeremy Hughes, Chief Executive of Alzheimer's Society, said:
'This is a well-deserved honour and recognition of Barbara's tireless commitment to improving the lives of people affected by dementia.
'For over two decades Barbara has played a pivotal role in ensuring that the voices of people affected by dementia are heard and that increased funding for research becomes a priority.
'As a founding member of Alzheimer's Society's Research Network in 1999, Barbara helped pioneer public involvement in dementia research, drawing on her own experiences of caring for her mother with Alzheimer's disease. Nearly 20 years on and now with over 280 carers, former carers and people living with dementia involved, the Research Network is a global leader and has been at the forefront of initiatives to bring dementia research into the spotlight for funders, industry and governments.
'As an expert by experience, Barbara has built an innovative and productive partnership with University of Bradford which has united Research Network volunteers in Yorkshire with the world-leading dementia research taking place at the University.
'All of us at Alzheimer's Society send Barbara a huge, heartfelt congratulations. We could have no better a champion as we strive to transform the landscape of dementia forever – uniting the nation in the fight against the condition.'