A charity greeting card seller says volunteering helped her to stay connected
From the August/September 2016 issue of our magazine, a Cards for Good Causes volunteer says that being involved helped her to keep in touch with others after her husband died.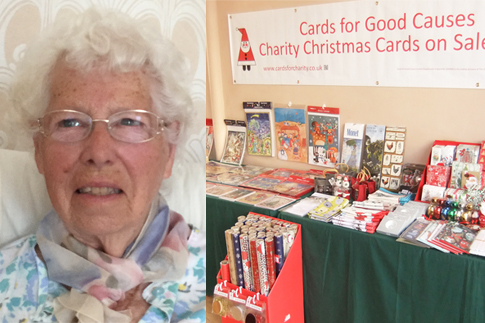 Jean Fox first volunteered for Cards for Good Causes back in the early 2000s, selling Christmas cards for a range of charities including Alzheimer's Society. It was one of a number of voluntary roles that she took up after her husband's death.
She says,
'I was lost on my own when Geoff died, but volunteering kept me going.
'We have no children and I lost friends through caring for him – I was always in the background, pushing his wheelchair. But being a volunteer kept me with people.'
Jean helped sell charity cards in Eastbourne, East Sussex for many years. Although she hasn't been as involved recently due to her own health problems, she still visits the local team to support their work by buying cards herself.
Vital volunteers
Cards for Good Causes sells cards on behalf of over 250 national and local charities. A network of more than 300 shops are set up in places such as libraries, town halls, schools and churches, and volunteers are vital in staffing and managing them.
Jean says,
'Even helping a bit feels worthwhile. It's like I'm giving something back for the help that my husband had when he was alive.'
Jean says she would definitely recommend volunteering.
'You meet all sorts of people. We all need people to get us going and keep us alive.'