Dementia Voice: Wendy's story
Wendy is living with dementia, and she attends our Engagement and Participation Programme Board Meetings. Find out how she got involved and what the meetings are like.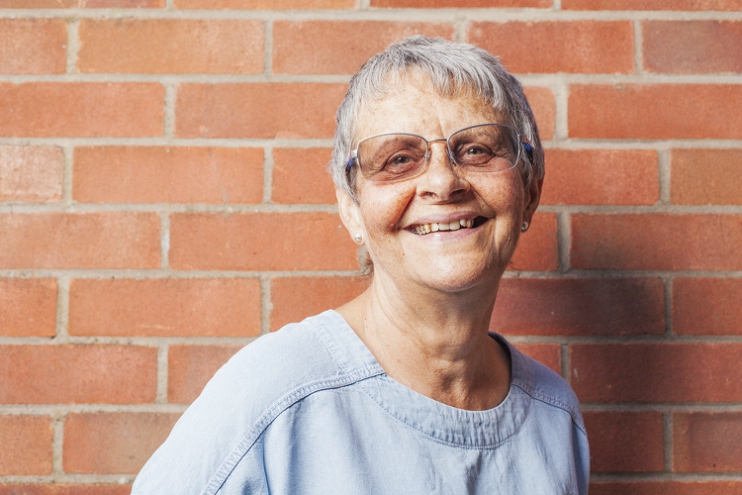 Wendy, can you tell us a bit about the board meeting?
There are about 12 of us who take it in turns to attend board meetings, and today it was the turn of me and Rosemary, a former carer, who is also part of the research network. We sat and had lunch with Matt and Laura, in order to go through all the papers beforehand, which was lovely as it sets the scene slowly before the main event.
The lovely Matt Murray is currently out of his Research Network management post and in the Engagement and Participation manager's role, so it was nice to see him there. Laura Venables had kindly sorted out all my travel which made things a lot easier - one key enabler to ensuring people with dementia become involved, is making it easy.
What do you think are the team's highlights this quarter?
Brett Terry, Director of people and organisation development, chaired the meeting and we heard about the successes of the recent year and the challenges ahead. The Programme board consists of people from all directorates (Society's teams). For me, this is key as everyone, no matter what directorate they sit in, should have the involvement of people with dementia in the forefront of their minds when designing anything. Involvement from the start is 'user involvement' and not from the end, which would be a 'service user'.
What do you think are the team's challenges this quarter?
The society has accepted the challenge of finding different ways to encourage people with dementia to be more involved with the society. Matt spoke of the new 'virtual' involvement board, which is a fabulous idea to enable more people, who maybe find travelling difficult, to be heard. I'm hoping it will attract minority groups to take the plunge and see what a difference involvement can make to their wellbeing.
The society is aiming high on user involvement – they know they haven't got it right in the past but are trying to embed change and have the involvement of people with dementia at the top of the agenda which is good to hear.
Can you tell us a bit about what made you accept the invitation to be a Programme Advisor?
I can't remember why or how I became a member of the User Involvement board, but more than likely, an email was circulated asking for volunteers and I responded. Why do I volunteer to be involved? Primarily to make sure that people with dementia are represented because no decision about people with dementia should be made without involving people with dementia and the society recognises this now more than ever.
It's always great to be involved and this meeting was no exception and well worth the effort of travelling to London.