Wendy Mitchell was diagnosed with young-onset Alzheimer's disease in 2014, aged 58. Here she shares exclusive excerpts from her book about dementia 'Somebody I used to know' and the conversation she had with work colleagues about her dementia diagnosis.
Since her dementia diagnosis, Wendy has taken part in vital research and won an Inspiring Individual award in 2017. Now, she is about to publish a new book titled 'Somebody I used to know'.
Here, Wendy reflects on sharing her dementia diagnosis with her NHS colleagues. This is followed by two exclusive excerpts from her book, which look back at Wendy meeting with her employers after her diagnosis, then seeking information from Alzheimer's Society's resources.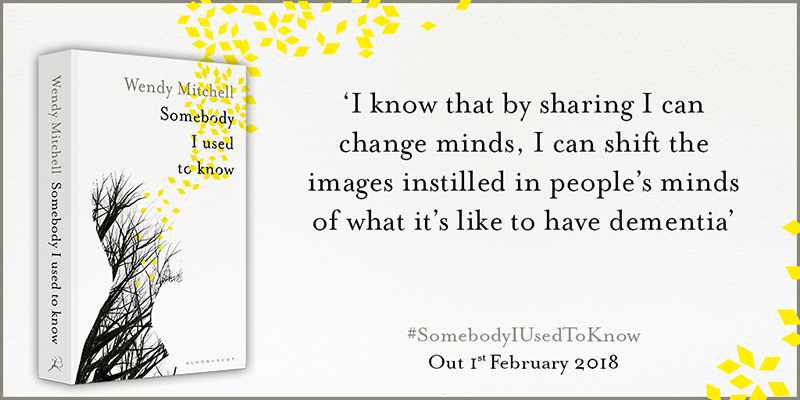 ​
Telling work colleagues about a dementia diagnosis
It became apparent that my team at work would soon realise things weren't right. I couldn't hide it much longer. I had to tell them, but how?
I'd recently become a Dementia Friends Champion, and one day the ideal screensaver appeared on everyone's screen. It was all about Dementia Awareness. Obviously, this was relating to patients but gave me the ideal opportunity to deliver a Dementia Friends session to the whole team.
When it appeared in their calendar, they would simply think it was in relation to everything else going on in the hospital. The ideal opportunity.
Delivering a Dementia Friends session
I remember feeling nervous. I remember the small room filled with all eyes on me. I remember feeling hot and uncomfortable. But I started off with the Bingo session to relax everyone and laughter and the need to win overtook any concerns they had when they walked in.
Next, I remember going through the Bookcase Analogy and thoughtful eyes suddenly appearing on faces. It was at the end of the session that I told them:
'The reason I've taken you through a Dementia Friends session is because I've been diagnosed with young-onset dementia and now need all your help.'
The animated group that had walked into the session now appeared sad and thoughtful.
You could hear the tumbleweed rolling and eyes appeared downcast and confused. The animated group that had walked into the session now appeared sad and thoughtful. I knew they needed time to digest the information and talk among themselves.
Before I left for the day, I sent them all an email saying that my door was always open and if they had any questions to simply ask me. I left feeling exhausted but it was now all out in the open, and I just knew my team would come good.
Care and concern from colleagues
The next morning, I was overwhelmed by their concern, questions and suggestions for how they could help me. By being honest with them, I knew, from the relationship we had, that they would be there for me.
No one tells you how to break the news to work colleagues. It's one support that should be given to any staff member going through the same as I did. The Human Resources (HR) team should have supported me on how to deliver the news. Hopefully things may have changed a little for the best now.
There's no point in keeping it a secret otherwise colleagues will only make up their own stories of why you're struggling and may be less supportive.
No one should be ashamed of having dementia – it's a complex brain disease so why on earth should we be ashamed?
But employers need to help and support staff in this often difficult situation.
Once people understand WHY something is happening, you'll be surprised how supportive and helpful those around you can be, just like my wonderful team. And for those who aren't, well that's their problem and employers should, again, step in and speak out for the person with dementia.
1. Excerpt from 'Somebody I used to know'
Wendy moves towards early retirement
The notes I'd made sit abandoned inside my folders. It is as if the decision had already been made for me before I even entered the room. I watch as she makes notes and fills in forms, her pen skipping along, ticking boxes. She doesn't look up to include me. Perhaps she thinks she's making it easier for me this way, making the decisions so I don't have to. Others have also suggested I retire due to sickness, but I've shunned the idea. I'm not sick – I am well; I just need help and advice. But it's sadness, not anger that wells inside me.
She has a form in front of her where she needs to write her recommendations, and I sit watching, helpless as she begins to fill in one particular section: 'Incapable of meeting the demands of her NHS employment'. My fate has been decided.
Money matters
I still have a mortgage to pay, so reducing my hours was never an option. I won't be able to pay the bills, and so, just as she's suggested, early retirement is the best way. At least then I'll get a lump sum to pay off my mortgage.
I'm trying so hard to look at the positives. But as I leave her office, clutching a copy of the form she filled in, any hope I had in the health system evaporates. The system itself, my manager, even occupational health – they've all abandoned me. I have been able to advise them far more than they have me. I am working within the NHS and I still can't get the support I need. What chance do others with dementia have?
I know I still have a valuable contribution to make and I'm not ready to write myself off. I have worked hard to get to where I am and I don't feel ready to give it all up. It seems like I'm shouting and screaming into the wind. I am not sick. I want to be heard. I am angry, but more than anything, I am sad and deflated.
2. Excerpt from Somebody I used to know
Wendy finds help from Alzheimer's Society
Since I found the page on the Alzheimer's Society website offering to send out free leaflets and books about a whole range of subjects on dementia, more and more have been arriving for me each day.
I'd gone through the whole checklist, ticking every box in my desire for information – any information – that might tell me more. I rip open each envelope when he's gone, flicking through the titles: Keeping Safe At Home, Talking To Children About Your Illness, Planning Ahead.
I put them in a pile on my coffee table; right now it's enough to have them nearby. A comfort blanket for darker days.
In the last few days I've started a blog called Which Me Am I Today? It's somewhere I can put all this new information I'm discovering and, most importantly, it serves as my memory when I know that each night my brain is deleting files as I sleep – the day before becoming as much of a mystery as the day ahead.
I still feel abandoned by the doctors who diagnosed me, so instead I scan the internet, my desire to learn more and more, to equip myself with something other than fear, pushing me on to click on more pages, to absorb everything I possibly can. The only thing, of course, is holding on to all that new information. I glance at the books on the coffee table.
Behind the headlines
It's been the same with every headline about dementia since I was diagnosed. I'd read one after another, my heart lifting at the thought of the miracle cure that most newspapers suggested might be on the horizon.
I started taking vitamin E because it was claimed it could slow the progress of the disease. I stockpiled my cupboards, popping a pill into the daily box with all the others. But when one day I started to run out, I scoured the internet for more evidence, switching from tabloid newspaper headlines to research papers, and discovered there was little to prove it had any real effect. I threw the last empty bottle into the bin and didn't replace it.
Most newspapers will tell their readers that a healthy lifestyle helps prevent Alzheimer's, and I think of my old running shoes at the back of the wardrobe and remind myself not to believe everything I read. Now each headline fills me with a niggling disappointment instead of the hope it once did.
I still want a cure, desperately. There's nothing wrong in hoping, but expecting – that just feels like pre-planned disappointment. Is it not better to live for today, just keeping in mind tomorrow? But then I think of my daughters: what if they were ever diagnosed with it?
Getting involved
There has to be something more that I can do. My eyes fall on another leaflet I've collected on my travels, What To Do When A Potential Brain Donor Dies. I shift in my chair; that's not what I mean. I want to do something now; I don't want to just sit here and wait for this disease to make its march on my mind.
I balance my laptop on my knee and type in the details for the Alzheimer's Society, and that's when I see the words: Be Involved.
I send an email, telling whoever will be reading it that I want to be involved as much as possible, while I still have the opportunity, feeling, as I type, the continuing sense of urgency that has settled itself inside me.
A few days later I open an email explaining that the Alzheimer's Society is putting together a national Join Dementia Research database, and they want to know whether I'd like to help raise awareness in Yorkshire. I know from my own findings that dementia research lags far behind that into cancer or heart disease, and the way of discovering more is to appeal for volunteers for studies, not just those with the disease, but their families, caregivers, and even people who simply want to help. I think of Gemma and Sarah again, and the hope of finding a cure in their lifetime, so I write back, explaining I'm happy to do anything.
Looking ahead
The following week I'm on a train to London to receive media training. The idea is that with some training I'll know what to expect when journalists interview me and how to answer them, either in print, or on TV or radio.
The world whizzes by at the windows and I feel thankful for the miles that pass between me and home, for the opportunity to be out in the world doing something, making a contribution instead of sitting idle and allowing this disease to spread not only through my own brain, but those of others. I think of all the people who have so tragically lost limbs or have had heart attacks and the technology that has been developed through research to help them, but what is there for dementia?
We need those same brilliant brains to develop tools to help us with our memory, speech and cognitive problems so we can lead better lives. So we can live with Alzheimer's. I vow to say yes to anything I'm asked to do to help this cause.
Wendy's book 'Somebody I used to know' is available now from Alzheimer's Society's shop. You can also read her blog on living with dementia, 'Which Me Am I Today?'.
Buy Wendy's book
Read Wendy's blog
This blog post was originally published in 2018 in two parts. In 2021, it was combined into one post.