We meet Louise Thomson, who had to care for her mother while raising a young family.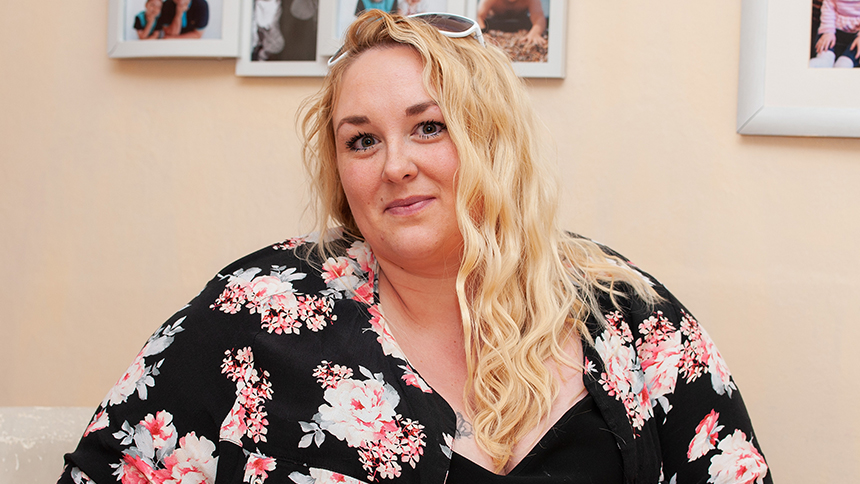 Louise began to notice changes in her mum's behaviour around seven years ago
When Louise Thomson moved her young family from Essex to Surrey, she assumed that her mum Teresa, who lived nearby, would be on hand to offer support with childcare.
But those plans, and many other hopes for a settled family life, have been turned upside down by Teresa's dementia – a rare form called posterior cortical atrophy (PCA). Its progression has been dramatic, and Louise is not only raising two children without her mother's support but also caring for Teresa herself.
Peaceful and bubbly
Teresa, 56, was a bodybuilder who had owned a gym business and worked as a surgical nurse. Art was her great passion, particularly painting with acrylics.
'She was kind, peaceful and bubbly,' says Louise, who lives in Redhill with her partner Mark and children Oliver, 10, and Miley, 4.
'She became a vegetarian because she didn't want to hurt animals.'
It was around seven years ago, when Teresa was just 49, that Louise first noticed changes in her mum's behaviour.
Teresa started letting herself into Louise's house on her own, which she had never done previously.
She would also send very short replies to lengthy text messages, or even respond with a call, which again was unusual.
There were further problems a couple of years later when Teresa was looking after Oliver. This included Teresa forgetting to give him the lunch Louise had provided.
'He'd come home hungry and I'd notice his lunch box was still full,' says Louise, 32.
'Other times, Mum would forget that she was supposed to be having him.'
A doctor suggested that Teresa may have a thyroid problem, but tests came back clear, while they also mentioned 'brain fog' caused by the menopause.
Louise kept asking Teresa if she was OK, but her mum insisted it was just the menopause.
Teresa's partner Michael also told Louise not to worry.
'The more I pressed, the more angry and upset Mum got,' says Louise. 'I felt I was being this awful, naggy person.'
'After Mum lost her job, the occupational therapist said she had anxiety and depression, so I just ran with that.'
Turning point
As Teresa's only child, Louise was already feeling the pressure of responsibility when, in 2016, she arrived at Teresa's house to take her out for a pamper day.
'I got there and found her walking around the house naked,' says Louise. 'She was acting like there was nothing wrong.'
'We went to the doctor's and Mum was crying and saying, "I know I'm going to die."'
Teresa failed a series of neurological tests and couldn't even recognise Louise. A brain scan at hospital in June 2016 then revealed that she had PCA, caused by Alzheimer's disease.
It was later suggested that Teresa had experienced a transient ischaemic attack – also known as a mini-stroke – a couple of months previously, which had quickened the onset of her dementia.
'There have been so many occasions where I can't talk afterwards because I can't believe what just happened,' says Louise.
Michael gave up work immediately to become Teresa's main carer, while the family employed carers to support Teresa four times a day.
Teresa's behaviour could be challenging, such as chasing Louise around the house, swearing and screaming at her. Teresa has also experienced hallucinations.
'It's been hell,' says Louise. 'There have been so many occasions where I can't talk afterwards because I can't believe what just happened.'
Family pressures
Although it became clear that Teresa's needs would be better met in a care home, it was a struggle to find an appropriate place that would accept her.
Following another stroke and a four-month spell in hospital, Teresa entered what Louise describes as an 'amazing' home last September.
However, Teresa has since had seizures that have reduced her quality of life.
'She can't hold her own head up, and her arms and hands are fused in a particular position. She's out of bed for two hours a day,' says Louise.
'Every time she has a seizure it takes something away.
'There is sometimes a glimmer of who she used to be, like this certain movement she does with her shoulders, but it's less and less now.'
Talking Point
Visit our online community to get advice, share experiences, connect.
The time and energy needed to support her mum led to Louise giving up her job as a childminder while continuing to raise a young family.
'I was always doing admin work – forms, assessments, appointments,' she says.
'It was a real strain on home life, really bad. I had a meltdown and was put on antidepressants.'
Her son Oliver has also been affected by Teresa's illness.
'They had a close relationship, so he's been down about it,' says Louise.
'He says he misses his nanny but that he doesn't want to see her because she looks "dead".'
Louise has received strong support from friends, family and the church where Mark works as a caretaker, as well as other members of a PCA group on Facebook.
'I would work as a team with Michael on the admin, and had friends or family who could help look after the children,' she says. 'I'm also really lucky that Mark is so good – we've been through a lot together.'
Not alone
Louise is frank about the emotional toll that her mum's dementia has had on her.
'I got really angry a few times,' she says. 'I've been through cervical cancer and miscarriages, then finally got pregnant and moved here to be closer to Mum, and this happened. It pissed me off.
'I've also got upset, thinking that one day this will be me, which is selfish really. But I've turned down genetic tests – I don't want to know.'
'I don't feel like it's my Mum anymore, to me they aren't the same person,' says Louise.
Louise feels able to be so open about her experiences because Teresa has become so far removed from who she once was.
'I don't feel like it's my Mum anymore, to me they aren't the same person,' she says. 'It's such a shock to go from one to the other.'
Louise hopes that sharing her experiences will help raise awareness of PCA and the challenges it brings. This includes how different its initial symptoms, such as problems with vision, can be.
'Dementia isn't just a forgetful old person – I was so shocked by some of the PCA symptoms,' she says. 'I hope people might read my story and think, "I'm not alone."'
Next steps
Dementia together magazine: June/July 18
Dementia together magazine is for everyone in the dementia movement and anyone affected by the condition.
Subscribe now
Dementia together magazine is for everyone in the dementia movement and anyone affected by the condition.
Subscribe now