Dementia together magazine's 'Ask an expert' column on supporting a person to continue caring for their dog after being diagnosed with dementia.
Keeping a dog after a dementia diagnosis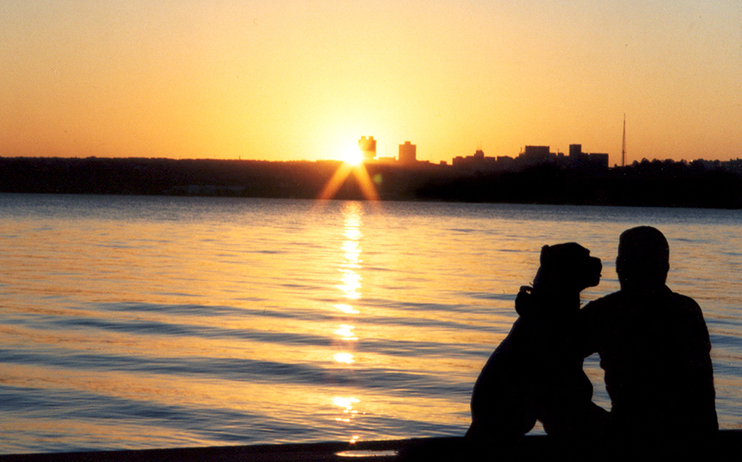 ​
'Dad, who lives alone with his dog Ellie, has recently been diagnosed with Alzheimer's. Should I suggest that someone else looks after Ellie instead?'
Dogs are a big commitment – it's understandable for you to be thinking about how your dad will cope with Ellie. However, having dementia does not mean that someone should necessarily give up their pet.
An animal can provide many benefits such as companionship, exercise and improved wellbeing. They are a source of support and interaction, and can help people to remain independent.
Any decisions should be based on your dad's particular situation and what would be in both his and Ellie's best interests.
Coping
If your dad is coping with Ellie, the best thing may be to keep an eye on the situation and talk to your dad about planning for the future.
It might not be easy to have a conversation about what would happen if he were unable to look after Ellie. However, it is important to ensure that Ellie will be cared for and your dad's wishes met, as far as possible.
You may also want to think about what would happen to Ellie if your dad needed to move. Depending on where he moved to, your dad may or may not be able to take Ellie with him.
Signs that your dad might need more help with Ellie could include her losing or gaining weight, soiling the house or not getting enough exercise.
Support
If your dad does need support with Ellie, look for ways to do this that maintain his sense of purpose and involvement. It's important not to take over from your dad, but to offer him the help he needs.
Having a regular routine in place for walks and feeding can be useful. There may be ways for you to help such as phoning your dad as a reminder, leaving 'prompts' – dog food or Ellie's lead – on the side or offering to go for a walk with them.
Would you or someone else close to your dad be able to look after Ellie, if needs be? This could help to maintain contact between your dad and Ellie. If he did decide to get Ellie rehomed, he may want to speak to the new owner about arranging visits or time with her.
Next steps
Dementia together magazine: Feb/March 17
Dementia together magazine is for everyone in the dementia movement and anyone affected by the condition.
Subscribe now
Dementia together magazine is for everyone in the dementia movement and anyone affected by the condition.
Subscribe now