Meet Shelagh Robinson, a woman with dementia campaigning for change.
People with dementia are at the forefront of the movement to improve awareness, care and support. Gareth Bracken meets a campaigner helping to lead the way.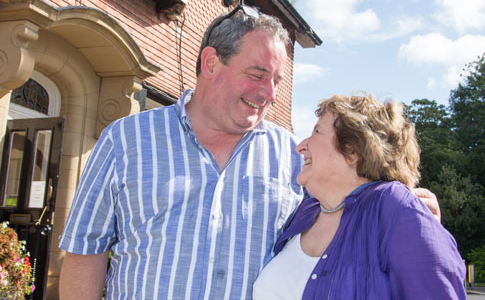 The consultant spent three minutes with me and didn't turn away from his computer. He didn't look at me. He told me I had dementia, gave me medication and said, "See you in three months".'
After a brain scan and a life-changing diagnosis, Shelagh Robinson might have expected a more compassionate response from a healthcare professional.
She says,
'I was left to drive home alone and cope alone. I wouldn't want anyone else to go through that.'
Shelagh, the former founder and chief executive of a women's refuge, was told she had Alzheimer's disease in 2009, aged 68. At the time, her mother was living with vascular dementia and her father with Alzheimer's.
Before her own diagnosis, Shelagh says she experienced episodes of confusion rather than memory loss.
'I would book in two people for a meeting at the same time, or get mixed up between Birmingham and London, and travel to the wrong location. I put it down to stress because I was working so hard.'
Getting lost
Shelagh, a counsellor and former university lecturer, remembers panicking after getting lost while driving a familiar route, which wasn't like her at all. She became concerned about getting to places she knew well, and about her awareness of space.
'I would think there wasn't enough space to park the car but then got out and realised you could fit two double decker buses!'
A previous road accident had injured the frontal lobe of her brain, and Shelagh says this meant she experienced certain dementia symptoms that wouldn't usually be apparent so early on, including problems with her vision.
She also feels particularly vulnerable when it comes to dealing with numbers and money. However, Shelagh is still counselling and believes that having dementia may even help in supporting her clients.
She explains,
'That I can talk about my own vulnerability helps in the counselling environment.'
She lets clients know about her dementia right at the start and offers them a no obligation trial session. In six years, no one has ever chosen not to continue after that first session.
Campaign for change
After her diagnosis, which took her a while to accept, Shelagh got involved with the Society's Right to Know campaign, sharing her own story to encourage people to get involved.
Not only do a third of people with dementia in the UK not receive a formal diagnosis, but an Alzheimer's Society survey found that 90 per cent of people felt unsupported after being told they have dementia.
The Right to Know campaign aims for everyone with dementia to receive the certainty of a diagnosis, calling on the government and NHS to do more to support people both during and after diagnosis.
Shelagh says,
'I've always been a campaigner. When I was young I campaigned for mothers to be allowed to stay with children in hospital. I was also part of a campaign to let women have their birth partner with them during the birth of their child. I took part in the march against the Iraq War too.'
These examples of passionate people coming together, often in significant numbers, to raise awareness and push for change resonate with the growing dementia movement across the UK. Millions of people are becoming Dementia Friends, helping to create dementia-friendly communities, taking part in research and supporting the Society's work.
Shelagh says,
'There's still a long way to go, but coming from a family with many dementia cases, the change in care and support has been unbelievable. That's had more to do with Alzheimer's Society than the NHS. I see tremendous improvements being made, although sadly only in some areas.
'It's also important that people who feel that things need to change can have a voice, and that's what Alzheimer's Society enables. It gives people with dementia a voice and supports the hearing of that voice.'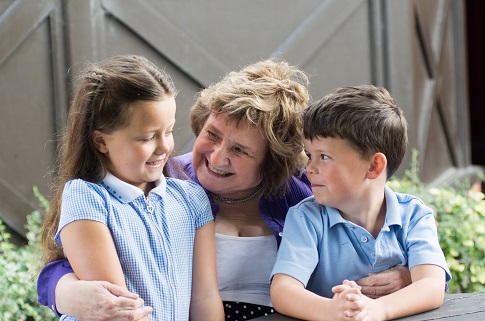 Direct influence
Shelagh believes that further improvements are needed in education and in people's awareness and perceptions of dementia.
'I remember people referring to dementia as "senile decay" – this concept of decay or dying has entered our consciousness. People are afraid of it.
'You rarely see that people with dementia can live positively and actively. With the correct support we can live a productive life.'
That includes people with dementia having a direct influence on the work of Alzheimer's Society. Shelagh has done this in many ways, such as taking part in interview panels to help the Society recruit the best staff.
She has also been a part of groups that fed back on ideas for the Society's new brand, which will be launched in early 2017. Shelagh is excited about the new way the organisation will be presenting itself, especially in making sure that everyone affected by dementia knows about us and how we can help.
She says,
'The public don't always like charities spending money on changing their image, but this is going to be very positive.'
Shelagh says that being so involved gives people with dementia an even greater sense of value than she had initially appreciated.
A life of campaigning has brought Shelagh together with people who share her vision and desire for change, and this is no different when it comes to dementia.
She says,
'Perhaps the best thing the Society has done for me is to help me meet other people with dementia. I remember after meeting some of them it blew my mind – I was on a high for a week.'
Family and community
Shelagh values the support she has had from her family. As soon as she was diagnosed, her son arranged a family meeting to plan how they could best help her. She is also keen to be as open as possible about her condition with younger family members.
Shelagh is frank about her experiences of incontinence and recalls her grandson feeling able to ask, 'Nan, have you got your nappy bag?'
She says she was happy to hear such a question.
'It's great that he wasn't embarrassed to talk about it.'
Being able to see the funny side also helps, as when Shelagh's granddaughter, then aged five, couldn't pronounce the word 'Alzheimer's'.
'She would say "fizzy hammers", so that's what we called it!'
She adds,
'Having a sense of humour is really important. If you didn't laugh, you'd cry.'
Shelagh is a Quaker and says the support of her faith community has been tremendous.
'The Quakers, as with Alzheimer's Society, leave me to decide for myself if I'm up to doing something or not. That's really empowering.'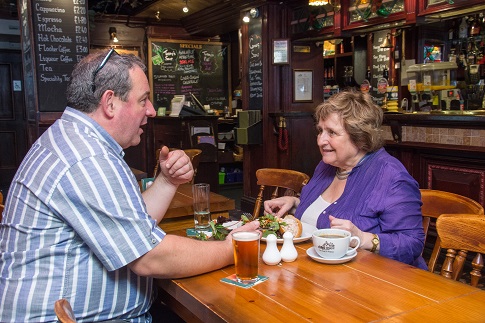 Hard to take
Shelagh's faith matters enormously to her, and she has reflected on her beliefs following her dementia diagnosis.
She says,
'I never had the sense that God was punishing me, but that God was beside me through all of this'.
Of course, there continue to be many challenges.
'One thing that hurt me was that some people in my independent living complex don't like that people with dementia are living there – that's hard to take.
'The toughest challenge is that my husband is very unwell, so I'm a carer too. Sometimes we both need more strength than the other one has.'
Despite this, Shelagh has shown immense strength in coping with and living as positively as possible with dementia, while also campaigning for change for everyone affected by the condition.
She says,
'People think dementia is old people sitting in a circle in a care home watching TV, who can't work or campaign, but that perception is changing.'
Shelagh is certainly playing her part in that.
Dementia together magazine: Dec 16/Jan 17
Dementia together magazine is for everyone in the dementia movement and anyone affected by the condition.
Subscribe now
Dementia together magazine is for everyone in the dementia movement and anyone affected by the condition.
Subscribe now