Take a look back at a year of dementia research in 2016 at Alzheimer's Society, with Research Communications Officer Louise Walker.
Louise Walker, Research Communications Officer, looks at how dementia research in 2016 has paved the way for developments in 2017.
If 2016 showed us anything, it's that it is almost impossible to predict what will happen in the space of a year. This is especially the case with research, which often delights, surprises or disappoints us with unexpected twists and turns.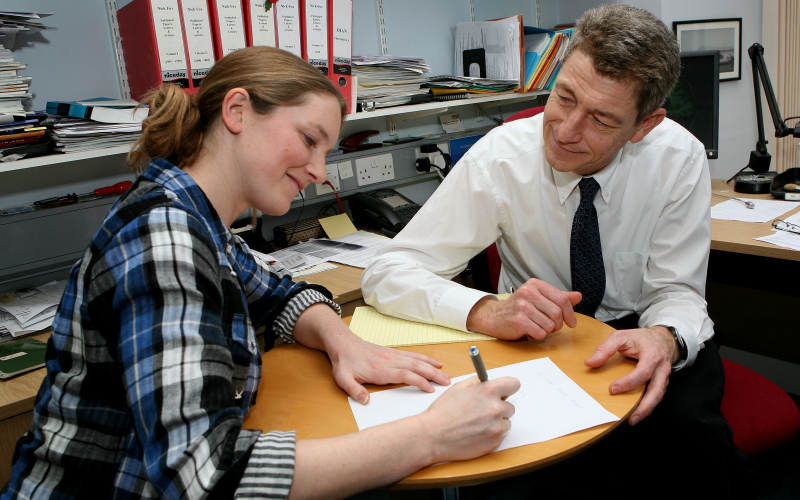 ​
However, we in the Research and Development directorate like to be as prepared as possible. Here are the things that we think will be among the most exciting developments over the next 12 months.
Further development of the Dementia Research Institute
In 2016 we made the exciting announcement that we are founding partners in the UK's first dedicated Dementia Research Institute, along with the Medical Research Council and Alzheimer's Research UK.
We also now know that Professor Bart De Strooper will direct the Institute and that the central hub will be based at UCL in London. Researchers will also be based at a number of DRI centres located across the UK, whose locations will be decided over the first few months of 2017.
The Institute will also have a focus on care and public health research. This strand will be developed from 2018, but in the first six months of this year Alzheimer's Society will lead the development of a 'roadmap' to ensure the Institute's work tackles key areas of need in dementia care.
We are establishing a taskforce comprised of academics, research funders, people affected by dementia and carers to agree our goals for research into dementia care and support.
Dr Doug Brown, our Director of Research and Development, is especially looking forward to further developments of the Institute:
'2017 will see us take significant steps forward in our understanding of dementia. Research, rather frustratingly, does take time but investing in research really does transform the lives of people – we know that from other areas like cancer research. I see 2017 as a pivotal year in establishing a Dementia Research Institute that fits perfectly in the UK research environment and becomes a world leading institute that takes dementia research to a whole new level.'
Moving forward in our understanding of the causes of dementia
The past year was a mixed one in terms of our understanding of the role of the amyloid protein. Toxic clumps of this protein are found in the brains of people with Alzheimer's disease and have long been thought of as a major cause of brain cell death.
The failure of one trial that targeted these amyloid clumps but promising early stage results of other trials have produced a number of questions about the role of this protein.
Whilst understanding the role of amyloid remains a top priority in dementia research, we hope that 2017 will see a further widening of the scope of research into the underlying causes of dementia.
One area receiving an increased amount of focus is the role of the tau protein, another key hallmark of Alzheimer's disease and some other forms of dementia. Our understanding of tau is further behind that of amyloid, but we do know that it forms toxic clumps known as tangles.
These tangles are thought to cause damage to brain cells and the spread of tau tangles across the brain appears to happen at the same time as the progression of dementia symptoms.
Recent advancements in brain scanning technology that allow us to spot tau will go a long way to improving our understanding of the role of this protein and what its relationship is with amyloid.
We also hope to hear more about trials into potential treatments that target the tau protein – particularly those investigating a type of treatment called antibody therapy.
A strong theme that we expect to see this year is how we can spot the earliest signs of dementia. Being able to accurately diagnose dementia early will allow the people affected to get the support, information and treatments that are relevant to them.
It will also mean that people can get enrolled in clinical trials for new treatments as soon as possible, something that is increasingly thought to be incredibly important in the search for an effective drug.
There are many things that our Head of Research, Dr James Pickett, feels optimistic about for 2017:
'It's hard to predict what research results we'll learn of next year," he says, "but there is a real sense of optimism for research. There are probably 100 new initiatives that will be important over the next year and the Society has some really interesting ongoing studies that will hopefully produce results over the next 12 months. "I am particularly excited about a study which Alzheimer's Society is a partner on called Deep and Frequent Phenotyping. In 2017, 200 or so people with very early memory problems will undergo the most comprehensive set of tests ever conducted. This should provide definitive answers about how we might identify people in the earliest stages of Alzheimer's and could revolutionise clinical trials and approaches to diagnosis.'
Exciting partnerships in care research
Working together with other experts is extremely important for Alzheimer's Society's Research and Development team. Shared knowledge is particularly vital in care research, where people from many different specialities and backgrounds can pool their knowledge to better understand how to provide the best care for people affected by dementia.
Over the next year, we will be working with the British Deaf Association and expert researchers from Manchester University to find the best ways to support people in the Deaf community who are affected by dementia.
We are also supporting many other exciting initiatives, such as helping people to be more independent via the PRIDE study and further developing our work on Meeting Centres, which provide person-centred care in a community environment.
As for our own research, our Head of Development Colin Capper, has many things to look forward to in the next year.
He says: 'I'm really looking forward to seeing the care research projects that we will fund in 2017. We've got a number of exciting decisions coming up, including on who will receive our ambitious £2 million care programme grants. We also have a second round of our implementation grant scheme and I'm eager to see how we can further help important research findings get put into practice.'
In summary:
Over the next 12 months, we will see further exciting developments for the Dementia Research Institute.
We also hope to increase our understanding of the underlying causes of dementia and to see increased investment in research, allowing for a multi-pronged approach to identifying potential causes and risks. This year we are also looking forward to developing our work in key areas of care research with our expert partners.