UK Dementia Research Institute (DRI)
As a founding charity partner for the UK's first Dementia Research Institute, we have committed to raising £50 million towards it – our biggest ever single investment in dementia research.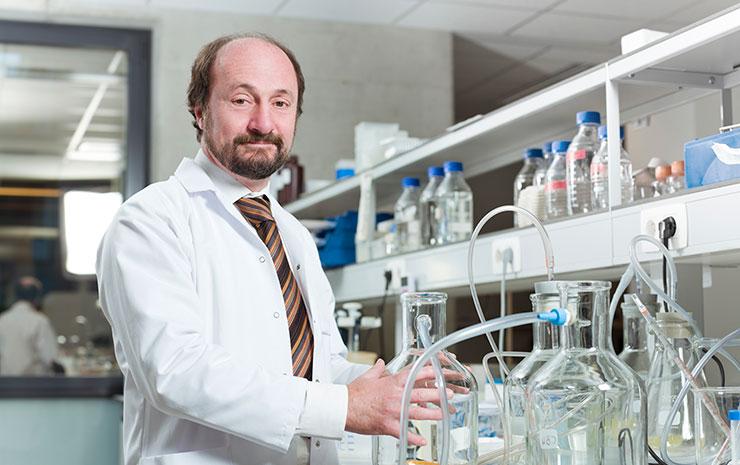 In November 2015, we worked with the government to secure a £150 million commitment to set up the UK's first dedicated Dementia Research Institute. Recruiting over 400 scientists across six centres, it will put the country at the front of the fight against dementia.
What is the UK Dementia Research Institute?
With research starting from late 2017, the UK Dementia Research Institute aims to transform the way that dementia is diagnosed and treated, to bring us closer to the day we have a cure. It marks our biggest single investment in research alongside investment from the Medical Research Council and Alzheimer's Research UK.
UK DRI researchers will tackle dementia from all angles, including exploring ways to manipulate the brain's natural defence mechanisms, as well as unravelling the roles of metabolism, sleep, bacteria in the gut, and much more.
Leadership
After a rigorous application process, which included input from people living with dementia, carers and former carers, Professor Bart de Strooper was chosen to lead the Dementia Research Institute.
He will lead the UK DRI from a headquarters located at University College London, with five additional centres across the UK:
University of Cambridge
Cardiff University
University of Edinburgh
Imperial College London
King's College London.
Investing in researchers
As part of our plan to accelerate dementia research, we invest in researchers at all career stages, offering competitive grants in order to attract the best and brightest to the field.
Our Dementia Research Leaders programme is open to scientists, clinicians and care specialists in the early stages of their research careers.
Get involved
Make a donation
By making a single donation or setting up a regular monthly gift, you will be funding pioneering research into the cause, care, cure and prevention of dementia.

Make a donation online or contact Charlotte Matier to discuss your gift.
Participate in an Alzheimer's Society research programme
We're pioneers in public involvement in dementia research. Our Research Network, established in 1999, now includes a team of over 280 carers, former carers and people living with dementia. It plays a key part in our decision-making process, by steering and shaping research, reviewing applications, and taking part in consultations.

Find out more about the Research Network, including how you can join.
Take part in dementia research studies
If you'd like to take part in dementia research, you can sign up to an online research matching service called Join Dementia Research. We partnered with the National Institute for Health Research to match research volunteers to suitable projects across the UK.
Volunteering opportunities are open to people living with dementia, carers for people with dementia, as well as people who are not affected by dementia. To find out more, visit joindementiaresearch.nihr.ac.uk