Both Adam and Tim's grandmothers sadly passed away with Alzheimer's disease. Here Adam shares how his special relationship with his Nan, Sheila Banks, and his love for music inspired him to undertake the challenge of a lifetime.
Adam Faulkner and his friend Tim Stephens have just returned from an epic 14 month journey around the world. In March 2018 the pair set off on their bikes from Hackney in London, with the ambition of cycling all the way to Tokyo.
The musicians cycled 25,000 km, through 26 countries and across 2 continents. Along the way writing an album of music inspired by the places they visited and people they met. Whilst all the time raising important funds for Alzheimer's Society.
Adam's story: 'Me and my Nan had a very special relationship'
There were a number of things that inspired us to go on this trip. We were drawn to Japan as we'd never been. We didn't want to fly so we cooked up a plan to cycle there.
As musicians we couldn't contemplate going that long without making music. We decided we would make an album with people we met along the way.
We knew it would take a long time and be a big adventure. We climbed countless mountains on our bikes and got lost in deserts. But most importantly we met some of the kindest, most generous, warm and open people we've ever met in our lives.
Music and dementia
Music helps people remember who they are. Through personal experience, we've seen the positive impact that music can have for people with Alzheimer's - both mine and Tim's grandmothers had dementia. We want our album, when it's finished, to be a symbol of that.
Years ago I remember watching a documentary which featured an old man in a nursing home listening to music. He was very unresponsive and barely spoke. When he listened to this music his face lit up and tears streamed down his face.
In that moment, I really saw how music unlocked something in people, who may be losing their way and identity.
My Nan loved Frank Sinatra. If you put it on, it was almost as if she forgot what was going on with her. She might not remember what she did ten minutes ago, but she could connect that music with a time and a place. It gave her memories back.
No matter how bad her condition got, I came to realise it would never destroy the music for her.
Choosing to raise money for Alzheimer's Society
With any big challenge, it's important to raise money for a good cause. It was a no-brainer to do our bit for the Alzheimer's Society. I think sadly everyone has a connection to this awful condition.
It affects so many people and we have to face up to the fact that it's a fate that awaits many more. Anything we can do to stop it happening, or at the very least slow it down is important.
The only way to do that is by trying to find that breakthrough that can make a difference and that costs money.
A close bond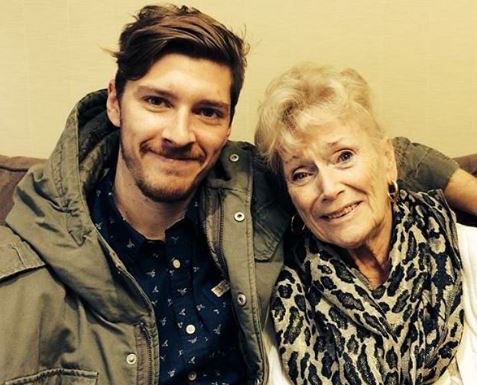 ​
My Nan was a very special person to me - she will really be greatly missed
Me and my Nan had a very special relationship. We were always laughing and talking nonsense. I love people who are unashamedly themselves. She always told people what she thought of them. Luckily for me I was her grandson, so I could do whatever I wanted and she would always defend me!
My relationship with her did change due to her dementia. As it took more of a hold, she definitely softened and lost some of her spikiness - which was one of her best qualities.
Having said that, I remember showing her some music I had made and asked her what she thought. I shouldn't have really expected a glowing review, but was still surprised when she said "not for me, that won't be top of the charts". She was definitely still in there! Her condition didn't mean we couldn't have a laugh.
I like to think I got the best out of her. I used to encourage her imagination to run wild, rather than trying to make any sense of what was going on around her. We could go on adventures just by talking about them. It was all playful pretence, but it used to make her smile a lot so I was happy.
My Nan was such a strong person - it's a testament to how long she lived with the condition.
My Nan died a week before we got to Tokyo. When we got to Japan I knew she wasn't going to make it. I was going to come back early but my mum said it was important to finish the journey for my Nan, so that's what I did.
I believe she held on that long so I could go to her funeral. The funeral was really nice and positive. I was so happy that I got to go. I also got to speak and say all the things I wanted to.
Not only that, I got to take my Nan's cardboard cut-out of George Clooney. My Nan was obsessed with George Clooney. I used to buy her a lot of memorabilia, which she used to love. It definitely got a lot of smiles!
More about Adam and Tim
You can find out more about Adam and Tim's amazing biking adventure and make a donation on their JustGiving page. You can find further details about the trip on their website. Stay updated on their music and future travels on Instagram, Facebook and Twitter.
Organise your own fundraising event
Inspired by Adam's story? You can organise your own trek, cycle, swim or skydive to help us support more people affected by dementia. Or do something slightly less epic but equally important, like a coffee morning or bake sale.
Find out more