India's grandmother, Brenda, has been a huge influence on her life and career path. India shares how the pandemic affected her gran, who has dementia with Lewy Bodies, and how the family continue to support Brenda since she moved into a care home.
Gran has always lived in the same house where my dad grew up, and my parents and I had always lived in the same area.
I have fond memories of Gran taking us on holidays to Edinburgh and York. We'd always be out doing something as a family whether it was picnics on the beach or days in the park.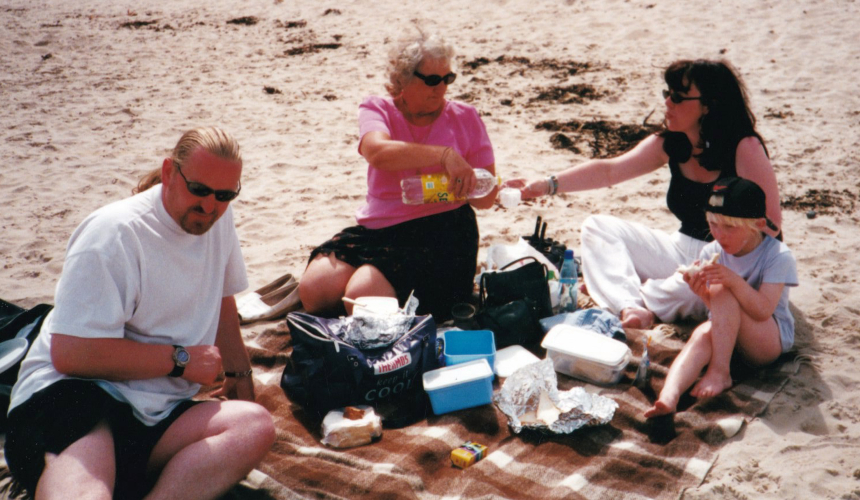 ​
Troubled by changes in Gran's behaviour
It was in 2020 when coronavirus hit that Gran became poorly.
We had been worried about Gran for a few years.
At Christmas time a few years previous, we noticed she was a bit off, but we thought she was just having a few drinks and wasn't used to it.
As coronavirus started, Gran began wandering around the streets and it was really scary. She was so used to her routine and being social that when that all stopped due to coronavirus restrictions, I believe this really impacted her.
On one occasion, Gran walked from her house to my mam and dad's house. It's a 25-minute walk for me, but for a person of 83 with Parkinson's and arthritis during a global pandemic, I can imagine it would take even longer. It was February or March and the weather was so cold.
My parents opened the door and Gran said 'I've had an argument with your dad'. My grandad has been dead for 17 years. Gran was fully dressed in little heeled shoes. Obviously my parents had to bring her inside, so they put her in a separate room (due to coronavirus) to protect her.
Even without dementia, it would be scary for someone 83 walking about alone during the day for such a long time.
Seeking additional support measures for Gran
From June 2020, we had carers coming in three times a day for 20 minutes at a time. It wasn't enough, because she still went out at night.
I was so worried about her.
Social services put alarms on Gran's front door so they would be notified when she left the house at unusual times, but we had the police, fire brigade and ambulance called out to her numerous times.
Gran would ring Mam and Dad during the night with hallucinations, sometimes thinking my grandad was there but sometimes that her parents were there. It really upset me. I never thought I'd be telling my gran that her mam and dad weren't alive.
During the pandemic, I couldn't help as much as I wanted to because I couldn't see Gran – we wanted to keep her safe.
I lived around the corner from my Gran but I was still working, and I didn't want to risk exposing her to the virus.
Moving in to a care home
When Gran eventually went into a nursing home in December it was such a weight off our shoulders.
My parents are such a great team, especially with my mam having multiple sclerosis (MS) - she goes above and beyond for Gran. I am so thankful for my parents. They've done so much to push to get Gran's dementia with Lewy bodies diagnosis and get her the help and support she needs.
It was hard not being able to visit Gran at the care home for such a long time.
Now I visit her on Sundays with my mam and dad. When I was growing up, and prior to the pandemic, Gran would come round to our house at 11 o'clock every Sunday morning for a bacon sandwich or a ham and cheese croissant, so we're continuing a tradition.
I have spent every Christmas since birth with Gran so it was strange to have had our first Christmas without her last year as it was her first Christmas in the care home.
Living well with dementia
Gran still likes to dress really well. She always likes to look nice.
The only time I had a bit of a shock was after coronavirus and we were finally able to visit her in a pod outside the care home.
She'd lost so much weight, she was so frail, she'd had a mini stroke. But the thing that was really different was her hair was really long. She always had short curly hair, had a perm every two weeks.
She didn't look like my gran.
I remember having a cry with my dad in the car park of the nursing home because I'd got such a shock. But now the care home have staff coming in again and last time I saw her she'd had her hair and nails done. She looked lovely and smart!
One time I went to visit her, Gran said 'My handbag's too small.' She had filled it to the brim with random things. Next time I went to see her, I took her a brand new one as a surprise gift.
For the next few weeks, Gran would have her new handbag with her every time I visited. But then after a while, she was back to the old one. I asked her why and she said, 'The bag you got is way too good for this place, I'm saving it for a special occasion.'
When I ring Gran during the day, we have great chats but her dementia is worse at night.
She always remembers to ask me about my dog, she prefers dogs - she is terrified of cats! It's just so lovely that she is interested in anything that matters to me.
Gran's influence on my career
There are some people who have creative careers and their grandparents are like, 'When are you going to get a real job?' My gran was never like that, she always encouraged me.
When I was 18, just starting university, Gran took me to buy my first professional camera and lens. It was a Canon 5D Mark iii and a Canon 85mm Prime Lens. I cannot thank my Gran enough for being so kind and helping me kickstart my career with such amazing equipment. It definitely opened a lot of doors for me.
My gran saw potential in me and was really proud of it.
I did a foundation degree in photography and then a top up in creative enterprise. I was the first person on my Gran's side of the family to go to University.
All the photos for my graduation were taken on that camera Gran gave me.
Before coronavirus, I worked as freelance content creator for musicians and other clients around the world. I remember I would always text my gran before and after a flight as I am scared of flying.
I got my love of music from my dad. My gran and grandad were quite conservative, but my dad was into loud rock music.
My gran was never into the same music as me, but she was always interested in what I was doing. She always encouraged me with my creativity. She always asks about the bands I'm photographing because she's genuinely interested, but she doesn't have a clue who they are.
My artistry and career right now are fuelled by my desire to make Gran proud. She, my parents and my family have always been my biggest supporters, and now I just want to support her.
I'd do anything for my Gran, so I was really glad when I walked into work one day and found out my colleagues Lesley, Ingrid and Kate were taking part in Memory Walk, so I said I'd do it with them. I really want to raise awareness of dementia.
My puppies and I are ready for the South Shields Memory Walk!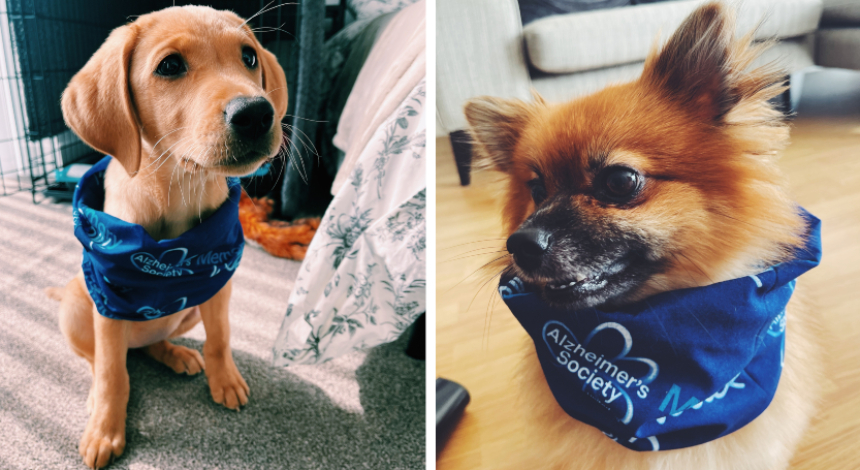 ​
Support people affected by dementia