As Pride events continue across the country, Alzheimer's Society stays committed to supporting LGBT+ people affected by dementia. We celebrate that we are United Against Dementia.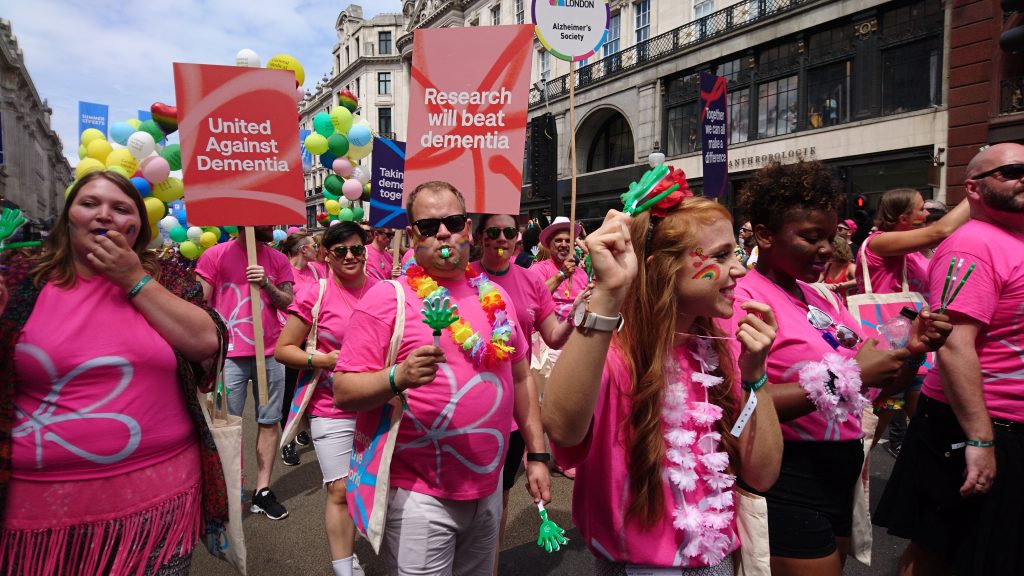 Everyone living with dementia will experience a range of challenges. Many of these will not be affected by the person's sexual orientation or gender identity. However, there are certain challenges that lesbian, gay, bisexual and trans people with dementia are more likely to face.
Read on to learn about some of our recent activities engaging with people affected by dementia who are also LGBT+, and what we're doing to ensure our services are accessible for everyone.
Pride events
We love the opportunity that Pride events across the country give us to reach the LGBT+ community and celebrate that we are United Against Dementia. We've entered 10 parades over the past three years, and this year our presence is bigger than ever before.
This year's Pride events are even more exciting because our vibrant new brand will guarantee that we are noticed and remembered. Over the summer we've entered parades in Birmingham, London and Manchester with hundreds of staff and volunteers alongside our colourful Roadshow vehicles. Further to the parades we've been hosting information stalls at Bristol, Manchester, and London Pride Festivals to provide information about dementia, the work of Alzheimer's Society, and to showcase our brand new LGBT+ publications.
​
Staying up-to-date
Our newly updated factsheet is for anyone caring for or supporting an LGBT+ person with dementia, to help them understand the challenges the person might face and how to support them. It covers topics including how memory problems might affect them, how to support them to express their identity and the person's rights when they access health and social care. The updated factsheet now has much more information, including advice on supporting a trans person with dementia.
We also have an upcoming booklet for LGBT+ people with dementia called 'LGBT: Living with dementia', which will be published later this month.
As well as publications, our online forum—Talking Point—has an LGBT+ board which provides a space for LGBT+ people affected by dementia to start discussion threads, talk to each other and exchange support and advice with others in a similar situation.
We've also improved information services for our staff and volunteers, helping us signpost LGBT+ people affected by dementia to useful organisations such as OLGA—the Older Lesbian, Gay, Bisexual and Trans Association—and to information on LGBT+ legal issues related to dementia.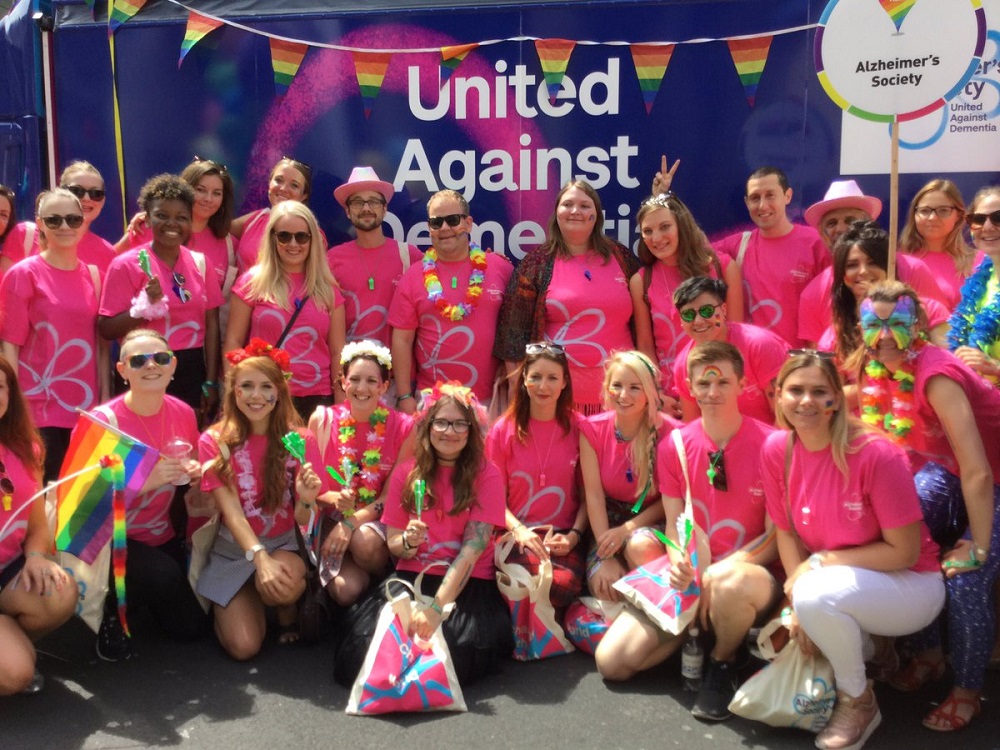 ​
Representation
Our 'Living with dementia' magazine team are featuring more personal stories from people affected by dementia who are LGBT+, including our recent cover story with Patrick Ettenes – a gay man with HIV-related dementia.
The Dementia Action Alliance are also running a campaign this year on dementia within seldom heard groups, and this includes focusing on the LGBT+ community. Our roundtable last month saw experts and other people affected by dementia from the LGBT+ community speaking out about the issues affecting people who are LGBT+, while also coming up with a set of actions.
The DAA will be launching this campaign with an event on 19 September and will be asking for all members to sign up to a series of pledges. This may include raising awareness, demonstrating inclusivity, and creating networks and partnerships between the LGBT+ community, people affected by dementia and dementia organisations.
Share your story
Alzheimer's Society knows that dementia doesn't discriminate and we want more LGBT+ voices across our website, blog and our magazine, Living with dementia.
If you have a story to share, contact the society at [email protected].