Three years on, our funding, mentorship and training continues to support the greatest minds to work on the brain's greatest problem.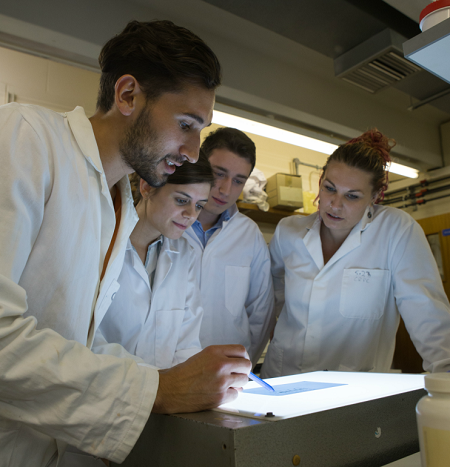 Research is essential to improve care for people living with dementia today and to find a cure for tomorrow. Addressing these challenges is a formidable task, and to make progress we need to have a strong research workforce. However, too few researchers choose to work in dementia and those who do often find they can't stay. In fact, recent research revealed that 70 per cent of PhD students have left the field within four years.
We established theDementia Research Leaders programme three years ago to bring more researchers into the field of dementia, and help those already in it to achieve their career goals. We do this by providing funding for promising early career researchers and setting up mentorship, skills training, information and opportunities at key points in their careers.
The earliest point of support for a budding dementia researcher is an undergraduate research bursary. These small pots of funding provide resources for students in the middle of their first degree to get their first taste of what research is really like. We have supported 30 students in this way since 2014, and many of our undergraduate bursary holders have gone on to choose a career in dementia research.
The next step in funding is a PhD studentship. We've funded 91 PhD students through the programme, a commitment of over £6 million. These students have made a fantastic contribution to dementia research across a wide range of topics, from understanding how brain cells use energy when affected by Alzheimer's disease to investigating whether we can help people retain short-term memories. Our eight doctoral training centres represent a huge step forward in our ambitions to bring more people into dementia research. Due to extra funding from participating universities, these groundbreaking centres have allowed 52 new PhD students to begin their career in dementia research in an interactive and collaborative atmosphere.
After their PhD, people who are heading towards a career as an independent researcher may take a number of postdoctoral research positions. One way we support people at this stage is by awarding junior and senior fellowships. This is often the researcher's first experience of applying directly for funding and having the freedom to manage their own projects. These are skills that will be essential when they run their own research group. Healthcare professionals who are interested in getting research experience can also benefit from specialised clinical training fellowships. In the last three years we've supported 39 fellows with funding of just over £8 million.
We are proud to support so many passionate and talented researchers who really care about the work they do and how it will help people affected by dementia. It is their work that will deliver the insights required to understand the causes of dementia, learn how to prevent it, provide the best care and eventually find the new treatments that we so desperately need.
Care and cure magazine: Spring 17
Care and cure is the research magazine of Alzheimer's Society is for anyone interested in dementia research.
Subscribe now
More from Care and cure magazine: Spring 17:
Care and cure is the research magazine of Alzheimer's Society is for anyone interested in dementia research.
Subscribe now