Meet Sana Suri, Alzheimer's Society Research Fellow and Head of Heart and Brain Group at the University of Oxford.
Favourite things?
Book – This is going to hurt by Adam Kay is one of my favourites, especially in the current times.
Way to spend time – Board games, puzzles or countryside walks.
Memory – Any large family gathering, they're always a source of laughter, dramatics and happy chaos!
Why dementia research?
During my postgraduate studies, I learned that a lot of biomedical research has focused on extending our lifespan without an equal emphasis on maintaining quality of life in older ages.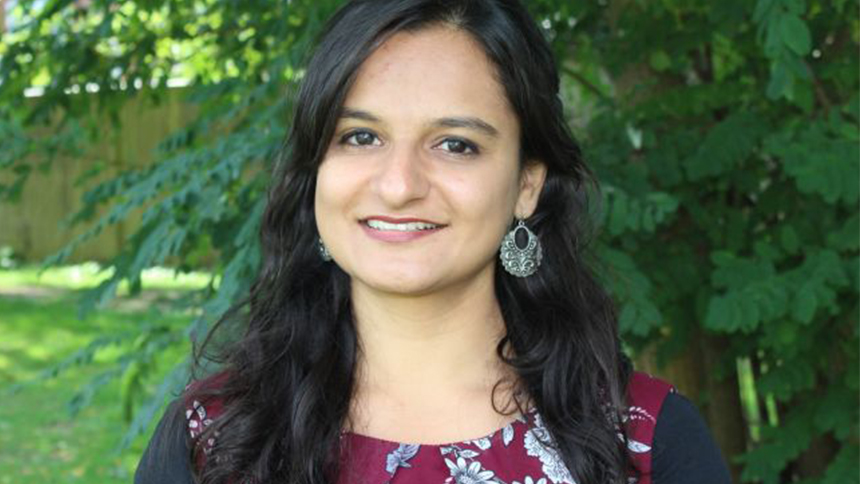 ​
In our ageing society, one of the biggest challenges will be to understand why some people go on to lead relatively long and healthy lives, while others are vulnerable to age-related disorders.
This is what first drew me towards dementia research, and it has since fuelled my decade-long passion for dementia outreach, policy and public engagement.
How has Alzheimer's Society supported your work?
The Society has given me an invaluable stepping stone to becoming an independent dementia research leader. It's through my fellowship that I have been able to lead a large-scale dementia neuroimaging study and establish my own research group.
What are you currently working on?
We know that 'what's good for the heart is good for the brain', but we still don't fully understand why.
My research examines this heart-brain link, investigating how the health of our heart and our body's large blood vessels affect the brain and memory as we grow older.
I combine different kinds of scans to obtain a complete picture of how our lifestyle can influence changes in the brain's volume, connectivity and blood supply. The long-term goal is to help pinpoint how and when in our lifespan we can modify our lifestyle, and especially our heart health, in order to delay dementia.
What difference do you hope this will make?
Dementia can have a lasting societal impact, and it is particularly meaningful to be leading research into how to prevent or delay its onset.
In 2020, I had the exciting opportunity to present expert testimony at the House of Lords inquiry into the government's healthy ageing policy.
It was especially fulfilling to draw on my own research to help develop evidence-based policies, and I hope to keep engaging with policymakers on that front.
In what direction would you like to take your research in future?
My long-term vision is for our work to guide clinical and policy decisions on dementia prevention.
I am interested in the prospect of lifestyle-based preventative interventions that are personalised and involve a range of approaches – for example, exercise as well as diet and mental stimulation – and I hope to build towards a large clinical trial in that field.
Alzheimer's Society funds research into the cause, cure, care and prevention of dementia. We are dedicated to defeating dementia through research.
Learn more
Dementia together magazine: Feb/Mar 21
Dementia together magazine is for all Alzheimer's Society supporters and anyone affected by the condition.
Subscribe now
More from Dementia together magazine: Feb/Mar 21:
Dementia together magazine is for all Alzheimer's Society supporters and anyone affected by the condition.
Subscribe now