A group of people with dementia in Cambridgeshire look at high and low tech reminders.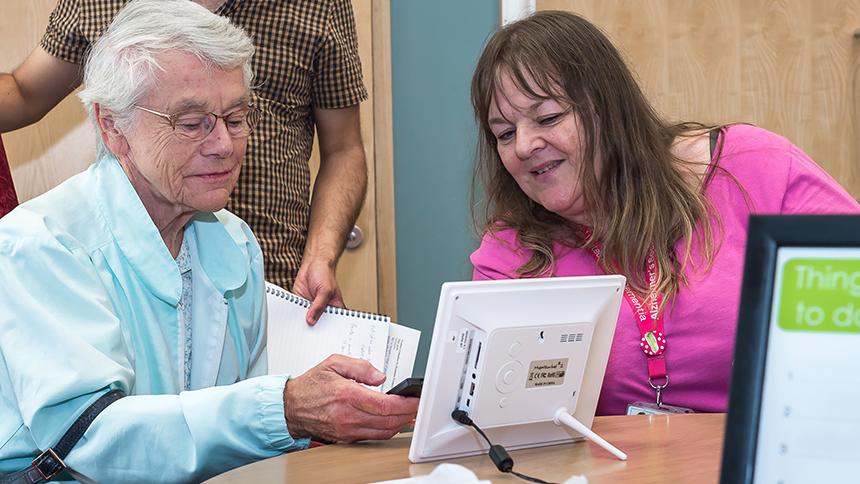 We visited Open Minds in Peterborough on a sunny July afternoon to see what they thought of a range of reminder products.
This warm and chatty group of people with dementia catches up weekly at the cathedral city's Dementia Resource Centre. As the bees buzzed among the lavender out in the specially designed garden, group members were busy exchanging jokes and news. 
Shop for reminders and many other daily living aids in our online shop.
Visit shop
We had brought four products with us, all available from our online shop, that help people to keep track of appointments and tasks. Two were reminder clocks, while the others use dry-wipe surfaces that you can write on and reuse. 
Reminder clocks 
We showed the group two electronic clocks – the Rosebud and MemRabel 2 – that display the time and date in a choice of formats, and which you can program with reminders. They can stand on a table top or be wall mounted, and both have a range of built-in reminders that use different combinations of audio, video and images. 
Barry and John both found it fairly straightforward to set up reminders on the Rosebud using the buttons on its back. 
'I'd have that in my bedroom,' said Barry, 'I'd use it for appointments.' 
Everyone enjoyed the fact that the 'It's time for tea' reminder, which John had programmed into the Rosebud, went off just as a round of cuppas arrived.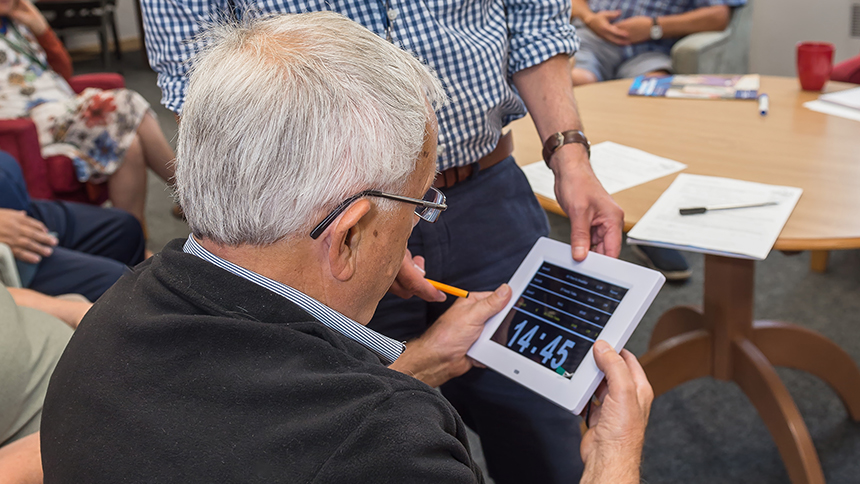 The MemRabel 2 has a greater number of options when setting reminders, and also has a remote control. Ellie got the hang of programming it in this way, though Joan and Colin found it difficult to find the right pressure for the remote's small buttons or to hold them down for the required time. 
You can add your own recordings and images to use as reminders on both clocks by transferring them from your phone, computer or camera using a USB stick or SD memory card. Barry thought it would be easier if you could record them straight into the devices themselves, and if you could type in written reminders. 
Maureen thought many people would rely on someone else's help in setting up reminders, and this might be a problem for a person who doesn't have this kind of support. They also both need to be plugged in to the mains to work. 
Neville liked the visual reminders, but wasn't keen on the voice used in the Rosebud audio reminders and so would want to record his own. The voice in the MemRabel 2 reminders was too soft for some to make out among the hubbub of the room. 
However, people liked the chimes that could be set to come on before reminders on both clocks – these catch your attention so you know to listen or look out for the message.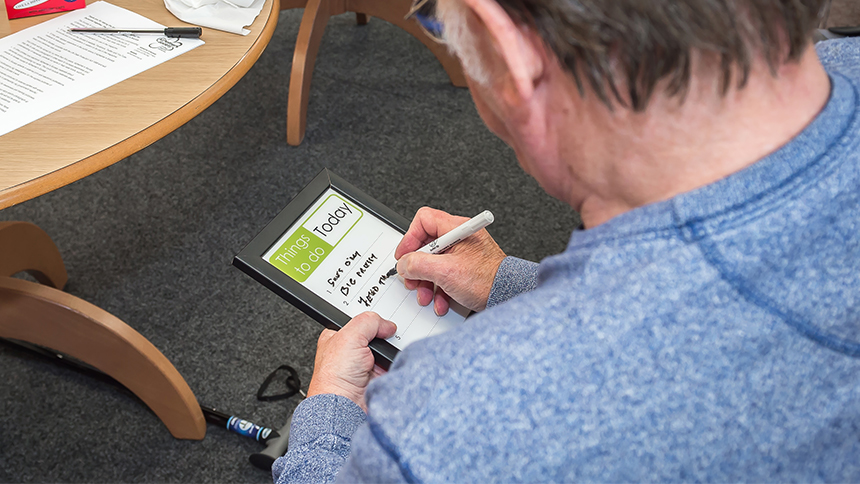 Dry-wipe reminders
Open Minds tried out two products with dry-wipe surfaces, which can be written on using whiteboard markers and then erased and used again.
The Dry-wipe reminder frame is an A5 whiteboard that comes with a stand and marker pen. It has 'Things to do today' printed across the top, with space for six items beneath.
Colin thought the frame was a good idea, and asked whether the 'today' was permanent, as he might want to add reminders for a later date. Although it can't be changed, Jon said his mum uses the frame and just ignores the word 'today' if it's not relevant.
The Dry erase sheets are a Magic Whiteboard product – these are thin sheets of plastic that cling to most surfaces without actually sticking to them, so can be reused for different notes in different places and times. They come in a pack of 20 A4 sheets.
Norma thought the sheets would be useful for leaving herself reminders on the backs of doors around the house. Doug was also enthusiastic about them, especially as prompts to take medication.
As well as helping our shop know what's most useful to stock, the group's feedback will also be shared with suppliers.
The reminder clocks are exempt from VAT if bought for a person with dementia or other condition – if so, then the Rosebud reminder clock, which also comes in a black frame, is £69.99, while the MemRabel 2 is £95.83. The Dry wipe reminder frame costs £12 and a pack of Dry erase sheets is £10.
Next steps
For these and many other useful products and gifts, see our online shop.
Dementia together magazine: Aug/Sept 18
Dementia together magazine is for everyone in the dementia movement and anyone affected by the condition.
Subscribe now
More from Dementia together magazine: Aug/Sept 18:
Dementia together magazine is for everyone in the dementia movement and anyone affected by the condition.
Subscribe now