Step inside: building skills and confidence to support people living with dementia
Step inside dementia is a skills-based course suitable for anyone who comes into contact with people living with dementia.
1 day course from £695 for up to 16 people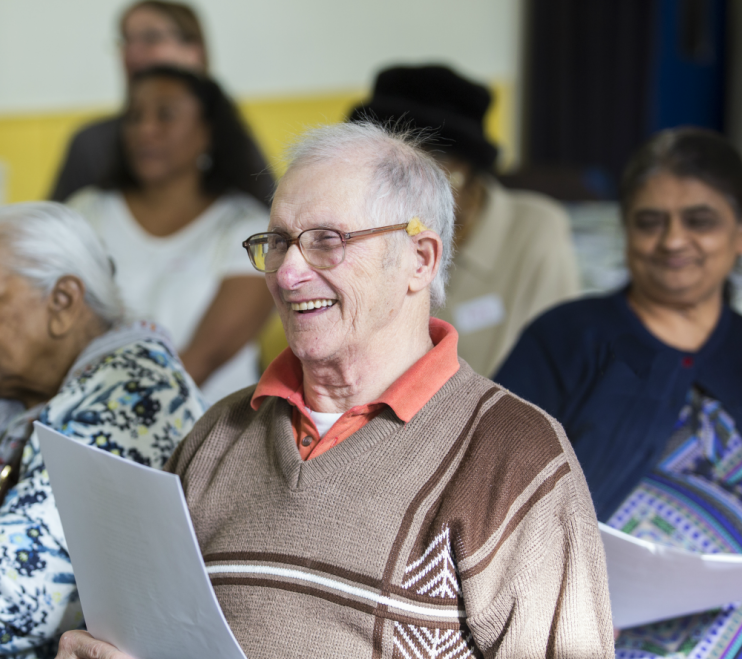 Delegates will understand what is happening to a person with dementia and learn how to build positive relationships using increased knowledge, empathy and practical skills.
Made up of four different modules, participants will learn how to apply evidence-based practical tools to build positive relationships and confidently support people with dementia to live well. Step inside dementia also contains the latest information on sight loss and dementia.
This content was developed in partnership with Royal National Institute for Blind People. For more information about sight loss, please visit RNIB's website.
To book a course or for more information, please contact the Training and Consultancy team on 01904 567909 or email [email protected]. Alternatively, please make an online enquiry and we'll get back to you.
Key information
Prices: Our training is flexible and cost-effective - we do not charge VAT.
Our pricing is dependent on your sector:
Social care and third sector organisations: £695 excluding expenses
Health care and statutory sector organisations: £795 excluding expenses
Private sector organisations: £895 excluding expenses
Who should attend?
This course is suitable for anyone who comes into contact with people living with dementia.
Course level: Introductory
Course duration: One full day
Delivery style: Interactive face-to-face training
Pre-course requirements: There are no pre-course requirements
Delegate numbers: 8 - 16 people. Additional delegates may attend (up to a maximum of 20) for an additional charge of £49 per person.
Step inside dementia is also available for individuals to attend through our public access courses for £129 per person. For more information and to book on to an upcoming course, please contact the team on 01904 567909 or email [email protected]
Learning outcomes
Made up of 4 modules, the course will equip participants to:
Module 1 - What's happening?
Recognise that dementia affects people in different ways
Explain how the physical damage within the brain may cause everyday functional difficulties
Module 2 - Who am I?
Explore how our memory works
Appreciate how our past can shape our future
Module 3 - A strange new world
Understand how difficulties with perception can have an impact on people's well-being and responsive behaviours
Understand how our senses can be affected by dementia and how this can alter our experiences
Module 4 - Connect with me
Appreciate ways of connecting with a person living with dementia
Recognise how our own actions can affect the way a person connects with us
Understand how methods of communication can be affected by dementia
Foundation certificate in dementia awareness exam
There is also the option for delegates to sit our Foundation certificate in dementia awareness exam which can be taken at the end of the course for an additional £29 per person. This multiple choice exam tests participants' knowledge of dementia, attitudes towards people living with dementia and understanding of person-centred approaches to caring for and supporting people living with the condition.