Campaigning for carers to have better access to wards when hospital patients have dementia
Parents are encouraged to stay with children in hospital because their role is acknowledged as important. Heather Stephen meets a campaigner who wants similar recognition for carers of people with dementia.
When John Gerrard went into hospital in February last year he was happy, active and mobile.
By the time he left five weeks later he was skeletal, incontinent and unable to walk or talk - he would need 24-hour care until he died that November.
The former 86-year old doctor and businessman was diagnosed with dementia 10 years ago. His family believe that there would not have been such a rapid decline in his condition if they had been able to be with him throughout his hospital stay.
His daughter Nicci Gerrard, a journalist and novelist, says,
'When he developed leg ulcers which wouldn't heal, he had to go into hospital to be put on an intravenous drip.

'The hospital had quite restrictive visiting hours anyway but after he had been there a week there was a norovirus outbreak, which led to the whole hospital going into complete lockdown.

'We managed to sneak in to see him for five minutes a couple of times but he was on his own for a lot of the time.'
Devastating change
Nicci, aged 57, says,
'Before my father went into hospital he was living well with dementia. He was cheerful and able to chat and share stories about his past.

'He worked in his garden and went for walks by the river. My father loved seeing his grandchildren and the year before he died, he went on holiday to Turkey and Sweden.'
By the time the family were allowed back in to the hospital to see John, the change was devastating.
Nicci says,
'When we saw him we couldn't believe it was the same person and we knew we had to get him out of there.

'He was completely incontinent, couldn't put one foot in front of the other and had lost so much weight he looked like a skeleton.

'He had always been full of stories before he went in and now he couldn't say a word. It was absolutely terrible.'
Although Nicci said the nurses and doctors gave her father the best medical care, she believes he declined so dramatically because he was separated from familiar faces and routines.
'People with dementia need one-to-one attention and continuity to anchor them to the world. I regret hugely letting him be left alone in hospital and I would have chained myself to the bed if I'd known how catastrophic the effects of leaving him would be.'
John's Campaign
After John died Nicci, along with her friend Julia Jones whose 91-year-old mother has Alzheimer's, decided to campaign for carers to have greater access to wards.
John's Campaign launched with a moving article by Nicci in The Observer about her feelings and experiences just three weeks after John's death. She and Julia were staggered by the response.
Straightaway, Jo James, dementia lead at Imperial College Healthcare NHS Trust, contacted them and pledged to bring in an open-door system for carers for all hospitals in the trust.
Alzheimer's Society, Carers UK and Parkinson's UK all backed the campaign, and political support from all parties has been overwhelmingly positive.
After meeting Nicci and Julia, the Care and Support Minister wrote to every trust asking them to allow carers to stay with people with dementia in hospital as long as they liked. The Prime Minister also gave his support in a letter outlining the government's commitment to establishing dementia-friendly hospitals.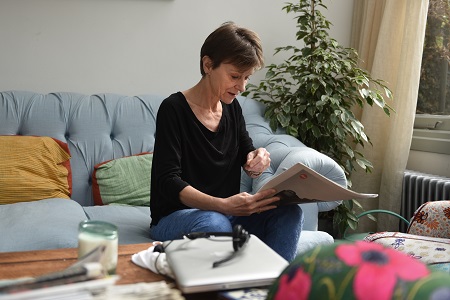 Nicci says,
'We were amazed. We thought we would have a battle on our hands but everyone has said yes.

'I think 10 years ago we would have found it harder to push this through, but the system is buckling so much that doctors and nurses can see how carers could be part of the solution.'
Spreading the word
Since Nicci's first article, the campaigners have visited several trusts and organisations across the country to spread the word.
Nicci says open access would benefit carers by relieving the stress and worry of leaving a relative alone. She says the input of carers would also keep hospital patients with dementia well for longer, with less chance of them having to be readmitted.
For people concerned that hospitals might pressure carers to come in for longer periods than they are able to simply to provide unpaid help, Nicci says,
'Carers are all entitled to respite and open access should not be a duty but a right. It would always be the carer's right to choose.'
However without a directive from government to allow open access for carers, it is still up to individual hospitals to decide whether to institute the policy.
The campaign's advice for carers in the meantime is to explain why they need to be there for people with dementia who have to go into hospital, being clear that a carer is different from a visitor.
As the John's Campaign website says, 'If you're able and willing to be there - don't let yourself be turned away.'
Together for change
Although Nicci regrets not pushing to stay with her father she says it is not her intention to attack the NHS, which does its best in difficult circumstances.
'This campaign is not about blame. Doctors and nurses do a fantastic job but we have to do something about helping people with this terrible disease which affects so many of us.

'It would be unimaginable to us now that children would be made to stay in hospital without their parents, but people with dementia can be just as frightened and deserve that care and support just as much.

'Since the campaign began we have heard so many stories just like mine. There is a community of suffering and heartbreak out there, but if we get together and turn "I" into "we" that is when change is going to happen.'
See our factsheet Care on a hospital ward or call 0300 303 5933 to order.