Kathryn Smith, Director of Operations at Alzheimer's Society, explains why we are campaigning for the Government to Fix Dementia Care and what you can do to help people affected by dementia.
Right now 850,000 people are living with dementia in the UK.
This includes 70% of the people living in care homes and 60% of the people receiving homecare. With few treatments available for people with dementia and no cure in sight, their needs are mainly met by social care. This is the care you get in care homes and through homecare, and not through the NHS.

Without enough central Government funding towards care homes and homecare, people affected by dementia are being treated as second-class citizens. Families are burning through their savings to pay for dementia care, either as result of footing the huge bills all by themselves or topping up where the local authority can't pay the full cost. Some people even have to sell their home to find the money. All because of an NHS and social care system that doesn't give the same importance to dementia as it does to cancer or heart disease.
We've reached crisis point and our loved ones end up in hospital with infections and broken bones that could have been avoided by appropriate care.
So we welcome the recent focus that the Government has given to social care and the investment of £240 million announced in December. Of course any additional funding for social care is welcome. But the amount will not plug the funding gap we face. Further to this, the proposal diverts funding already committed to local authorities for another area of the New Homes Bonus reforms. The solution cannot be to take money from elsewhere. What we need is to see new central investment.
The Government also said that local authorities will now be able to raise council tax by up to 3% a year to help pay for care, without going to a local referendum, through what is called a 'precept'. However it will still not be enough or help with the disparity across the country. People with dementia living in deprived areas will still receive worse care, or not receive care at all, compared to people with dementia living in more affluent areas.
The number of people with dementia is only rising and we need a long-term solution.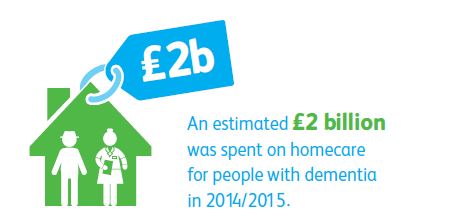 Instead of passing a difficult funding issue down to local councils the government needs to find a solution that works nationally and diminishes the regional gap. We deserve affordable and good care wherever we live.
By 2025, over 1.1 million of us will have dementia in the UK. We need a guarantee that we will have the quality care and support we might need later in life, at a fair price. This is not too much to expect.
Until the day we find a cure, people with dementia will still need help with eating, getting washed, and taking their vital medication for a range of other conditions they may also be living with. We have to unite now for our friends and family affected by this now, and all of those who undoubtedly will be in the future