Through poems, photography and drawings, 'chapbooks' help to visualise what it means to live with dementia. Learn about challenges of public transport.
'A Grand Day Out' is the third chapbook of a unique series, which forms part of the 'A Life More Ordinary Project', led by artists Ian Beesley, Ian McMillan and Tony Husband.
Learn from the thoughts, hopes and experiences of using public transport from the perspective of people with dementia.


Two photographs from the chapbook taken on a day out to Scarborough. Credit: Ian Beesley
Public transport can be a lifeline for older people who are no longer able to drive.
It enables them to remain independent and stay connected with their friends, families and communities.
However, a person with dementia can face many challenges when using public transport. Such challenges can make a task, such as getting on a train, seem very daunting.
From a different perspective
Imagine a recent train journey that you've made and think about the number of things you had to do to make that journey. What may initially seem to be an easy, everyday task can require a number of steps.
After finding the train station, you would buy a ticket, go to the correct platform, get on the right train, know which stop to get off at, remember to get off, and find your way out of the station.
When broken down, this simple task becomes a long list of instructions to remember.
A day out to Scarborough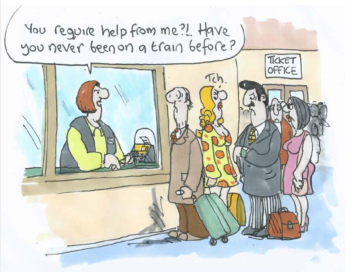 A cartoon depicting Derek's experiences. Credit: Tony Husband
In the chapbook, we hear from Derek, who is a person living with dementia.
Derek shares his experience of trying to buy a ticket in the train station from an impatient ticket seller. We learn that this leaves him feeling frightened and upset.
We also hear about Rita's experience. She gets on a train with a wheelchair in the first carriage, as it was the only one with wheel chair access.
However, Rita finds that her seat was in the very furthest carriage.
These are both examples of unnecessary barriers. With more consideration, understanding and patience, these challenges could be mitigated.
The Dementia Friends programme is one example of how Alzheimer's Society is trying to raise awareness of dementia to overcome some of these barriers.
Gaining insight
Reading this chapbook gave me a glimpse into what some of the challenges might be for a person with dementia. It also made me think about how we could all be taking small actions to make people with dementia feel more supported, included and empowered.
The more supportive we are as a community, the easier it will be for people with dementia to remain independent and live well with the condition.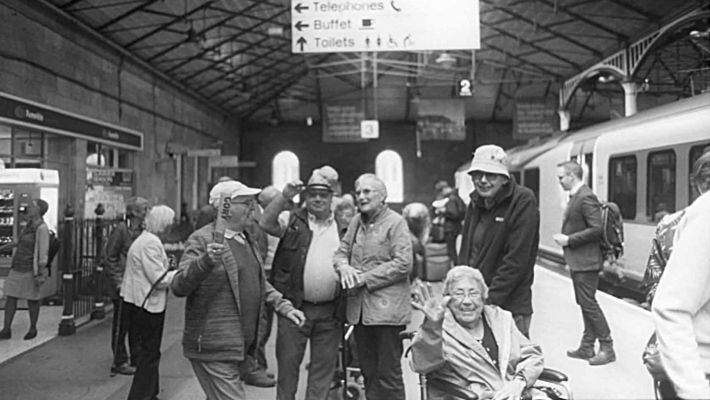 In the chapbook, people with dementia outline their right to a grand day out. Credit: Ian Beesley
The IDEAL Project
Transport is just one of the things that people with dementia have highlighted as being important in their daily lives.
These chapbooks are part of the IDEAL programme, which is a research study being led by the University of Exeter, set up to identify factors that contribute towards people with dementia and their carers being able to live well.
Next steps