We have partnered with the Department for Transport to tackle the important issue of making public transport inclusive for people with dementia.
Public transport is at the heart of many people's lives. But for some people, there are barriers to public transport that aren't limited to its reliability or infrastructure.

Prior to the pandemic, 1 in 4 disabled people said that negative attitudes from other passengers prevented them from using public transport.
Inclusive public transport and coronavirus
Coronavirus has caused many changes to how we live, and as we return to transport things may be different.
Guidance for using public transport during Covid-19 is there to help keep everyone safe, but new rules and systems may bring further challenges for some people. For example, things like social distancing and wearing a face covering aren't always possible for some people, including those living with dementia.
Yet the return to public transport provides a unique opportunity to be more alert to the needs of those around us, as we can all take positive steps to actively protect others.
Better experiences on public transport can help people retain their independence, combat loneliness, and live well with dementia.
Alzheimer's Society and the Department for Transport want buses, trains, and trams to be truly inclusive so that people affected by dementia can travel as easily and confidently as everyone else.
How train staff can support people with dementia
Jean's story
Jean, who has dementia, is part of our Ilkeston Focus on Dementia group.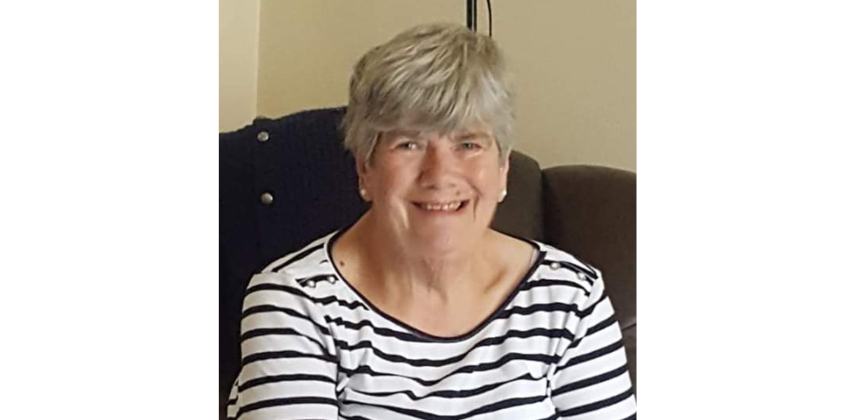 ​
I rely on public transport to live life to the full and enjoy using it to meet friends and have adventures.
Before coronavirus, I took bus and train journeys throughout the country, both independently and with friends.   New measures in place for Covid-19 have meant that I am a bit more nervous about traveling in case the changes affect the journeys I am used to making.  
My advice to anyone starting to travel again after lockdown is to take a family member or friend with you on your first journey.
I've also found wearing my sunflower lanyard helps as staff and passengers feel more comfortable offering me help during a journey.
My previous experiences of traveling by public transport have made me more determined than ever to carry on being independent for as long as possible and I'm delighted to get going again.
5 simple ways to ensure public transport is inclusive for people with dementia during coronavirus
1. Be prepared to help each other
Travelling during coronavirus can be worrying for some people. Public transport might be busier, and rules might have changed. But being aware of your fellow passengers can provide opportunities to be more considerate.
For example, you could offer help if someone looks lost or keep noise levels low if anyone looks visibly distressed. People living with dementia could get confused whilst travelling or might just need some quiet space to feel calmer.
2. Be patient
Support people living with dementia and other conditions by allowing them some extra time, should they require it. This could be while using ticket barriers, finding a seat, or getting onto a bus.

As coronavirus restrictions continue to ease, many people will still be adjusting to new rules and busier public transport. Be patient and allow everyone the time they need.
3. Be aware of face covering exemptions
Where possible, a face covering should be worn on public transport to prevent the spread of coronavirus. However, not everyone can wear a face covering. This might be because:
they cannot physically put on or wear a face covering

wearing the face covering would cause them severe distress

someone with them needs to read their lips to communicate

they need to remove the face covering temporarily to eat, drink or take medication.
Remember that not all disability is visible. Don't make assumptions about why someone may or may not be wearing a face covering.
4. Be prepared to give up a priority seat
Now that social distancing is enforced on public transport, there may be less seating available. This means people may sit in a priority seat if there are no other seats left.

Please be aware of other passengers and be prepared to give up a priority seat to anyone who might need it. This includes people with hidden disabilities. Dementia is one of many visibilities that is not visible.
If you don't need a priority seat or designated wheelchair space, please keep them free for people who do. This can help people feel welcome on public transport.
5. Make space where others can't
During coronavirus, people can get upset if social distancing is not maintained on public transport. This has resulted in people with hidden disabilities, including dementia, being confronted or abused for not keeping their distance.
However, some people find it difficult to socially distance and may rely on others to make space. Please be thoughtful of others and make space where they can't.
We all have the power to collectively create a more supportive travel environment for people living with dementia, and other conditions.

If everyone using public transport takes small steps to be more mindful of other passengers, we can all help make transport more accessible and inclusive.
Next steps
Journeys and transport for people affected by dementia
Read our advice and practical tips for people affected by dementia using transport and going on holiday journeys, including how to pack.
Find out more
This article was first published on 11 March 2020 and last updated on 17 June 2021.