At this year's Labour and Conservative party conferences, we spoke to leading politicians to explain the cost of social care for people with dementia.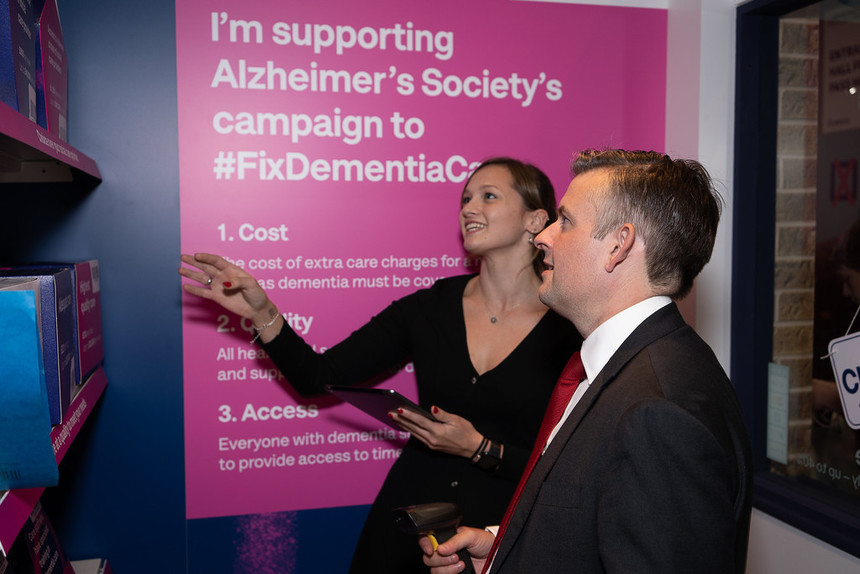 As the Government prepares its Green Paper on social care reform, we spoke to the UK's leading politicians to explain the true cost of care for people with dementia. Shadow Secretary of State for Health and Social Care, Jon Ashworth Last month, we attended the Labour and Conservative Party Conferences alongside people affected by dementia.
We do this every year to engage with decision makers and the public. This was all the more important this year, due to the upcoming Green Paper on social care reform. At this year's conferences, the team spoke to MPs, local councillors and delegates about our Fix Dementia Care campaign.
Our stand took the form of an interactive shop, where people were able to step into the shoes of a person with dementia. Politicians were able to see what care was available to them, and at what cost.
Labour Party Conference
At the Labour Conference, Tommy Dunne and Paul Hitchmough, both of whom are living with dementia, were there to talk to MPs and Shadow Ministers about their experiences. Tommy and Paul share their reflections from the conference.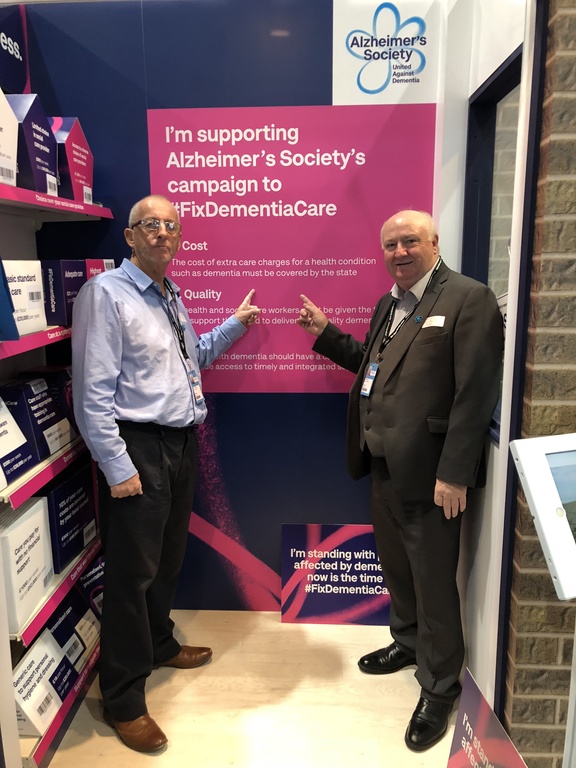 Tommy said:
'What a wonderful opportunity it was for us to speak to councillors and MPs to help promote the Fix Dementia Care campaign. This is something which is very close to my heart.


'I was able to tell them how it's wrong that people living with dementia are facing catastrophic costs to pay for their care and support. I told them that just because we have dementia, it shouldn't mean we should be penalised compared to if we had cancer or another medical condition. Tommy and Paul, who both have dementia, at the Labour Party Conference

'I was able to ask them several more questions, including: Why should a person living with dementia have to struggle to access vital care? Why should a person living with dementia have to put up with care that is often second-rate yet the most expensive?

'The time when our carers need help the most is the time that they are kicked in the teeth, brushed aside and punished financially. I can only thank the Society for giving me the opportunity to speak with the people who can help make a difference.'
Paul said:
'I feel the Conference was a great success. A long hard day, but very worthwhile in what our targets and achievements brought forward.

'We met a wide range of people and I think they all went away with a different view of Alzheimer's after meeting the team and listening to me and Tommy. We are the 'experts' after all, as Tommy always states! Tommy and I feel a lot of messages were bought home to everyone we met and talked to so it was a winning campaign we both felt happy with.'
Conservative Party Conference
At the Conservative Party Conference, Sandy Sweet, whose mother has dementia, told her family's story to MPs and Ministers. Later in the day, she had an opportunity to speak directly with the Prime Minister, Theresa May.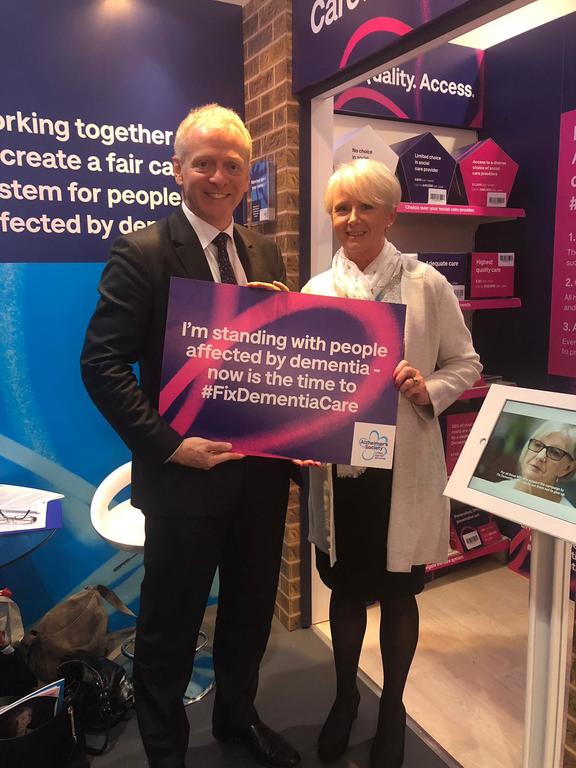 Sandy said:
'Who knew political party conferences could be so exciting? From the minute I arrived at the interactive Alzheimer's Society stand we had a constant stream of curious MPs. They all wanted to try their hand at purchasing care, and the shock on their faces when they received the final bill was all too clear.

'I was delighted to receive a promised visit from my own MP, Dr Philip Lee. He took the time to listen to my concerns on dementia care funding and seemed genuinely interested in the problems people are facing in trying to access good quality care.

'The team's excitement levels rose dramatically in the afternoon when we heard of a possible after-hours visit from the Prime Minister! At 6.20pm she arrived and we all appreciated the opportunity to put our case forward. She clearly understands the need for change and the difficulties people face when trying to access a complex care system. Implementation within her own political agenda will be challenging, but I feel that the Fix Dementia Care team made great progress that day.'
Next steps
Unite with us to make change happen and sign up to the campaign