Meet Marc, one of our Side by Side volunteers. Matched with John in early 2017, Marc tells us why he became a volunteer and is uniting against dementia.
This year thousands of people have come together to unite against dementia.
Every single one of them is a hero and makes our work possible, from those who donated through to our Side by Side volunteers.
Launched in response to the loneliness and isolation so many people with dementia report experiencing, we set up our Side by Side service to reconnect people with dementia with their communities and favourite pastimes.
This includes Marc, a Side by Side volunteer making a real difference to the life of John, who has dementia.
Watch the video to hear Marc and John's story, and read on to find out more about their blossoming friendship.
Marc's volunteering story
My name's Marc and I'm a Side by Side volunteer. My father has had Alzheimer's disease for the last 15 years, so I know how challenging living with dementia can be.
I really wanted to help others with the condition and felt like I had accumulated the right experience to do so. I was also eager to do something with an individual on a long term basis - Side by Side seemed perfect. As soon as I saw the advert in my local area, I applied.
Fast forward 2 months and I was matched with John! We've been meeting every week ever since.
Getting matched with John
John is quite a character. A cheeky chappie and lots of fun, we clicked straight away.
We share many of the same interests. From walking to ten-pin bowling to visiting local National Trust parks, we spend our time exploring new places in Surrey and revisiting old ones. Either that or he's beating me at bowling with his impressive spinning technique!
Given we both love walking, the countryside and a bit of friendly competitiveness, this makes for an ideal match. I can't see us getting bored anytime soon...
We've also singled out some really nice spots to have a coffee or cup of tea for after. Inevitably we'll end up with a big slice of cake too (and the odd sausage roll…)
The perfect way to round off a trip, it's become a bit of a tradition of ours.
A friendship forms
When you spend a bit of time with someone, you get to know their interests, their sense of humour and their history. You find those things in common. And that's exactly how it worked with John.
We've become very fond of each other. I hope our trips keeps him interested in the wide world, as I know he can't easily get out on his own to do these things.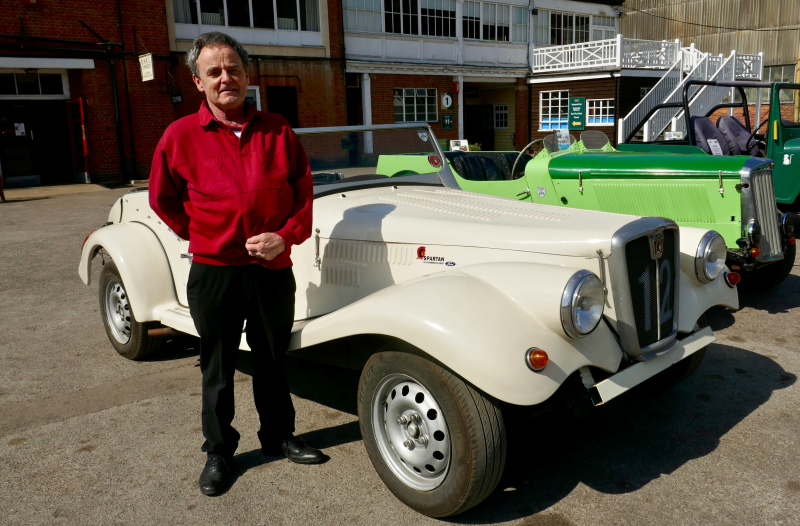 ​
John during one of their Side by Side visits
That's the best part of volunteering - it helps someone else, but you also get a load of satisfaction out of it too.
Never underestimate the power of a nice view and a cup of tea.
We've both gained a new friend and we've both been able to explore new places and try new things. I'm indebted to John as much as he is me.
To anyone toying with the idea of volunteering, I'd definitely encourage you to go for it. Despite what you might think, it isn't hard work at all.
Once you get into the swing of things and learn about the individual, you very much look forward to it.
Given that dementia affects so many of us, I believe it's really important that we all try and unite against it in some way. Whether it's Side by Side, fundraising or supporting dementia research projects, there is so much we can do to improve the lives of people living with the condition.
Never underestimate the power of a nice view and a cup of tea.
Unite against dementia
This festive season, we want to thank all the incredible volunteers making a difference to people affected by dementia every day.
If you'd like to support someone living with dementia and help them continue doing the things they love, take a look at the ways you can volunteer. Read more Side by Side stories.