Ken McCartney, 82, who has Alzheimer's and lives in Birkenhead, says meeting 45-year-old Side by Side volunteer, Steve Gibbins, has changed his life.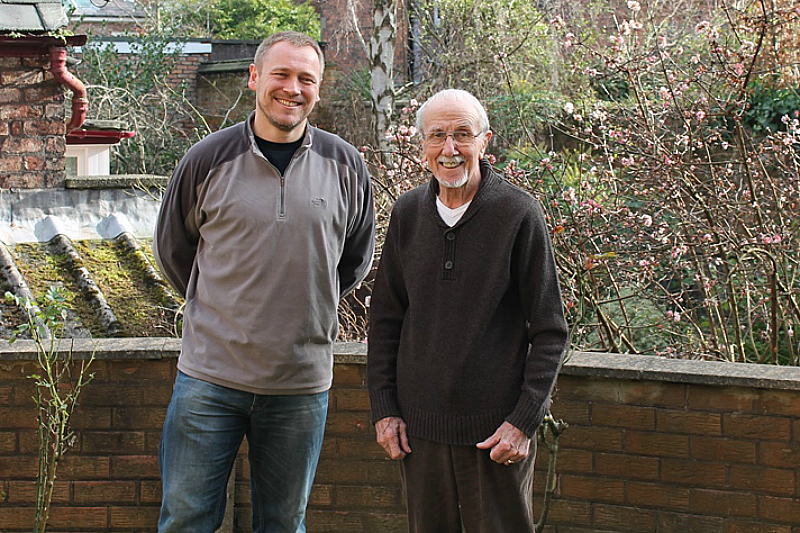 ​
Ken and his wife Brenda found it hard to get the right help and support after Ken's diagnosis. Like many people in the same situation they felt completely isolated. It wasn't until they came into contact with Alzheimer's Society's Side by Side service and were matched with Steve that their lives were transformed.
Ken and Brenda's daughter Lynne explains: 'Getting dad's diagnosis felt like a relief. It wasn't a massive shock to us as mum and I had been noticing signs of dementia before his diagnosis. It was after dad had had some falls that it was finally picked up. We weren't given a lot of support after the diagnosis, we were just left to get on with it.'
Ken says: 'It was a bit of a shock to me as I really wasn't expecting to be told I had dementia. I didn't realise anything was wrong but I just took the attitude that I wanted to get on with my life and carry on doing the things I enjoy.'
Ken enjoys running and cycling with Steve
Before his diagnosis Ken was a keen runner and did a number of marathons. He was always out on his bike and kept fit. He had been a Merchant seaman when he was younger too, so before he was matched with Steve, he knew he wanted to keep busy and active.
Ken continues: 'Meeting Steve has been great in helping me to get out and still do the things I enjoy. My initial goal was to get out on my bike and I was desperate to keep active so we have done a bit of cycling together, been on walks in Eastham Woods and Bidston Hill. When the weather is bad we go to the gym together.'
Steve, Ken's Side by side volunteer, adds: 'Side by Side came at the right time for me too. I had some time on my hands after working abroad and saw the advert for Alzheimer's Society. My dad had Alzheimer's too so it's a condition that is close to my heart. I thought it sounded great being able to hang out with someone while also helping them to still do the things they enjoy. My application went through really quickly. I felt nervous at first but then I met Ken and we just clicked. Ken is a top bloke and is as fit as a fiddle. He sometimes shows me up in the gym, it's embarrassing. I forget he is 82! It's like seeing a mate every week and it's good fun. I feel like I get as much out of it as Ken does!'
Lynne continues: 'Side by side has given dad back his independence outside of me and mum. He comes back full of beans. I think Steve feels more exhausted than dad does after they have been out! It gives mum a chance to get out too and have a break. We'll go and get a coffee together. We're all really grateful we have Steve in our lives. It really has made a difference, dad loves it.'