After her dad was diagnosed with dementia, Denise became a Dementia Friend. Find out how you can join 2.5 million others and be a Dementia Friend, too.
With 850,000 people living with dementia in the UK, the Dementia Friends initiative is such a vital part of changing presumptions and providing support. 2.5 million people have united against dementia by becoming a Dementia Friend. Find out more about why this social initiative is so important and how Denise, a carer and Dementia Friends Champion, helps to raise awareness.
What is Dementia Friends?
Dementia Friends is the UK's biggest ever social action initiative. It aims to change the way people think, act and talk about dementia. A Dementia Friend learns what it can be like to live with dementia, then turns that understanding into action.
Anyone of any age can be a Dementia Friend. Being a Dementia Friend is all about taking the time to learn a little more about dementia and the small ways you can help.
Why is the 2.5 million milestone important?
Dementia Friends launched in 2013 to tackle a lack of understanding about dementia. Now, one in 30 people in England, Wales and Northern Ireland are involved with the initiative.
Dementia Friends have donated an estimated 200,000 hours of time to help support people affected by dementia. Alongside the 2.5 million Dementia Friends, there are now over 350 Dementia Friendly Communities around the country, working to ensure people with dementia feel understood and valued.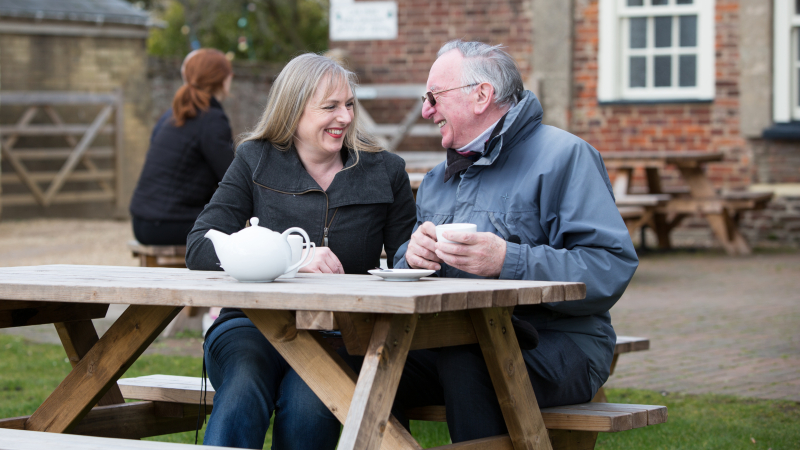 ​
Denise with her father, Allen
Denise's story
Denise is an actress living in Kent. Her father, Allen, was diagnosed with mixed dementia (Alzheimer's and Vascular) in June 2015. Alongside caring for her dad, Denise took part in a Dementia Friends Champion Induction Session, providing Information Sessions for new Dementia Friends.
'In summer 2015, my mother became seriously unwell. She had been diagnosed with ovarian cancer seven years earlier.
'My father had tried to cope with her needs but, unbeknownst to us as a family, not only was he neglecting her needs, he was also neglecting his own.
'We now realise this was due to him having dementia. He would often repeat himself, sometimes telling the same story 10 times in one hour. My mum asked me to get him referred for memory tests as she'd been worried for some time but had not said anything.
'We were sent a date for Dad's appointment at the memory clinic, three days before my mum's funeral. He was stunned to learn he had dementia.
'Dad has so many stories from his past that he likes to share; having dementia hasn't dented that enthusiasm for the memories he cherishes. Sadly, it just means they will diminish in time.
'Ask him about meeting Princess Elizabeth and tugging at her skirt, or dancing with other construction workers on the London Opera House stage, or wandering the corridors to the War Room in London naked. He has a host of tales to keep you entertained.
'I am an active Dementia Friends Champion and have carried out high profile Information Sessions with large business groups.
'I've talked on radio shows to promote the need for businesses to be better prepared and able to support carers or those diagnosed with dementia that are still working.'
Next steps

​
It's great to have reached 2.5 million Dementia Friends, but we need to continue reducing the stigma around dementia. Getting involved is easy. Simply watch the online video or attend a Dementia Friends Information Session. Whether you're able to take big actions, or do something smaller like wearing your Dementia Friends badge, every action helps.