Different people have very different reactions to being diagnosed with dementia. Fiona Madden meets a man for whom a day centre has helped to provide a new lease of life.
Listen to this article as a podcast via Soundcloud
For 75-year old Hymie Gold, getting a dementia diagnosis appears to have been something he has taken in his stride.
Although many people understandably feel daunted, scared and overwhelmed, Hymie says he has even benefited by being prompted to find a new social hub for people who have similar backgrounds to him.
Hymie, a retired black cab driver, grew up in Hackney and went on to live in Redbridge, both in north-east London, and he is no stranger to serious health problems.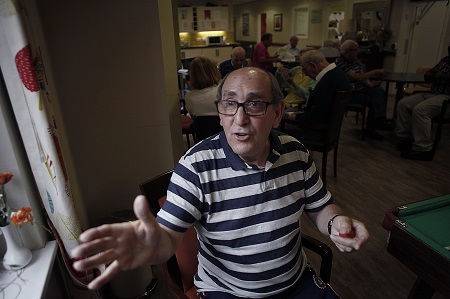 He says, 'Years ago I had a small stroke, then I had a heart bypass and then I had a swollen aorta, as well as prostate cancer.
'When I had the stroke it was like a sharp pain, like a knife, in my head that travelled and travelled down my body.'
Hymie's formal diagnosis of vascular dementia was given following brain scans and assessments through the GP.
He says, 'It didn't bother me. I've had everything else – I'm a fighter. I don't worry about anything. I never worry because worry is a killer.'
Sociable environment
Hymie was referred to a Jewish day centre in Redbridge that offers activities and a sociable environment for people with dementia and memory problems.
Hymie, who describes himself as being 'very cheeky' and 'hyperactive', now attends the Dennis Centre three times a week and can't commend the service highly enough. He has even recognised faces and met people there from his past.
Although most of the staff at the centre are not Jewish, the majority of volunteers are and many of them have similar life experiences to Hymie and other people using the service.
'I've been going to the centre for three years. These are the most wonderful people.
'They are very accommodating and we've got a snooker table and we play cards and dance and sing.'
Hymie has been attending exercise classes at another Jewish Care facility once a week, which he feels are immensely beneficial to his physical and mental wellbeing. He saw the classes taking place and asked if he could join in, and says they have helped his posture.
'Tracey is the best teacher you could have. I do it seriously – I have to watch her because I have to copy her. She's fantastic and we do funky moves with it so it's such fun.
'She's a lovely person that anyone would love to have as a friend and on Thursday she comes in here too and we do yoga.'
Quality time
Hymie has been with his partner Gladys for 30 years after meeting her at a Jewish social club he used to attend. He is also very active outside of the centre, spending quality time with his three children and two grandchildren.
Hymie has to take greater care than he used to when driving to Southend-on-Sea in neighbouring Essex each week.
'Being a cabbie for 20 years has imprinted it in my brain. Gladys is a very nervous passenger though.
'I take her to see her son in Southend every Wednesday. I've got new rules because she's nervous – I only drive on the inside lane. I used to enjoy going 100 miles an hour but now I'm an old man and with my problems I enjoy the slow drive.'
Hymie has a larger than life character and acknowledges that he is a 'handful' for both the staff at the centre and his family, especially Gladys. He admits that he gets 'told off' a few times a day for his tongue-in-cheek comments and mischievous attitude but praises the staff for their professionalism and keeping him on his toes.
Lively personality
Although Hymie has a very playful side he speaks affectionately about how Gladys deals with his lively personality as a self-confessed 'chatterbox' along with his memory loss.
He says, 'She's very sensitive. I'm very broad minded and naughty – what's on my lung is on my tongue.'
When Hymie was told he had prostate cancer, 10 years after being diagnosed with dementia, he says the first thing he did was to turn to Gladys and apologise as he believes his conditions have given her 'trouble on top of trouble'.
Seeing Hymie at the centre is like seeing an entertainer in their natural environment. He knows everything about all the staff and attendees, many of whom have more advanced dementia than him.
In a rare moment his eyes flicker with sadness as he refers to a gentleman passing by, saying, 'He used to be my friend but he's much further on now.'
However these moments are fleeting as Hymie, the centre's youngest attendee, recalls all the activities that everyone enjoys together.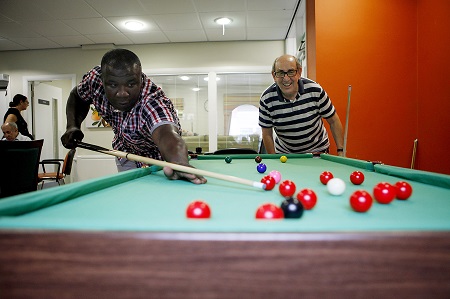 Singing and dancing
Aside from the exercise classes, playing snooker, doing quizzes and playing cards, which Hymie believes many people benefit from because they used to attend Jewish social clubs where playing cards and betting was a key aspect, he also relishes the entertainment that is brought in regularly.
He says,
'I love singing. We have three or four entertainers come in and I can sing as loud as them without a mike though I have a problem – I don't know one word of any song but we have karaoke and I can sing that.

'There's dancing too. I've got dance feet, I was a terrific dancer. I still enjoy it but I can't move like I used to.'
Hymie is on a combination of six pills that he takes daily for his various medical problems including his memory. He also experiences vertigo, making him feel very sick and dizzy, and problems with balance. Despite having had falls in the past, he says he has no desire to slow down.
Although there are familiar faces at the centre from Hymie's past and his particular community, it is evident that he thrives on interacting with anyone from any background.
Hymie chuckles at the thought of taking it easy and slowing down due to his health and is determined to continue attending the centre as he loves every aspect of it, seeing the place as an extension of his home.
'I can't praise the staff enough. If I won the lottery they would be looked after. They are amazing.
'I'm a fighter. I don't give up. I believe in life and I believe in people. All I love in life is interacting.'
Find out more about Jewish Care, the charity that runs the Dennis Centre along with many other services in south-east England, or call 020 8922 2222.