Programme Partnerships Officer Steven McFadyen visits a group of golfers with dementia. He shares why golf is important for the primary carers, too.
Steve is looking to support leisure centres, gyms and sports clubs to be more dementia-friendly.
Here, he shares his experience of visiting a group of golfers who are living with dementia. He learns why activities, such as golf, are important not just for the players, but also their carers and family members.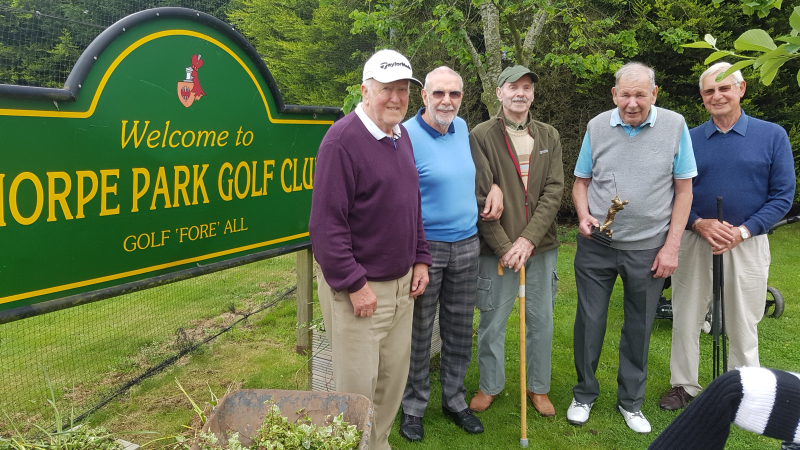 What is Golf in Society?
I'd heard a lot about Golf in Society before I had the pleasure of visiting a golfing session in Lincoln. This fantastic initiative is designed to give people living with dementia access to supported golf sessions in a local club.
By providing a person-centred approach, Golf in Society allows people with dementia to continue (or start) playing golf. They ensure the environment is safe, social and - most importantly - fun!
A social event
On a weekly basis, golfers come together and enjoy a welcoming session. They spend time on the driving range, on the putting green and out on the course. It was wonderful to see the golfers greeting one another.
Together they have a cup of tea, some lunch and enjoy being outside. It's an ideal way to spend a morning for anyone that likes sport!
'Initially, he didn't want to go because he thought it was going to be competitive. There was an Alzheimer's Society meeting at the golf club that opened him up to a conversation about golf. Then he came along and has loved it ever since.'
- Carer of person with dementia
Golf 'fore' all
While the golfers took part in a group warm-up on the driving range, I spoke with their carers in the café. We talked about the golfing sessions and dementia-friendly sporting clubs. Sat around the table, the carers shared a sense of peer support. They told stories and explained how Golf in Society helps not only the golfers, but also the carers.
These weekly sessions provide the opportunity to create a support network for carers. The partners and family members told me how this three-hour activity gives them and the golfers much-needed time to do their own thing. They both have the chance to relax and do things they love. 
The carers felt this was a huge positive in their lives. They felt these supported golfing sessions have given their loved ones with dementia a new lease of life. It is something to look forward to every week that helps to increase social confidence and improve physical fitness.
'His fitness has improved enormously. He used to use the buggy to get around the course and now he walks and carries his own golf bag. We've even started doing our own walks too.'
– Wife and carer of person with dementia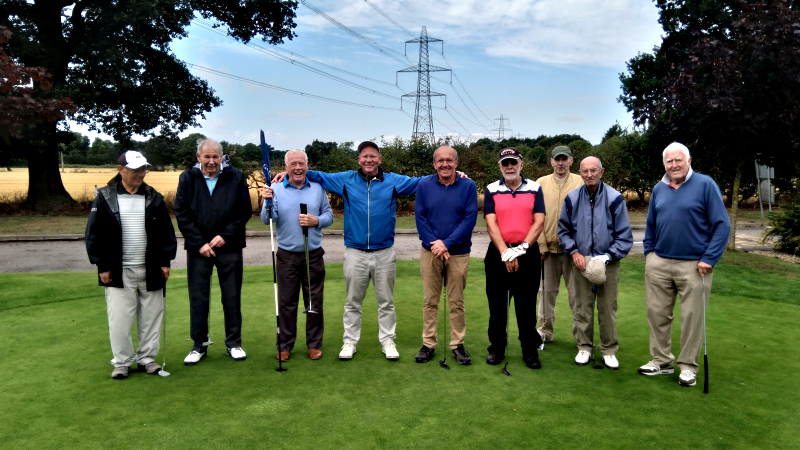 Out on the golfing range
It was great to watch the golfers in action. Golf in Society maintains structure and consistency to the regular sessions. This is found to be beneficial for the participants with dementia.
I watched some target practice on the driving range where there were plenty of jokes and smiles. We headed to the putting green where golfers took on long and short putt challenges. Then, they played a few holes on the course to make the most of the sunshine.
'It's given my Dad a new lease of life.'
- Daughter of person with dementia
A positive experience
Throughout the morning, golfers enjoyed the challenges, teamwork, high-fives and celebratory air-punches. The differing levels of golfing experience didn't matter.
The session brought so much fun, laughter and positive experiences for everyone involved. For the people living with dementia, this wasn't about their diagnosis. It was about golf. It would be brilliant to see more projects take on a similar model and create dementia-friendly initiatives in their sports clubs.
'I don't even think he registers it's about his dementia, which is great, and it's not about dementia. For him, it's just about golf.'
– Wife and carer of person with dementia
Next steps