Read about how we are working to get care innovations put into practice.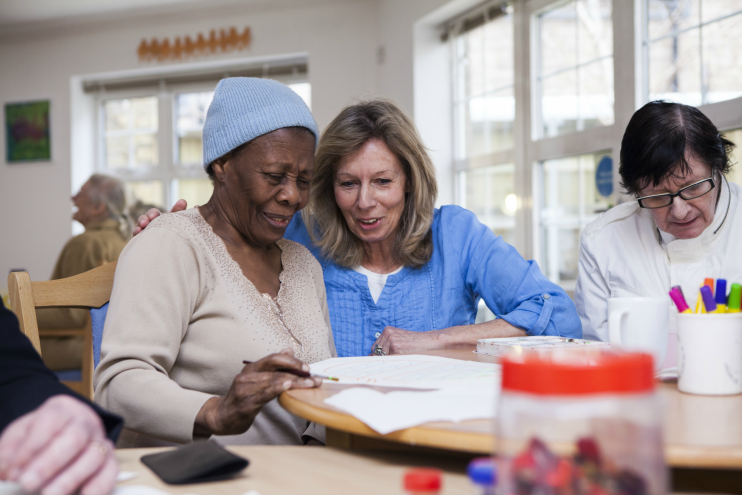 At Alzheimer's Society, we were challenged by our Research Network volunteers to make sure that findings from care research get used beyond specialist studies. In response we started working hard on moving findings from research settings into the real world, a process known as research translation.
Implementing research findings in the real world can take time. On average, it takes around 17 years from the development of an initial idea to it being actively used in health and social care. We think this is far too long and our aim is simple – we want to make sure that improvements in care that are identified by research are made available for people with dementia, their families and carers much more quickly.
What are we doing about it?
One step we have taken is to look at the route that research follows before interventions are put into practice. Within this pathway, we are identifying actions we can take at pivotal stages to encourage professionals in frontline care to use research findings. This includes considering who pays for care services, influencing government policies and focusing on how we influence people to use what we learn from research.
We have also introduced implementation research grants, which aim to move research along this pathway to put findings into practice. These grants enable researchers to work with frontline health and social care professionals to build up practical evidence about interventions that have shown promise in research settings.
We know these interventions could improve quality of life, but it is important to gain evidence about how to introduce them in practice. The first two implementation grants were awarded in late 2016.
Namaste Care
Professor Dawn Brooker, Director of the University of Worcester Association for Dementia Studies, was awarded an implementation grant to study a care programme called Namaste Care.
Namaste Care was first developed in the USA to enhance the quality of life of people with advanced dementia in care homes using physical, sensory and emotional approaches.
The research team will test different aspects of Namaste Care to see which work best to support people with advanced dementia in UK care homes and to understand how to introduce it most effectively. The researchers will also create a professional network to share learning from the project.
Life through a lens
Our second implementation grant will test nondrug therapies to support people with a learning disability who have developed dementia. Many different forms of therapy will be tested, including music, reminiscence and technology. Led by Dr Karen Watchman, Senior Lecturer at Stirling University, the research team will include co-researchers who have a learning disability.
They will make use of Jenny's diary, a resource that helps conversations about dementia with people who have both learning disabilities and dementia. They will also use photographs taken by family, staff and people with a learning disability to help understand their experiences of the interventions, capturing a 'digital story' of the work.
Altogether, our implementation research grants and our work on the research translation pathway mark the start of a movement to get evidence-based innovations used in real-world care. By bridging the gap between research and care, we will help people to live better with dementia.
Care and cure magazine: Spring 17
Care and cure is the research magazine of Alzheimer's Society is for anyone interested in dementia research.
Subscribe now
More from Care and cure magazine: Spring 17:
Care and cure is the research magazine of Alzheimer's Society is for anyone interested in dementia research.
Subscribe now