Dementia Research Leaders award winners 2016
From the Autumn 2016 edition of Care and cure magazine, The Alzheimer's Society awards celebrate the work of early career researchers.
The 2016 Dementia Research Leaders awards were announced at our annual research conference. These recognise the achievements and progress of researchers in the early and middle stages of their careers. There were two categories this year – Rising Star in Dementia Research for PhD students and junior postdoctoral researchers, and Leader in Dementia Research for senior postdoctoral researchers and those at fellowship or lecturer level.

The judging panel was comprised of researchers from the care and biomedical fields and a member of our Research Network. The judges took into account aspects such as nominees' achievements so far, their commitment
to patient and public involvement, and the way their work could benefit people affected by dementia.
---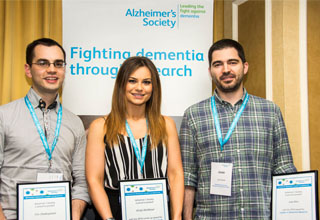 From left to right: Tim Shakespeare, Kirsty McAleese and Jose Bras
---
The Rising Star in Dementia Research award was won by Dr Tim Shakespeare from University College London, who specialises in researching ways to better diagnose and understand posterior cortical atrophy. The judges were particularly impressed with Tim's commitment to helping the public find out more about dementia, including his online education programme, The Many Faces of Dementia.
The two runners up for the Rising Star in Dementia Research award were Dr Kirsty McAleese from the University of Newcastle and Dr Naaheed Mukadam from University College London. They were praised for their work on how dementia affects the brain and work with south Asian communities respectively.

The Leader in Dementia Research award went to Dr Jose Bras from the Institute of Neurology at University College London. Jose's work focuses on the genetics of dementia, particularly dementia with Lewy bodies. The judges praised his very strong academic publication record and dedication to mentoring other researchers.

The runner up prize for Leader in Dementia Research went to Dr Jon Rohrer from University College London, who was commended for his work on the genetics of frontotemporal dementia, including setting up an international collaborative network of scientists in order to share data.