Informal groups run by people living with dementia
Meeting other people in a similar situation is important but some prefer more informal groups, especially as a first step. Danny Ratnaike finds out about the benefits of 'self-supporting' groups.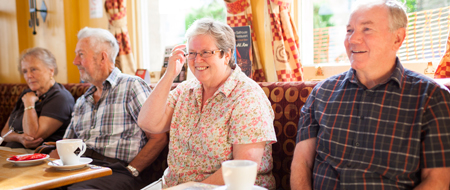 Many kinds of local groups are run by the Society, such as Singing for the Brain, Dementia Cafés and carers' support groups. In North Somerset, less structured get-togethers are also run by people who've been put in touch with each other by staff.
These 'self-supporting' groups offer a first step for people looking for informal ways to meet others.
Toe in the water
June King's husband, Jack has had Alzheimer's disease for about two and a half years. Since last Christmas, they've attended coffee mornings for people living with dementia.
June says,
'Jack came back from another service with a leaflet about a coffee morning. We went along and met Kath Rycroft, a local Dementia Support Worker.'
June and Jack now go to two monthly coffee mornings, one in Clevedon and another in Backwell. She says,
'It's important that people with dementia get out and meet others. It's also good for carers - I meet people and see them when I'm out shopping.'
David Bailey also goes to the Backwell coffee mornings with his wife Sheelagh, who was diagnosed with vascular dementia earlier this year. He says,
'The first time, I went on my own to see what it was like. I was absolutely dumbfounded that there were 28 people there.'
David found out about the group from Kath when she visited him and Sheelagh at home. He says he was a bit wary of going initially but adds,
'It's very relaxed, very informal, with no agenda. You can talk about anything and everything.'
Kath says,
'Dementia is not the primary concern even though they're all there because of it. If something happens that might be awkward with people who aren't used to it, they all understand. They can relax and be themselves.'
June says,
'If someone repeats something they've said, well we're all used to it so it's not a problem.'
Kath or someone else from the Society attends sometimes, and David says,
'Anyone who wants to grab them for something can do that, but they don't run it - they are more like catalysts who make it all happen.

'I'm sure we'll start using more structured services as well. For me, it's a toe in the water. Other people at the coffee mornings say, "Have you been to this or that?" and they can explain what happens at them.'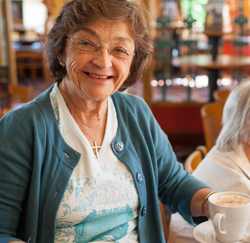 June says,
'When Kath visits people she tells them about the coffee mornings. I'm glad she got them going, but it's up to us to keep them going.'
Reassurance and sharing
June says she and Jack both enjoy the groups.
'My husband looks forward to going. He asks "Is there a coffee morning this week?"'
David says,
'Sheelagh was very tentative first of all, but I think we enjoy the same things about it. Having it in the diary at the same time each month is good, and it carries on through the summer.'
He says the main benefits are the reassurance of knowing other people in the same situation and sharing experiences.
'We've met some people from the group on our own afterwards, and that's been great.

'You don't realise how many people in your area are in the same situation. We bump into people who go to the group in the car park or the supermarket.'
Sheelagh's mother had Alzheimer's and lived with them for a while. David says,
'Caring can be very lonely. Some people try to do it all entirely on their own. When my mother-in-law was staying with us, I didn't know about Alzheimer's Society. We did it all on our own and it was very hard.'
The coffee mornings are held in local pubs that people can get to easily. June says,
'The pubs know we're coming - they sometimes ask, "Are you with the coffee party?" when we arrive.'
David says,
'It helps to widen the experiences of other people in the pub. It isn't a hall reserved for ourselves and that's a nice thing. There's no sign up saying "Alzheimer's group".'
Very empowering
Hazel Tillman, Support Services Manager, has been pioneering these self-supporting groups in North Somerset. They have included a walking group for younger people with dementia as well as groups for daughters and for former carers.
Hazel says,
'It's important to get people at a similar stage of their dementia journey together, especially for newly diagnosed people. It can be very empowering - they make their own decisions.'