How to approach helping a relative or friend with a learning disability who's diagnosed with dementia.
Question:
'My uncle has a learning disability and I support him when he needs it. He's just been diagnosed with dementia – how can I continue to help him?'
Answer:
People with learning disabilities are more likely than other people to develop dementia as they get older. They're also more likely to get dementia at a younger age.
However, the right support can help people with learning disabilities to live well with dementia too.
Different ways 
Just as dementia affects people in different ways, so does having a learning disability. The type of care and support that your uncle needs will depend on how both these conditions affect him – now and in the future. 
If your uncle has a very mild learning disability, you might find that the support he needs is not that different to that needed by anyone who has dementia. 
If his learning disability has more of an impact on his day.to-day life, you'll already have strategies or approaches that you use to support him. As his dementia develops, you'll need to find ways to adapt these. 
Activities and routines 
Your uncle will have his own ways of communicating and carrying out daily tasks and activities. Try to support him to continue doing these as long as possible. 
Perhaps he likes to make his own meals but can't now remember every step. Can he still do it with someone else's help, or by referring to a clear list of steps?
With the right support and adaptations in place, your uncle could carry on doing many things that he enjoys. 
Routines are often important for people with dementia as well as people with learning disabilities. Creating or keeping familiar, regular routines could be helpful, though be flexible about adapting these when necessary. 
Understanding 
It may help to tell the people around your uncle about how he prefers to communicate, and that he might have difficulties with certain things. 
Any memory problems will get worse as his dementia progresses, and he might need longer to process and understand what is being said. 
He may also begin to have incorrect beliefs about people or situations, or begin to do things that are out of character. 
Continued change 
It's important to keep checking for any changes in your uncle's health, behaviour or daily living skills. This is because the support your uncle needs will change as his dementia progresses. 
Some people with learning disabilities find that their dementia gets worse more quickly than it would for other people.
However, this can also be because people with learning disabilities are often diagnosed later, when their dementia is more advanced. 
Further information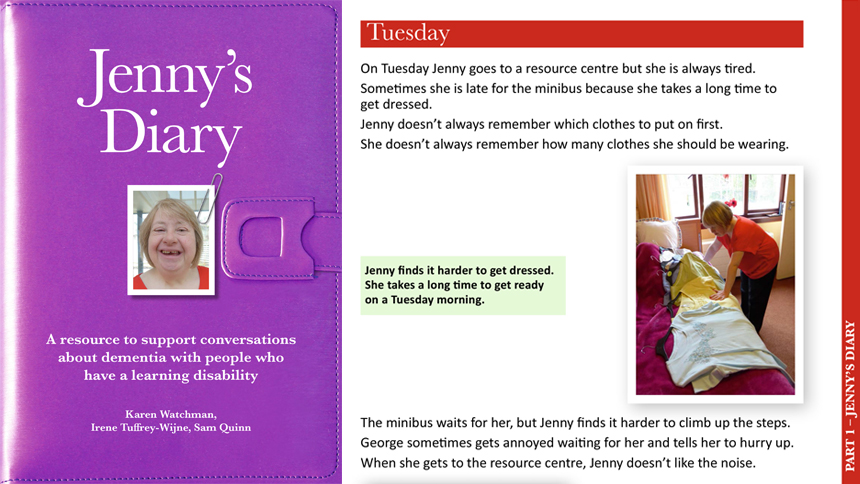 ​
Dementia together magazine
Dementia together magazine is for all Alzheimer's Society supporters and anyone affected by the condition.
Subscribe now
Dementia together magazine is for all Alzheimer's Society supporters and anyone affected by the condition.
Subscribe now