People affected by dementia try out products that aim to solve everyday problems around the home.
We returned to our West Sussex consumer panel to find out what they thought of a range of everyday gadgets from Ravencourt. 
Panel members tested kitchen aids called 'pan pickles', two types of talking thermometer and a prototype DAB radio and music player.
We caught up with them over Zoom to get their feedback.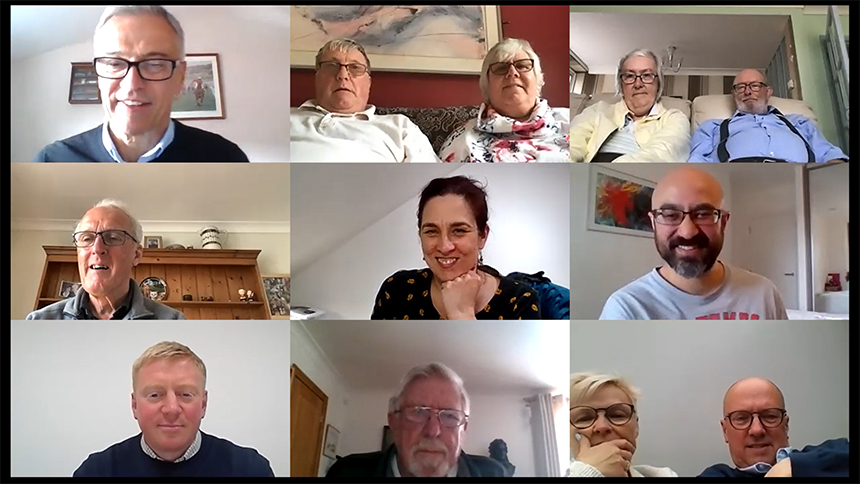 ​
Pan pickles 
Pan pickles were created to position pans on an induction hob, but they can also be used to keep bowls in place on any other surface that isn't heated directly.
Made from silicone, they come in bright yellow as well as black.
Having got through some fiddly shrink-wrap to try them out, Joan said, 'They're very quirky in appearance, we call them bananas!
'Once you know what they're for, you don't really need instructions. You can just figure that out, they're really easy to use.'
Stan said, 'I'll use them because I've got a tremor and I can't hold saucepans or basins properly. I put them around the edge, around the base, and it holds them firm – it works.
'And when they're at rest and they're stored away, I have them as a smile on the cupboard door!'
Although Ian didn't think he'd need to use them a lot, he said, 'For the right person at the right time, they'd be jolly good.'
Seeing them for the first time over Zoom, Roger said, 'They would be useful on an induction hob, especially if you can't see very well.'
Talking thermometers
The Ear and Forehead Talking Thermometer takes a person's temperature if you put it against their forehead or in their ear. It can store the last 30 readings in its memory.
Paul and Penny said using it was straightforward.
'It's really nice to use, it's small, it's light in weight,' said Penny.
'Paul liked the fact that it spoke to him, saying his temperature rather than having to try and read it. I'd definitely buy one like that, I think it's quite a fair price.'
The Non-contact Talking Thermometer measures body, room or surface temperature – you just point it and press a button. It speaks the result as well as displaying it.
Stan and Joan found this simple to use, though they didn't immediately realise that you need to leave it 10 minutes after turning it on to calibrate.
Joan said they probably wouldn't buy it themselves. 'It's bit old-fashioned, but there are other ways to take temperature that are less costly.'
Joyce and John thought it was good value for money, and John liked that it was contactless.
'It's comfortable to use,' said Joyce. 'I love the fact you can check the temperature of a room. It does what it says on the box.'
Easy Music Player
Panel members tried a prototype Easy Music Player that Ravencourt has been developing in partnership with the Society.
It aims to make playing DAB radio, music and audio books easier since, once it's set up with someone's preferences, they only need to use one button to turn it on and off.
Joan and Stan found the radio easy to use once they'd got to grips with setting it up.
'We were a bit confused by the instructions at first,' said Joan, 'but we managed to set up stations and it was playing and everything. We did wonder what the USB port was for.'
Oli from Ravencourt explained that you can play your own playlist from a USB stick.
If you use this to listen to audio books, it will bookmark them so you can have more than one on the go without losing your place. It also plays from Bluetooth devices.
Joan said, 'I did think it was a bit expensive, but now I know what else it can do, it probably is good value for money!'
Although John and Joyce also found setting it up a challenge at first, especially connecting to Bluetooth, they enjoyed using it.
Joyce said, 'John thought it was very robust, he liked the design. I like the idea of the data stick, if John had his favourite playlist. That would be further down the road for him.'
John agreed, 'Yes, it will be good for simplicity – that's my music on the stick, I put that in the radio and it works.
'Joyce played a tune that my dad used to like, he used to sing it – ''China doll'' – and the sound was perfect!'
Oli said Ravencourt have now improved radio reception and how some of the controls work on this product.
Prices (correct at June 2021):
The Easy Music Player will be available later this year for £79.99 plus VAT.
We have a great range of products designed to help people with dementia and their carers to be more comfortable in their homes, while supporting independence and safety.
Browse our shop
Our online shop offers many products designed to help people affected by dementia to live well at home.
You don't have to pay VAT on many daily living aids if they're for use by a person with dementia or other condition – tick the box stating that you're eligible for VAT relief at checkout.
Dementia together magazine: June/July 21
Dementia together magazine is for all Alzheimer's Society supporters and anyone affected by the condition.
Subscribe now
Dementia together magazine is for all Alzheimer's Society supporters and anyone affected by the condition.
Subscribe now