Using your own experience of dementia to support others who have been recently diagnosed
From the March 2015 issue of our magazine, discussing dementia can be an important aspect of coming to terms with a recent diagnosis. Fiona Madden meets a woman who now helps other people adjust to life with dementia.
Dianne Campbell has found a role in a service where she can use her personal experience of dementia to help other people with a recent diagnosis. However she remembers the difficult process of recognising her own condition and finding services that suited her age.
Dianne, now 48, started noticing changes in her behaviour and how her brain was working a couple of years ago. She began to have trouble remembering things such as when to take medication and pick up prescriptions from the chemist.
It was when these incidents started to spill into her social life and even to affect her safety that alarm bells really began to ring.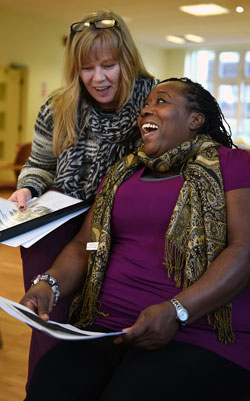 Dianne says,
'Things kept on burning on the stove. I'm cooking and I don't remember that I'm cooking – those kinds of things. I would say they're silly but looking back they weren't because it was a disaster waiting to happen.

'I couldn't remember people's names. I still can't remember my own niece and nephew's birthdays and that's frustrating because it's only after it's gone I hear them talking about it. I also locked myself out because I don't remember to pick up the keys. Those are just some of the things.'
Quick diagnosis
Dianne was fortunate to have a quick diagnosis after visiting her GP, who referred her for a brain scan after doing a memory test. In the summer of 2013 she was diagnosed with vascular dementia.
Dianne was referred to an occupational therapist, who she credits as doing her a world of good in both coming to terms with her dementia and dealing with the depressed feelings she experienced at first after being diagnosed.
She says,
'It did put me into depression and I think that is worse than the dementia. For me when they definitely told me what was wrong with my brain I maybe didn't pay it any mind until my occupational therapist started to work with me.

'I had to learn to retrain my brain by doing lots of different stuff with her. The brain couldn't carry on like before. It's like a socket that's overloaded and if you don't take out most of the cords it's going to explode – that was how I saw it.

'I relied on my occupational therapist to help me through it, which was brilliant. I'm still learning to understand it but I always say to people that my brain is just being silly.'
Younger people
Like many younger people diagnosed with dementia, Dianne found a lack of age-appropriate services in her area. Although her occupational therapist was in Brent, north-west London she had to travel to the city's centre to attend a group for younger people with dementia at Kensington and Chelsea and Westminster Memory Service.
Her occupational therapist referred her to this service because she thought Dianne might join its team of dementia peer support workers, who are mostly volunteers. Their Dementia Peer Support Programme is a pioneering initiative and Dianne, who had been a cleaning supervisor but was made redundant shortly after her diagnosis, was able to take this on as a paid role.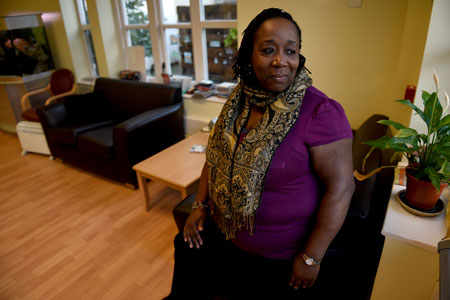 She says,
'People who have just been diagnosed come here and I help support them in adjusting to their diagnosis, alongside the nurse or psychologist.'
She says that people at this early stage can take time to understand what their diagnosis means for them.
'They're trying to get a sense of what is going on and how to deal with it.

'Some of them have never talked about it before so we encourage them to talk. The more you talk about it, the more you get understanding on how to deal with it and how you can really be independent.

'We go to a lot of conferences too. We encourage people to look after themselves and to live well.'
Dianne is a member of the memory service's Young at Heart group, which provides a social hub for younger people with dementia to meet and enjoy activities together. Last year this included trips to Kensington Palace, Kew Gardens and the Shard as well as regular lunches out in a local park.
'I work with the older people but I also spend time with the younger ones.'
Dianne also volunteers with Brent Dementia Action Alliance and sits on their board advising on the realities of life for people with dementia.
Living well
Dianne, who lives alone, believes in people with dementia looking after themselves and living well as much as possible. She does her best to take daily obstacles in her stride. Although she says her condition has not progressed greatly since her diagnosis, she describes herself as having good and bad days.
'The bad days are the worst because it slows me down really badly. I'm still learning how to cope with it. I try to minimise things and be more aware to take different steps. It's not easy but I am trying.

'When I tried to find out what was wrong with me at first, they said there wasn't enough oxygen going to my brain so I was having tiny strokes in it. So to avoid the bigger stroke I just have to look after myself. There are no ifs and no buts, you just have to do it.'
Regardless of the challenges Dianne sees the humour in situations that are caused by her declining cognitive functions. She also enjoys looking after her niece and nephew, even laughing along with them when she burns a meal she has been cooking for them.
She says,
'They have to take me as I am. I'm still the same! I always say to them my brain is just being silly. They're big kids and they understand. I talk to them about it so they understand.'
Many commitments
Dianne acknowledges that she has many commitments at the moment but is determined not to stop using her time in this way unless she isn't able to get around anymore.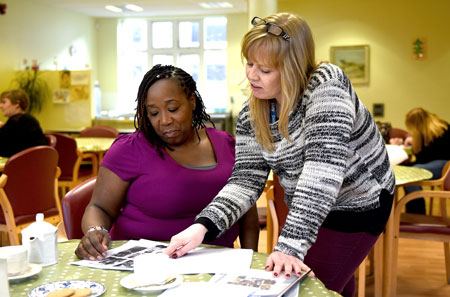 She is keen to expand on the kind of work she is doing with her local dementia action alliance, especially in spreading the message that dementia doesn't only affect older people.
'I know a lot of people just don't think that younger people would get such a thing. I want people to understand that anything can happen in life and that we are just the same – people.

'I want society to understand that younger people do get it and that's why I will always make sure I talk about it.

'I don't need to hide it or sweep it under the carpet because for me there is nothing to sweep under. If I don't talk about it who's going to? It's got to be out there for people to understand that to avoid it at a young age you can look after yourself, and if you've got the diagnosis still look after yourself – eat well, do exercise, help yourself.'
Find out more about how people can reduce their risk of developing dementia.
See our factsheets What is vascular dementia? and Exercise and physical activity for people with dementia, or call 0300 303 5933 to order.
Find out about local services from Alzheimer's Society.