A struggle to make sure that a person with dementia in hospital is able to see
From the April 2015 issue of our magazine, hospital can be a confusing place, more so if a person with dementia cannot see. Fiona Madden hears how a daughter struggled to replace her father's broken glasses while in hospital.
When Rosy Ford's father was admitted to hospital last year she did not expect to go through such a long process to replace his glasses, which broke while he was there.
Rosy is concerned about the amount of time that lapsed until her dad, Roger, was given a new pair, especially as a person with dementia in an unfamiliar setting.
Roger, now 89 years old, had been living independently for five years after his diagnosis with mixed dementia - vascular dementia and Alzheimer's disease - when he had a fall in June last year, resulting in a head injury.
A couple of days into his hospital stay, the frame of his glasses broke. The lenses were still intact, so Rosy's sister went to their dad's optician in Hampstead, north London to get them replaced. Rosy was shocked when her sister returned with the glasses held together using sticking plasters.
Rosy says,
'My sister told me that they couldn't replace the frame because the design was obsolete.

'They couldn't fit the lenses to a new frame and weren't prepared to give him new glasses because he hadn't been tested in two years.

'This was a man in a state of confusion who didn't know where he was and now he couldn't even see where he was.'
Not up to them
Rosy decided to go to the hospital's eye department to see if there was anything they could do. However she was told it was not something that was up to them to deal with. They offered to lend her a wheelchair so that she could transport Roger from the hospital to the optician's to get his eye test, but Rosy did not think this was a practical solution.
Feeling like she had nowhere else to turn, she decided to get in touch with a friend who worked at Alzheimer's Society in the hope that there was something she could do to ensure her dad got the treatment she felt he deserved.
After a few phone calls back and forth with the optician's customer care department, Rosy was disappointed at the result.
She says,
'They explained they couldn't do anything because he hadn't had his eyes tested in the last two years.

'They weren't prepared to give out his old prescription to me and seemed to think I could dig around in my dad's flat to find it.'
New pair
Eventually Rosy was told to go into the branch where they would sort out the situation for her and she was able to buy a new pair of glasses using Roger's old prescription.
She found this process challenging, as she was asked unexpected questions that she was uncertain how to answer, such as whether her dad's face was narrow or wide.
She says,
'I understood their situation but I felt they were still being rather obtuse. I ended up showing them a picture of Dad that I just happened to have taken a few days earlier.'
Unfortunately the new glasses also broke within a week and it took a further four to five weeks to replace them.
Rosy was then dismayed when the hospital locked them up to prevent other patients from taking them - it had taken her weeks to get her dad's new glasses only to visit and find him not wearing them.
There were also difficulties that Rosy believes would have been avoided if her dad had been given an eye test in the hospital. When he put on his new glasses, which he did not recognise as his own, he complained that they were too strong and would refuse to wear them.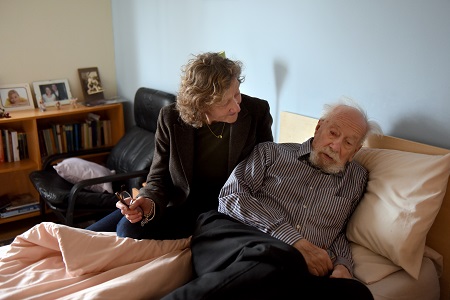 Rosy's dad is now comfortably settled into a care home not far from where she lives in south London. She says the only problem with his glasses now is that they often get mixed up with other residents' spectacles - they get lost and people end up wearing each other's.
Hospital options
According to the Association of Optometrists, a hospital may pay for an optician to visit an in-patient or it might provide an eye test through its optometry department. It is also possible to pay privately for an optician to visit to provide an eye test to a person in hospital.
Opticians are legally required to give a patient a copy of their spectacle prescription following a sight test or eye examination. If someone's relationship to a person with dementia is clear then they may be able to access that person's prescription if the optometrist, optician or doctor believes this is in the person's best interests.
Anyone in a similar situation in hospital could speak with the nurse in charge of the ward or contact the hospital's patient advice and liaison service (PALS).
Rosy hopes that sharing her story may help other people avoid having to jump through the same hoops or leave their loved ones without being able to see in the potentially confusing environment of a hospital.
She is now much happier after finding an understanding independent optician in Eastbourne who has been able to supply exact replacement frames for her father's original glasses at a very reasonable price.
'It took three days and he used the old frames as a guide to shape the new ones so they fit my dad's face. Just brilliant - I am happy, my dad is happy.'
See two factsheets from the Dementia and Sight Loss Interest Group - Eye examinations for people with dementia and Wearing glasses with dementia.
The College of Optometrists also has an 'ask an expert' service.
Download or order a free copy of our publication Accessing and sharing information: Acting on behalf of a person with dementia.