Experiencing dementia both as a carer and as a person with a diagnosis
From the February 2015 issue of our magazine, people may experience dementia from more than one perspective. Fiona Madden speaks to a man who was diagnosed after already caring for his mother and stepfather.
We'd love to hear your views on our online articles from Living with dementia magazine – please give us your feedback.
When Daryl Lees from Nottinghamshire was diagnosed with dementia he was already familiar with the condition through his mother, stepfather and other family members.
Daryl, now 48, began to notice changes in his mum Jill's behaviour a decade ago. She was increasingly forgetful and repeatedly asked the same questions.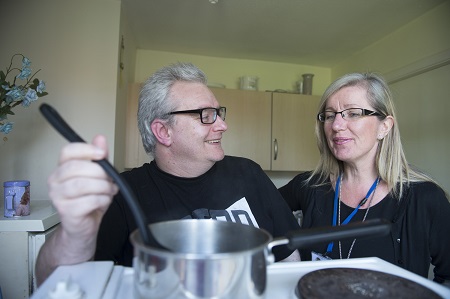 Jill lived in Skegness with Daryl's stepdad Mac, who did not seem to pick up on these gradual changes. However Daryl saw more noticeable differences between his visits and recognised the symptoms from his grandmother, who had passed away over 10 years earlier.
Jill visited a local memory clinic but Daryl was disappointed by the lack of a specific diagnosis and the kind of follow-up he had expected.
Three diagnoses
Jill was diagnosed with Alzheimer's disease about four years later after her symptoms worsened. Not long after this, Mac started to experience similar problems and was diagnosed with mixed dementia – vascular dementia and Alzheimer's.
Although Mac's dementia was less advanced than Jill's he also had a serious heart problem, so they moved to live with Daryl in Sutton-in-Ashfield where he could give them the care they needed.
Daryl, whose nephew Roy was living with him, was registered disabled with arthritis and gout and had his own care package. In an incredible turn of events, Roy then began to notice a change in Daryl's memory.
Daryl says,
'I kept repeating myself and forgetting what I was saying. What I had noticed in my mum, he noticed in me.'
A friend persuaded Daryl to visit the GP and he was diagnosed at the age of 45 with early-onset Alzheimer's disease.
Real strain
Not surprisingly, caring for his mum and stepdad as well as dealing with his own dementia was a real strain for Daryl. He contacted his care co-ordinator at the local council to get more support.
'I was finding life a bit of a struggle being diagnosed with Alzheimer's disease and being a carer. Within six weeks of them living with me my co-ordinator got them places to move into.'
Mac was not happy with Jill moving into residential care without him there too. Daryl says it took a lot of effort working with social services over a year and a half before his stepdad was able to join her in the same place.
A year after his dementia diagnosis Daryl found out he also had Parkinson's disease. His physical health declined and he began having spasms and tremors in his arms and legs.
Daryl's Parkinson's medication had an unusual but recognised side effect, causing impulsive and compulsive behaviour, which put him onto a path of losing money through online gambling. Thankfully, since changing his medication Daryl is finding his condition to be more manageable.
More settled
Daryl tries to maintain a positive outlook on life and says things have improved since the initial challenges of having to deal with his, Jill's and Mac's diagnoses.
'I'm more settled in my peace of mind having sorted out the responsibilities for caring for my mum. I feel freer but my life is never going to be the same as it was, it can't be.

'It's just about getting used to it. I have great support for myself now too and my social worker has been brilliant.'
With his limited mobility, Daryl finds that his computer provides a great way to communicate with others and find out about information and support, as well as enjoying online activities and social media.
He writes his own blog (www.daryl2510.wordpress.com) and has gained a lot from sharing his experiences and engaging with others through the Society's online support community, Talking Point.
Daryl came across this online forum through the Society's website, after feeling he'd been left to cope by himself six months after his diagnosis.
'I saw a category in the forum for younger people with dementia and clicked on there thinking "I have nothing to lose, I'll just make a post" and got replies, so I felt comfortable going there. Although I can't see anybody it's an outlet to let people know what I'm feeling.'
Living alone
Since his nephew moved out last year Daryl lives in a bungalow by himself, though Roy and his children still visit each week.
Daryl is also grateful for weekly six-hour visits from a support worker, Jayne Bradley, through a local charity called Jigsaw Support Scheme. She helps him with shopping and paperwork.
These visits also enable him to do things he enjoys but which he feels better doing accompanied, such as cooking a meal for others without the risk of leaving the gas on.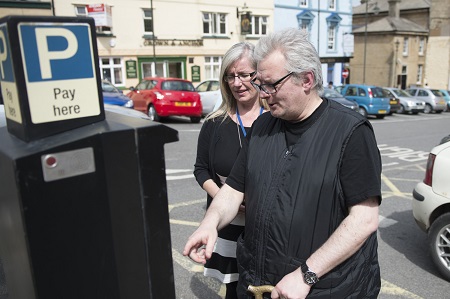 Daryl's experience as a carer gives him a particular insight into how his own condition may progress.
He says,
'I look at my mum and it's like looking into a crystal ball of my future. I see how she is and she isn't aware of things. She's happy enough in that world but as a carer I have to go through losing my mum.

'I see the funny side of it because I've been through the sad side of it with her and I don't want my family to feel how I did. I want to show them that I can still function.'
Daryl sees his mother struggling to do things she used to find easy.
'She can still knit but grasps for what to do exactly. Sometimes she knits me a scarf and it's only four rows long but she thinks she's done it right and that's what matters.'
Happy place
Daryl found that his diagnosis created a distance between him and a lot of people in his life. He says he feels forgotten by many relatives and friends, though he adds that he is in a 'happy place' now.
He is keen to make people aware of what it is like to be on both sides of the condition and he has a clear message for other people affected by it.
'I just want people to know that there is life after diagnosis for people who have dementia. Let's try not to look at the negatives and look at what can still be achieved while we still have time.

'As a carer there is help and support out there if you pursue it – don't let authority put you off. If you're a carer and you're struggling there is support out there but you just have to know who to ask.'
Find out about Alzheimer's Society local services and about Talking Point, the Society's online support community.
See our factsheets Younger people with dementia, What is Alzheimer's disease? and Carers: looking after yourself, or call 0300 303 5933 to order.