Creative workshops for people living with dementia at the Museum of Royal Worcester
From the June 2015 issue of our magazine, museums can provide creative ways to involve people affected by dementia. Andrew Bence attends the launch of a fascinating display in Worcester.
Pam Griffin, a former maths and science teacher, is struggling.
'I look for structure. I like to know what I'm doing.

'I line up my hundreds, tens and units and know that what follows will be the right answer. But this? Oh, this was something else!'
We're standing in front of an art installation entitled Creating the Past, which Pam helped to make.
The work is the centre of attention at this celebratory gathering. It is the result of a series of workshops for people living with dementia that were supported by the local Alzheimer's Society and county council.
The piece has two components. There is a montage of photographs, each depicting a small sketch, painting or design.
Beside this, on a plinth, there is a strange vase-like object, a honeycomb of holes, into each of which has been placed, rolled up, one of the pictures from the montage.
Past and present
The whole thing is oddly compelling, if somewhat incongruous. We are, after all, in one of the galleries of the Museum of Royal Worcester - the finest collection of Royal Worcester porcelain in the world, housed in the former factory that produced it.
What does this piece of contemporary art have to do with all these porcelain tea sets, fruit bowls and gravy boats?
Caroline Tredwell, the young artist and care home activities co-ordinator who ran the workshops, explains.
'Coming together here as a group was inspirational.

'We were able to identify various processes exemplified in porcelain around us, take them apart step by step, and then, drawing on our memories, use them to create our own images and forms.'
Illuminating the various processes was none other than porcelain expert and museum trustee Henry Sandon, from the BBC's Antiques Roadshow.
Henry generously lent his support to the group, waxing lyrical about the museum's treasures, including a superb vase and cover by George Owen dating from 1923. Noted for its honeycomb pattern and raised paste gilding, this vase was the inspiration for the group's own vase-like construct.
Valerie Harris says that she and her husband, Trevor, loved being involved in the project.
'Somehow it managed to be both stimulating and relaxing. I'm a bit of an artist in here,' she says, tapping her head.

'Watercolour painting, cake decorating, gardening.

'But Trevor has never done anything like this before. He painted, coloured in, tried his hand at calligraphy - we had a great time.'
Culture and community
For Gill Read, Alzheimer's Society Services Manager for Worcestershire, this is just the latest of many projects run in partnership with the county's museums, and a success on many levels.
'By welcoming in people with dementia and their carers, these wonderful places help demonstrate and promote dementia-friendly communities.

'Here specifically, participants enjoyed a rich cultural experience, the chance to meet others and be part of a group and learning environment in which to try something new.

'Not to mention Henry's wonderful stories and the delicious tea and cake we enjoyed each week, served on our host's porcelain crockery. Talk about a treat!'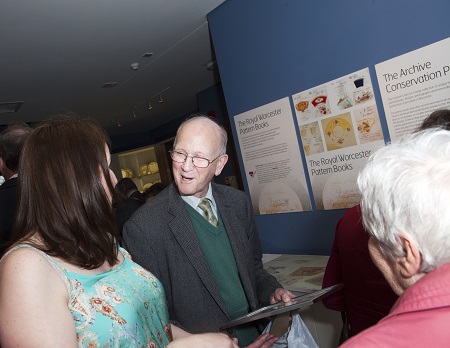 Amanda Savidge, the museum's director, says,
'We hope this is something that will grow and grow.

'We've made friends and broken down barriers - for our staff as well as our guests. "Touching hands and finding you're not alone" reads one of the art work's designs. We've learnt, above all, that we have a part to play in all this.'
Embracing uncertainty
Meanwhile in our discussion, Pam and I have moved on to life, the universe and everything.
She says,
'Art - it's like calculating the distance between Saturn and Jupiter. Apparently straightforward, but then you realise everything is moving. And then there's infinity to deal with...'
Pam says she is going to carry on with 'this painting lark'. It may be tough, but she's attracted to the challenge.
'Dabbing my paint here and there, trying to work out the why and the how of it. I used to think I could eliminate uncertainty. Now I'm ready to embrace it.'
Creating the Past was on display at the Museum of Royal Worcester until 31 July 2015.